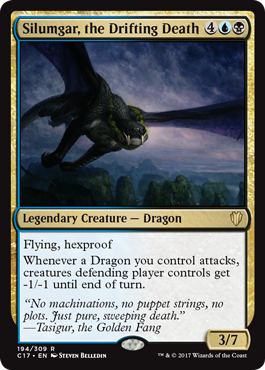 Silumgar, the Drifting Death
Legendary Creature — Dragon
Flying, hexproof
Whenever a Dragon you control attacks, creatures defending player controls get -1/-1 until end of turn.
Start Commander Deck
Browse Alters
View at Gatherer
Trade
Legality
| | |
| --- | --- |
| Format | Legality |
| Tiny Leaders | Legal |
| 1v1 Commander | Legal |
| Magic Duels | Legal |
| Canadian Highlander | Legal |
| Vintage | Legal |
| Modern | Legal |
| Highlander | Legal |
| Penny Dreadful | Legal |
| Block Constructed | Legal |
| 2019-10-04 | Legal |
| Pioneer | Legal |
| Leviathan | Legal |
| Legacy | Legal |
| Frontier | Legal |
| Duel Commander | Legal |
| Oathbreaker | Legal |
| Unformat | Legal |
| Casual | Legal |
| Commander / EDH | Legal |
Silumgar, the Drifting Death occurrence in decks from the last year
Commander / EDH:
All decks: 0.01%
Latest Decks as Commander
Silumgar, the Drifting Death Discussion
1 week ago
Dear Kronhamilton
Golos, Tireless Pilgrim is my favorite commander, and I've been brewing around him ever since he was teased. Let me just say you've chosen an excellent commander.
(I've written quite a lot in an attempt to make a sort of guide for you, so if you want the short version, check out the Suggestions panel)
Golos can be tricky to build around since he can do literally anything pretty well. The easiest way to make an effective Golos deck is to lean into Golos's 7 Mana Rainbow Wheel Of Death. Before getting into that though, we need to cover some EDH deckbuilding basics.
I think the most useful advice I can give someone who is just beginning to explore the deck-building territory of EDH is to structure your deck and mind your Ratios. By this I mean it is useful to categorize the cards in your deck according to the role they fulfill.
We'll begin by looking at some core categories that you'll want to make your deck function effectively. Then I'll present the Ratios (how many of each category of card) you will want to make a generic Golos deck function effectively. Next, I'll include a detailed (but not totally complete, because I'd be here all day) catalogue of cards within some of those categories. I'll also offer up some suggestions and input about some of your specific card choices. Lastly, since I'm about to unpack a lot of information, I will include a brief list of suggestions (see the bottom) for a generically good Golos 'Shell' that should be able to support most Golos strategies.
Categories
Draw

Ramp

Removal

Sweepers

Threats

Support

Land
The art of Ratios is all about determining what combination of cards from each category makes your deck run the most smoothly.
Please note that these Ratios will not total to 99 cards. This is because you will invariably have extra flexibility to choose how your deck behaves even after establishing functional Ratios. Also keep in mind that although these Ratios do recommend you adhere to the minimum number of cards in each category, you still can choose which cards will fill those slots. The point is not to restrict your options, but instead to create a 'Shell' that is reliable enough to power your Threats cards, Support cards, and other cards. Whatever you do, make sure you have at least the minimum number of Draw and Ramp cards. THE MOST IMPORTANT CARDS IN THE DECK ARE DRAW AND RAMP!!!
While I ultimately suggest Ratios resembling the Basic Golos Shell, I will lay out the Ratios for several different Shells;
Template: a sort of baseline beginner's guide which is commonly promoted as a place to start.

Basic Golos: a modified version of the Template that suites most Golos decks.

Control: a version tailored for a slower game with many Sweepers.

Aggro: a version designed to act quickly and deploy Threats before the opponents are prepared.

Big Mana: a version invested heavily into Ramp with the goal of deploying many end-game Threats.

Mega Mana: an even more extreme version of Big Mana with extremely expensive Threats.
Please remember that any suggestions I make are because I am trying to help. Ultimately, the choices you make with your deck are up to you, and I can only provide constructive criticism based on my own experience and opinions.
Good luck :)
Ratio Fixing
The most effective change to your deck would probably be adjusting the Ratios, especially with regard to your Draw cards. Applying the most basic Template Shell, you want to have at least these three quantities nailed down for a smoother and reasonably powerful deck;
Lands – 36 --> You have 40 Lands (Cut 4 Lands)

Ramp – 10 --> You have 5 true Ramp cards (Add 5 to 8 Ramp cards)

Draw – 10 --> You have 3 true Draw cards (Add 7 to 10 Draw cards)
Ramp & Draw Additions Show
What I counted in your deck Show
Mutate
Depending on how strong your Mutate subtheme is, some of your Mutate inclusions may act as engines. However, I must state that Mutate is a VERY risky and even fragile strategy since your Mutate 'Pile' of creatures will all be destroyed at once if your opponent uses a Removal spell or a Sweeper. For that reason, I recommend leaning out of the Mutate theme (unless the Mutate card is just straight-up insane, as in the example of Nethroi, Apex of Death).
With that said, playing a Mutate theme is your decision and I totally respect that and if you want to stick to a Mutate theme then by all means do so. I just want to be sure you know that Mutate is a risky strategy that you cannot depend on to fulfill your Ramp and Draw slots (so you'll just need to supplement it with other cards).
Cut or Include?
At a glance your deck seems like something you have created using just your collection – and that's great! However, if you want to incrementally upgrade your deck, then I recommend replacing most of the cards in your deck with more powerful options over time.
Here is a list of cards you should probably keep playing: - Barrier Breach (Removal, because exiling 3 enchantments is helpful in some situations)
In my opinion, there are other, better options for all of the other nonland cards in the deck, however it is up to you to decide on how you would like to proceed so I won't intrude.
I strongly recommend cutting the Planeswalkers though – Calix, Destiny's Hand doesn't seem to synergize much with the deck and I feel that Lukka, Coppercoat Outcast is not very potent.
Lands
Just as a recommendation, I would suggest the following spread of Basic Lands;
8 Basic Forests

3 of each other Basic Land
The remainder of your lands could be either more basics (which is really, really, risky if you don't have tons of Ramp – think like 15 Ramp cards and about 12 Basic Forests) or Color Fixing Lands (see the Catalogue for more options). It is rough to have your lands enter the battlefield tapped, but unless you want to either lean into Green or spend a lot of money on lands, you will just have to live with it (I play around 5-10 tapped lands in a normal Golos deck and it isn't really that bad).
In this section, I will list out an example of the Basic Golos Shell complete with the necessary Ratios and some examples of good/fun cards in each category. I'll try to keep it relatively Budget sensitive and most of these cards will be relatively random – this won't be based on any particular theme so don't expect it to be optimal.
As a reminder:
The Shell
Ramp – 12
Draw – 13
Removal – 7
Sweepers – 2
Threats – 12
Support – 7
Land – 36
Good Luck :)
-Slashdotdash
2 weeks ago
One thing I struggle with when building EDH decks is, sometimes, I feel completely out of my element. It's so hard for me to look at a card and build a strong working deck that I enjoy. What I have come to realize is that I keep building decks that are not how I naturally want to play the game, backing me into a corner.
I'm looking for Commanders who are more so directed toward "Timmy players".
I have a Lathliss, Dragon Queen deck as well as a Ghired, Conclave Exile

deck. I'm currently building a Grand Warlord Radha deck as well. As you can see, these all involve three basic themes:
Red, which is my favorite color
Tokens (Mainly as a subtheme but a key part of each deck)
Wanting to attack nonstop
The issue I've come to realize is that, basically, they are functionally identical: "Make tokens and attack".
While I do very much so enjoy this, I also don't want to feel bummed out playing "the same deck", regardless of colors and Commanders.
I have a Nicol Bolas, Dragon-God Superfriends deck which makes me very happy to play as I get to activate a ton of Planeswalkers each turn, despite it being "technically illegal" as that's not a proper Commander.
I also have on here a Karlov of the Ghost Council deck, but while I enjoy gaining a ton of life and exiling tons of things it also feels... idk, kinda bad playing it. Like sure I'm having fun, but I feel like I'm just being an annoying prick about it?
I have plans on building a Saskia the Unyielding deck, too - and it's currently in works. However, I feel like pushing four colors is a bit much for me. Not really sure how to focus it. I was going to use blink / flicker effects to pop her in-and-out of play so I can change her target on the fly. Sort of name one player, attack a second player, blink her and name the second player so they take extra damage. Idk, just an idea.
But again, it feels like every deck I build that I actually ENJOY playing revolves around the same basic premise: "Make tokens and attack" - as I stated above.
So does anyone know of other Commanders aimed at Timmy players?
To be clear, I'm okay with losing. I don't mind sitting down with a deck and playing and losing, as long as I am having fun playing the deck itself. Though, I do want it to be able to win. I don't want to spend several hundred dollars on a deck that loses 90% of the time :(
I do have a Scion of the Ur-Dragon deck, a Silumgar, the Drifting Death deck, and Lord Windgrace

deck as well. I just bought Symbiotic Swarm and Arcane Maelstrom from Commander 2020, also.
1 month ago
Uh... Im not sure you know what your commander does based on your creature pool. On a scale of 1-10, i would rate this a 1.5, but i'll help you with that. You might as well be running Golos, Tireless Pilgrim. You have a small number of Dragons in the deck, and I noticed a bunch of useless non-dragon creatures in the deck.
32 lands is wayyyy to few, and you have an awful mana base, even on a budget, having only 1 tri-land and a random af arrangement of shock and gain lands.
You have little ramp, if any, which will slow you down greatly in a format such as commander Another concern is your lack of mana rocks. Why only one signet?
Your removal is pathetic, to be honest, with only one murder. Removal is IMPORTANT in commander, being used at both utility and a rich bargaining tool in the political side of the format.
But enough with flaming the deck, here is what I would put it.
First off, let's talk about your commander. It supports a heavy dragon tribal theme, and you want nearly all of your creatures creatures that either add to this theme or ramp you to get him out earlier. If you are to be running a non dragon creature, make sure it is a utility creature such as Reclamation Sage that can either ramp you or get rid of problems on the board.
Here is what I would cut if i was building him:
Creatures:
Ajani's Pridemate - No lifegain synergy and bad creature in EDH
Brineborn Cutthroat - A 2/2 with flash wont cut it in Ur
Corpse Knight - No sacrifice theme
Dreadmalkin - cmon, really?
Empyrean Eagle - Other cards do this a lot more efficiently
Exava, Rakdos Blood Witch - No madness or counter theme
Faerie Vandal - just no
Garenbrig Carver - bad in general
Gravedigger - not a dragon
Grumgully, the Generous - not efficent
Venerable Knight - no synergy in deck
Instant:
Artifact:
Manalith - You can keep it in, but it isn't very good
Sorcery:
Compelling Argument - 0 MILL THEME!!!
Enchantment:
Here is what I would add:
Creature:
Dryad of the Ilysian Grove - Can ramp you AND fix your mana
Dragonspeaker Shaman - cuts down mana cost drastically
Dragonlord Kolaghan - Haste enabler and good beater
Dragonlord Dromoka - game winning lockdown effect
Ramos, Dragon Engine

Karrthus, Tyrant of Jund - haste enabler
Kokusho, the Evening Star - good beater with amazing ability
Birds of Paradise - great mana dork
Removal
Ramp:
Mana Rocks
ALL the signets (Emphasis on ALL)
Lands:
All tri-lands from Tarkir and Alara
Try to get all 10 fetch and shock lands if at all possible
Utility lands:
Planeswalkers:
Anthems:
This is just a few thing I think the deck could need, obviously it needs ore board wipes and wincons, however this is a good place to start. I want to be clear, I dont hate the deck, but I Think it needs improvements to become and 8. For your first commander deck, it's just fine. Thanks for reading. Cheers
3 months ago
Okay, sorry for the super late reply. I had it all typed out and the damn site bugged out on me and I lost everything.
---

Commander / EDH TypicalTimmy
SCORE: 1 | 154 VIEWS | IN 1 FOLDER
---
So this deck is like a year old. I need to update about 1/3rd of the non-land cards in it.
The original concept was as follows:
The issue is that it's slow. It needs more Dragons and protection. I plan on dropping the majority of the token generators, along with the last bullet point to simply add in more natural Dragons. Some I can think of off the top of my head are Venomous Changeling and Shimmer Dragon, as well as Birthing Boughs.
I'd like to keep Thopter Spy Network as the card advantage is very powerful.
I need to add in counter spells to protect me against wrath effects, as well as some light recursion tricks to help bring back anything that is picked off.
I also need to rework my draw potential, to keep pressure on the boardstate.
It's effectively a Dimir Aggro, which is hard to pull off. I do have this current deck in real life, so changing 15 - 20 cards isn't that big of a deal.
Anyway, the deck works under a three-pronged approach, which is how I build the vast majority of my EDH decks:
Ramp / Reduction
Play Dragons and attack
Protect Dragons at all costs
Because of how Silumgar, the Drifting Death works, each combat step is effectively going to be a wrath. This means I don't need to add removal in here, because Silumgar himself does it for me. While Silumgar does have Hexproof, keeping him back on the sidelines is an easier way to ensure he stays safe.
Because I need to attack each and every single turn, I am constantly open to assaults. However, if played right the majority if not all creatures should be wiped off the board. In my experience, once a wrath settles into play, it is nearly impossible for any opponent to recover from, because at this point anything they play dies before they get a chance to use it. It becomes sort of a soft lock on the game, with the only way out being to remove my boardstate via wrath - which is why counter spells are important.
So I have a bit of work to do, but this is the older version.
It is a slower deck, so faster decks can generally out-pace it. In a 1v1, this spells the death of the deck. But in a 4-player pod, most of the time faster decks play slower as nobody wants to instigate the first move. In my experience, this gives me ample time to build a small army and swing for attacks.
Silumgar doesn't need to attack, which means once you drop the mana to bring him out, you generally wrath from that point forward.
3 months ago
I run a Silumgar, the Drifting Death deck that absolutely wrecks everyone.
It uses Dragons and Shapeshifters with Changeling to have more Dragons, then uses Silumgar's sweeper to keep the path open for assaults.
Counterspells to stop wraths and recursion.
An older version is on here, but I need to update it. Changes about 1/4 of the deck since.
5 months ago
Here's a weird challenge, Silumgar, the Drifting Death . I wonder if there's enough blue/black dragons, changelings and clone effects to make it work in a small budget? Feel free to try it if you like!
Load more