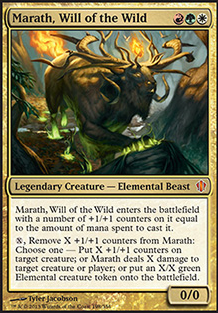 Legality
| | |
| --- | --- |
| Format | Legality |
| Vintage | Legal |
| Duel Commander | Legal |
| Commander / EDH | Legal |
| Legacy | Legal |
| Tiny Leaders | Legal |
Tokens
Marath, Will of the Wild
Legendary Creature — Elemental Beast
Marath, Will of the Wild enters the battlefield with a number of +1/+1 counters on it equal to the amount of mana spent to cast it.
X, Remove X +1/+1 counters from Marath: Choose one Put X +1/+1 counters on target creature; or Marath deals X damage to target creature or player; or put an X/X green Elemental creature token onto the battlefield. X can't be 0.
Have (12)

A

s

h

y

, Dr.Jackel , NOGzFTW ,

p

s

k

i

n

n

0

1

, DrPopular ,

S

t

e

v

e

n

D

F

1

6

, Antiat ,

H

R

1

9

, bustinchops , bakeraj4 , Willis1994 ,

F

o

r

k

b

e

a

r

d

Want (0)
Marath, Will of the Wild Discussion
2 weeks ago
Stop rushing me guys...
Megacomment inbound:
2 weeks ago
I stubnornly tweak and revise instead of retiring. I splash a new color, swap a splash, adjust the sideboard, change how much I commit to a boardstate or distribute enchantments, refocus control target prioritizations, swap out win conditions
Only twice did I give up: Marath, Will of the Wild combo (and I think I have a deck that could beat it now) and the original breakout standard infect with Inkmoth Nexus.
I relegate to a tier rather than scrapping a deck and I always am trying to improve.
1 month ago
plus one from me, i did a beast tribal with Marath, Will of the Wild and i have your commander in it and is really strong. you should give it a look over and see if any of the cards in there are things you might want to use its a beast tribal.Beastiality (beast tribal) plus one if you want.
2 months ago
nice! i did a beast tribal kind of deck that is really effective i used Marath, Will of the Wild as my commander and mayael is in there also just not as commander. with it being the same colors you might like some of the cards and maybe get some ideas. if you like the deck give it an upvote if you like.Beastiality (beast tribal) it has big creatures good ramp and is pretty quick for big creatures.
2 months ago
Thanks for all the feedback. These are really good suggestions and I'm incorporating them into the deck...
I'll add in all the lands you suggest. I'm taking out mountains, and I am also taking out mountains for dual producing lands to mitigate the hit on my green mana. This makes some of my ramp spells less usefull.
Ivy Lane Denizen is a pretty nice combo with Ulasht, but is also quite usefull with the doublers and the theme. He'll get a spot.
I should probably just build an Marath, Will of the Wild deck, just to compare before I purchase ;)
Change List
Cheers, and thanks again :)
3 months ago
Skulloelegy: Marath, Will of the Wild is an elemental that spits out elemental. So elemental tribal 3 color? But I think it needs a Lil more support to just be elementals.
Load more
Latest Commander