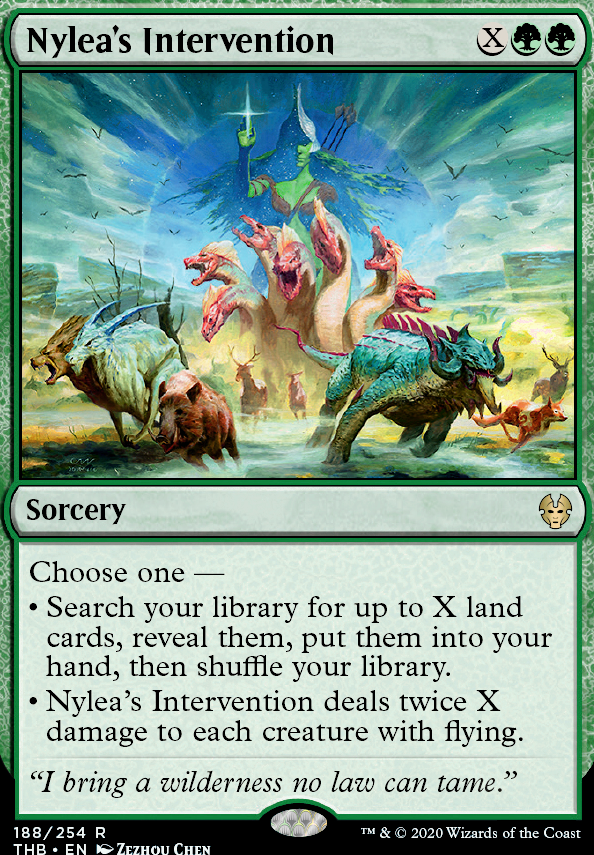 Nylea's Intervention
Sorcery
Choose one —
Search your library for up to X land cards, reveal them, put them into your hand, then shuffle your library.
Nylea's Intervention deals twice X damage to each creature with flying.
Latest Decks as Commander
Nylea's Intervention Discussion
1 month ago
Part 2
Other Cards that you could consider cutting
Other Cards that you could consider adding
This is where the fun begins and your wallet cries
That is all I can think of at the moment. I'm sure I'll have more la
4 months ago
My all-time favorite is probably Sasaya, Orochi Ascendant  Flip. A deck using her plays rather different from most decks, and I like that. For this deck, I play a lot of cards that allow you to get lands into your hand, such as Winding Way or Nylea's Intervention . You can even run cards like Sylvan Ranger so that you're not completely vulnerable while you're trying to reach that seven-lands-in-hand clause. When you're able to flip Sasaya, you can use cards like Book of Rass or Abundance to draw into nonland cards that you can actually play. I like using cards like Goblin Cannon , Ant Queen , or Hydra Broodmaster to close out the game. Due to the fact that you're running more lands than you'd run in your typical EDH deck, the price of the deck is already a little lower. But yeah, this is one of my favorites!
5 months ago
Hey there multimedia,
There is no budget for upgrading right now, even tough at the moment this deck is on hold since my Jodah (Jodah Archmage Eternal Budgetish deck is getting a few upgrades recently ( Rhystic Study and Thassa's Oracle so slightly expensive upgrade for that deck)
Copperhorn Scout this card used to be in the deck, but I didn´t really find much use out of it to be honest, but it is certainly in considering cards.
Thank you for your opinion, and I will certainly consider some cards. On card Staff of Domination I had my eyes already before a few times but I always forgot to order that one. So... maybe
Greatest problem this deck actually is going through is that there are no boardwipes and it struggles against flyers. I was considering Nylea's Intervention but that is also just among considering.
6 months ago
TIL that emojis aren't parsed properly by TappedOut even though they appear fine in the preview! Let's try again...
I've found this list really helpful whilst drafting decks over the last few years, thanks for putting it together! :) Judging by the 400,000 views that this has had I'm guessing I'm not the only person who feels that way :D
Since this list hasn't been updated since pre-WAR, I thought I'd put together a pretty comprehensive list of all tutors released since then (including all of the tutors mentioned in the comments above). Hopefully putting it in one place will make it easier to update! Note - as per the list you've curated, I've excluded any tutors that fetch specific cards (e.g. Yanling's Harbinger ) or basic lands. I've also left off the card types and colours since there's already enough text in the comment and it can be seen from the preview. Right - on with the list!
CARD: TUTOR FOR - ANY COMMENTS/SUGGESTED CATEGORIES
It wasn't entirely clear to me what categories the below cards should go under since they search for specific card subtypes:
Seeing as the three creators of this list haven't been on TappedOut in at least 8 months I'm guessing that this comment won't go anywhere, but at least it's all in one place for people to search for later. I'm happy to help maintain and update this list if I'm given access. (If I haven't heard back in a couple of months then I might look at creating a copy of this list and linking it here for anyone looking for an up-to-date list of tutors.)
6 months ago
I've found this list really helpful whilst drafting decks over the last few years, thanks for putting it together!
6 months ago
I.love.that.combo.!!
Have you considered Nylea's Intervention ? 3 mana fetch the Canyon, also helps you assemble the tron.
Load more