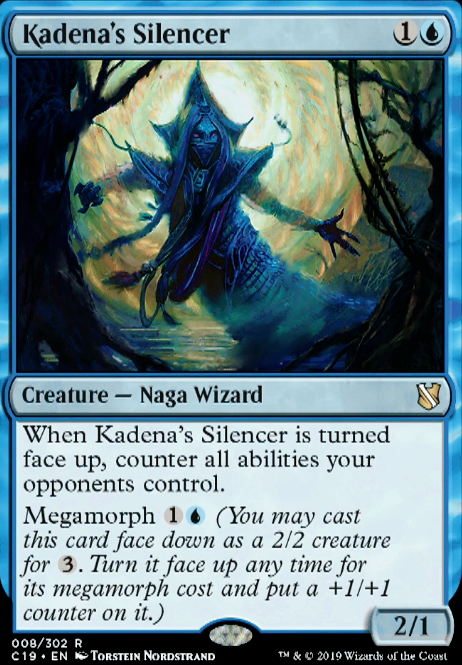 Legality
| | |
| --- | --- |
| Format | Legality |
| Tiny Leaders | Legal |
| 1v1 Commander | Legal |
| Magic Duels | Legal |
| Leviathan | Legal |
| Duel Commander | Legal |
| Oathbreaker | Legal |
| Commander / EDH | Legal |
Tokens
Kadena's Silencer
Creature — Naga Wizard
When Kadena's Silencer is turned face up, counter all abilities your opponents control.
Megamorph (You may cast this card face down as a 2/2 creature for . Turn it face up at any time for its megamorph cost and put a +1/+1 counter on it.)
Kadena's Silencer Discussion
3 hours ago
First and foremost: awesome effing deck name! Second I think you might be able to switch out Weaver of Currents for Gyre Engineer . A Guardian Project can do you some good here IMO. You could invest in a Chromatic Lantern to replace one of your lockets. From a glance I didn't see too much ramp, so might I suggest Harvest Season , Cultivate , and Farseek . Overwhelming Stampede for some added power. Kadena's Silencer for commanders with annoying abilities. Ainok Survivalist for artifact amd enchantment removal. Nantuko Vigilante does the same as Ainok. To get more value out of your mighty morphers I would add Trail of Mystery so you always have a land in your hand, and Ixidron to flip everyones cards including yours, but thats a good thing as you probably know. Almost all of these cards come in the Kadena, Slinking Sorcerer 2019 commander deck called "Faceless Menace". A really cool card that comes in the esh deck is called Strionic Resonator which would do great in a deck like this. Morph to me seems really cool but unless you come up with some unconventional way of making it seem original and good at the same time can be challenging. I noticed this with infect awhile back. But anyways hope I helped just a little bit. Happy gaming my friend.
2 months ago
Staizer - Get ready for a long response:
I did look at the same list as you did, but as a longtime morph player, this deck is a disappointment. I've already made my thoughts on Kadena clear so I'll make that response short.
Kadena:
A bland Sultai value engine that brings nothing new to the table. She isn't a bad card by any means, but she doesn't address any of morph's biggest weaknesses. I'd still play Animar, Soul of Elements , Kruphix, God of Horizons , Muldrotha, the Gravetide , and maybe even the new Bant brawl commander over her.
The choice of morph/manifest related reprints
Some fine inclusions. Ixidron , Stratus Dancer , and Vesuvan Shapeshifter are nice, but they chose to exclude most of the best morph/manifest related cards: Dream Chisel , Ixidor, Reality Sculptor , Whisperwood Elemental , Riptide Entrancer , Voidmage Prodigy , Voidmage Apprentice , Aphetto Runecaster , Primordial Mist , Obscuring AEther , Unblinking Bleb , Weaver of Lies , Brine Elemental (though this one actually makes sense), and even Backslide . I would never expect all or even most of those to make it into the deck, but a couple would've been nice and would've made more sense than something like Deathmist Raptor or Silumgar Assassin .
Value reprints
Not much to complain about here as there is some solid value in the deck, though I think Cloudstone Curio or Equilibrium would've been good value reprints that interact well with the theme mechanic.
New cards
Only Scroll of Fate and Kadena's Silencer are worth mentioning here. I know I sound like a broken record, but none of the new cards help address the issues facing morph: speed and the fact that morph is a value based mechanic that requires a massive mana investment. Morph will always be a casual mechanic, but it needs something that reduces the cost of triggering morph, or something that allows for multiple activations (my hope was for repeatable Backslide effects). Neither of those issues were addressed by the new cards in this deck. I would've been happy with just 1 card that helps in that way...1 card.
Is this a good pre-con for new players? Yes. Does it have value? Yes, though most of the value cards are only that way due to scarcity. I think many will end up tanking in price. Will it win games against the other pre-cons? Probably. Will it win games against even 60% decks? Unlikely.
So is it a good pre-con and I am being extra critical? Maybe, but this mechanic has had a special place in my heart for a very long time (Morph was first introduced when I was a little kid and just starting out playing Magic). I was excited to see morph finally get some needed reprints and support. Instead the new cards aren't that inspiring and the reprints honestly look like they just pulled up Gatherer, typed in "morph", and then picked some of the first things that they found.
2 months ago
Dig deeper into the Sultai Morph precon decklist and you can find lot of reason to buy it. The manabase alone may be one of the better manabases for a three color Commander precon. Eleven nonbasic lands ETB untapped which is by precon standards an improvement from past precon manabases.
Why are the Signet lands ( Darkwater Catacombs ) being printed as rare lands? These lands don't actually make mana without having another land/one mana first, this is not an ability that's rare. These should be uncommon since they're much worse than Filter lands ( Sunken Ruins ) which are also rare lands.
Land value in the precon (in order):
I'm happy to see Ash Barrens reprinted because it's land that should be in every Commander precon. There's 17 two drops which is an improvement for precon deck building. Kadena, Slinking Sorcerer , Scroll of Fate and Kadena's Silencer look like good cards for morph. Silencer will however not hold at $10 of value it will decrease a lot. I don't know enough about the 13 other new cards to evaluate their value in the precon.
Valuable reprints in the Sultai deck (in order):
Some notable exclusions for a morph theme:
No data for this card yet.