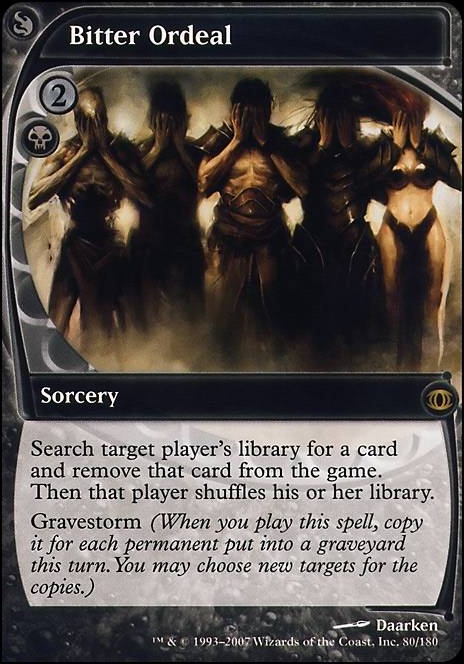 Legality
| | |
| --- | --- |
| Format | Legality |
| Pre-release | Legal |
| Noble | Legal |
| Leviathan | Legal |
| Tiny Leaders | Legal |
| Magic Duels | Legal |
| Vintage | Legal |
| Modern | Legal |
| Casual | Legal |
| Vanguard | Legal |
| Legacy | Legal |
| Archenemy | Legal |
| Planechase | Legal |
| 1v1 Commander | Legal |
| Duel Commander | Legal |
| Unformat | Legal |
| Pauper | Legal |
| Commander / EDH | Legal |
Bitter Ordeal
Sorcery
Search target player's library for a card and remove that card from the game. Then that player shuffles his or her library.
Gravestorm (When you play this spell, copy it for each permanent put into a graveyard this turn. You may choose new targets for the copies.)
Have (13)
gildan_bladeborn ,

T

h

e

R

e

a

l

P

e

a

c

h

e

s

, JAT0 , Supremespeed , jamesesdad ,

V

a

s

b

e

a

r

1

,

K

i

l

l

D

a

t

B

U

G

,

h

o

s

s

h

u

g

h

e

s

,

G

e

m

i

n

i

S

p

a

r

t

a

n

X

, LaKU ,

N

e

m

e

s

i

s

,

J

p

e

g

w

u

n

, ChainerDragon65
Want (1)

m

e

n

t

o

r

6
Bitter Ordeal Discussion
4 days ago
In that case...
1 month ago
Don't know much about grixis or storm but I'll give it a whirl.
You have some spells that will not be completely useful what you're planning and some expensive cards you dont really need in there. I would add some cheap kill spells and some wizards that can counter things like Patron Wizard, or Ertai, Wizard Adept. Tendrils of Agony is a must if you are trying storm. Grapeshot is also a effective card. Bitter Ordeal if you can loop a whole bunch of death.
remove Red Elemental Blast
2 months ago
Thank you for such a detailed description as well as the speed of your reply.... There are some things in here I will surely play test with thanks to your suggestions. As far as how opponents are setting up mill so fast is a very interesting and frighteningly consistent design. The key pieces they are using are all about making a ton of mana and throwing it into cards like Mind Grind, and Increasing Confusion while supporting them with other cards like Brain Freeze, Traumatize, Mind Funeral, Mind Sculpt, and a bunch of Tutors and graveyard recursion for these spells. Setup usually has some sort of mana ramp such as Cabal Coffers + Crypt Ghast + Urborg, Tomb of Yawgmoth or can use some basic mana rocks like Gilded Lotus, Mana Vault, Mana Crypt, Thran Dynamo. By roughly turn 4 or 5 these decks are producing around 8-10 mana....and 10 mana thrown into a Mind Grind is a bad day. Most of the time they don't even worry about getting their commanders out but I have seem use of Dralnu, Lich Lord, and Mirko Vosk, Mind Drinker in the most potent versions. These reasons are why I have Bitter Ordeal currently as nothing kills combo faster than removing it's pieces. Once I slow them down its a better fight but still one I haven't been able to win. I really like your idea of Sphere of Resistance and Thorn of Amethyst for this situation. I had thought about the thorn before but when the time came I put in tanglewire instead. Your comments have gave me a lot to think about as well as to playtest with and for that I have to say thank you. I will have to keep you informed on my changes and how well they fare!
2 months ago
Not to worry! There are a lot of ways to speed things up. Looking at your list, here are a few things that I recommend:
This is something I plan to address, but haven't had the time to write up quite yet. Some of the answers you're looking for are in the replies I've made in the comments - I will add a section like this soon enough.
2 months ago
Bitter Ordeal has insane potential here
Fatal Push is an obvious answer to include to slay creature based combos like elfball or merfolk, Damnation is also good for this, its also arguably the best card in black modern
Hedron Crab mills faster and better than Dakra Mystic and can activate the turn its played and can easily be abused for mill via stuff like Ghost Quarter, Polluted Delta or Evolving Wilds
Leyline of the Void and Crypt Incursion make good sideboard cards in case your milling a dredge deck or another graveyard heavy deck that could take advantage, alternatively theres Relic of Progenitus if you want draw
Liliana's Caress and Shrieking Affliction capitalize on discard, and to truly gimp combo you're going to need some form of countermagic as a lot of modern combos are instant speed, so permission is key if you're running dimir, such as Countersquall, Pact of Negation or Cryptic Command
also, Brainstorm effects help you draw into what you need, and plenty are available and legal, such as Sleight of Hand, Serum Visions and Opt
Load more