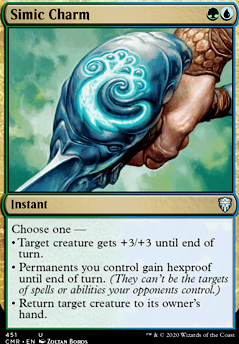 Simic Charm
Instant
Choose one —
Target creature gets +3/+3 until end of turn.
Permanents you control gain hexproof until end of turn. (They can't be the target of spells or abilities your opponents control.)
Return target creature to its owner's hand.
Browse Alters
Legality
| | |
| --- | --- |
| Format | Legality |
| Oathbreaker | Legal |
| Custom | Legal |
| Vintage | Legal |
| Leviathan | Legal |
| Modern | Legal |
| Highlander | Legal |
| Commander / EDH | Legal |
| Unformat | Legal |
| Block Constructed | Legal |
| Limited | Legal |
| Duel Commander | Legal |
| Tiny Leaders | Legal |
| 2019-10-04 | Legal |
| Casual | Legal |
| Canadian Highlander | Legal |
| Pioneer | Legal |
| 1v1 Commander | Legal |
| Legacy | Legal |
Simic Charm occurrence in decks from the last year
Latest Decks as Commander
Simic Charm Discussion
2 months ago
Looking good!
Your mana curve is so low that you don't need that much land (or ramp even really). Try swapping out a couple lands (and maybe a signet) for the following: Mentor of the Meek, Abzan Beastmaster, Sylvan Reclamation
Bring your price down, consider some cheap, instant-speed protection for your commander! You're drawing a billion cards anyway, you'll always have the mana to spare and probably will draw into at least one when you need it. I'm thinking of cards like: Blossoming Defense, Simic Charm, Mizzium Skin, Sheltering Light, Gods Willing, Valorous Stance
The following are also decent budget counter spells: Dissolve, Sinister Sabotage, Mana Leak
4 months ago
Very cool deck. I also see a problem. What if the opponent gets something good on the field? Counters won't help you then. For instance opponent plays Serra Ascendant on turn 1 and Martyr of Sands on turn 2. Then he will use martyrs ability, gets lots of life and attacks you with a 6/6 flying lifelink Serra Ascendant. You can't do anything with counters. A lot of aggro decks will bring good creatures on turn 1 and 2. How do you survive then?
I tried to make a similar deck, but I added Ice-Fang Coatl (with snow lands), Bounding Krasis, Simic Charm and Applied Biomancy to help against threats he has on the field already.
Oh and I also have to say.. the word is spellt pretty, not preety. It's pretty!!
4 months ago
Hello! Thanks for the comment on my deck! I'll see what I can do.
Ok so I see a lot in the way of aggro and not a lot of answers to problems. Don't get me wrong, dedicated aggro decks can be devastating; but they need to be quick and those cards are almost exclusively in red. This deck looks like it kicks off around turn 3-5 so we want to be able to do stuff in the early game. Bant is a color scheme that lends itself well to defensive tactics rather than harming opponents; this can take the form of protection, buffing creatures, or stalling until our game-plan can get off the ground. Now at the end of the day that game-plan is still "turn creatures sideways", so we want to make sure that the creatures we select are aggressive; but, the control colors in our deck (white and blue) can provide us with a fair amount of answers to problems that we can use both early and mid game to ensure our victory.
So what we want from the deck is:
1) Board Control/Stall Tactics 2) Protection 3) Card Advantage 4) Aggressive creatures
Often times these categories can overlap. For example: a creature with hexproof. That fills the "aggressive creature" and "protection" categories so that means we're getting more value out of just that one card, which is what we want. Variety is both the spice of life and the answer to our deck-building conundrum. So we want to make sure that our card selection is refined. So lets break each category down.
Board Control/Stall Tactics
I love the options Bant gives us for board control. Green has a lot of artifact/enchantment removal, white has a lot of good spot removal in the form of "exile" which gets around that pesky indestructible ability, and blue often bounces things off the board or counters things. So what options are best? Honestly, its up to you. But remember that the more options that a card gives you the more value you get out of it. Here are a couple of my favorite board control cards in Bant:
Authority of the Consuls Bant Charm Cryptic Command Detention Sphere Disallow Dromoka's Command Exclude Krosan Grip Path to Exile Qasali Pridemage Remand Spell Pierce Unravel the Aether
That should give you enough options to play with and see which ones you like best.
Protection
Protection spells are many and can come in many different forms, but ultimately it comes down to making sure our permanents stay permanent. For us this is most likely gonna be about protecting our creatures. Some of my favorite protection spells in Bant are:
Fog Gods Willing Grand Abolisher Heroic Intervention Mark of Asylum Shalai, Voice of Plenty Simic Charm
The longer our creature(s) stay on the field the more likely we are to win.
Card Advantage
This can either mean card draw, digging through our library, or just straight up tutoring. Some good options are:
Ardent Plea Brain storm Curiosity Eladamri's Call Gaea's Blessing Impulse Serum Visions Wargate
By giving ourselves card advantage, we can find solutions to problems a lot faster.
Aggressive Creatures
And finally we get to the bread and butter of the deck, the creatures. Now the mechanic we're working with is the Exalted mechanic, which states that if the player attacks with exactly one creature, then each card with Exalted (including the attacker) will grant that lone attacker +1/+1. This aggro tactic minimizes casualties in battle but doesn't reduce the armies strength during the attack phase. So the more instances of exalted we have the more powerful our lone attacker is. Here are some cards worth looking at into for this combat style:
Finest Hour Invisible Stalker Knight of Glory Noble Hierarch Rafiq of the Many Sublime Archangel
With these creatures at our disposal, opponents will often find it hard to outgrow our aggressive playstyle.
Now keep in mind that the exalted mechanic itself is very aggressive and simultaneously acts as the "buff" aspect of our defensive tactics that mentioned near the top. So we need little in the way actual buffing spells like Giant Growth; that leaves much more room open for including a lot more control and card advantage spells. Ultimately what you pick is up to you but try using the cards I've listed above as the basis of your card selection and go from there. Cross reference which cards fall into multiple categories for the best options possible. I don't want to just straight up give you a decklist, I want you to choose the cards yourself and make a deck that's entirely your own. I hope my longwinded advice helped LOL happy deck building.
4 months ago
I feel like people discount countermagic sometimes. Literally every blue deck should run Negate, Disdainful Stroke and probably Counterspell. But that might just be my low data count.
Efficient removal is also really underrun. Terminate, Doom Blade and more should find a lot of homes, but really don't.
However, if you're looking for real power, Scheming Symmetry is SO good. In any mill deck it's the best tutor in the game. With some way to draw a card immediately, it makes it really easy to combo off. Also, there's often somebody who's behind... give them the tutor.
Simic Charm is anti-removal and can stop someone from winning. Great 2-use utility.
5 months ago
I currently have in my red/blue/green deck a copy of both Izzet Charm and Simic Charm, which I put in that deck because of their versatility, but I find that they are useful only on occasion.
I am contemplating replacing those cards with Expansion / Explosion and Repudiate / Replicate, because those cards will be far more useful in that deck (specifically, for the first mode of the first card and the second mode of the second card), but I wish to seek the advice of the other members of this forum before I make such a change. What does everyone else think about this? Should I replace those two cards?
6 months ago
Major Update 8/26/20

Removed:

Golgari Charm , Grave-Shell Scarab , Glowspore Shaman , Korozda Guildmage , Sisters of Stone Death , Vhati il-Dal , Loxodon Hierarch , Selesnya Charm , Selesnya Guildmage , Tolsimir Wolfblood , Dimir Charm , Psychic Strike , Dimir Guildmage , Boros Charm , Brightflame , Firesong and Sunspeaker , Sunhome Guildmage , Mercurial Chemister , Nivix Guildmage , Izzet Charm , Melek, Izzet Paragon , Azorius Charm , Azorius Guildmage , Plumeveil , Simic Charm , Simic Sky Swallower , Zameck Guildmage , Nimbus Swimmer , Debtors' Knell , Vizkopa Guildmage , Orzhov Charm , Grand Warlord Radha , Gruul Charm , Cindervines , Clan Guildmage , Murderous Redcap , Rakdos Charm , Rakdos Guildmage

Added:

Lord of Extinction , Storrev, Devkarin Lich , Polukranos, Unchained , Master Biomancer , Emmara Tandris , Radha, Heart of Keld , Winota, Joiner of Forces , Tibor and Lumia
Load more