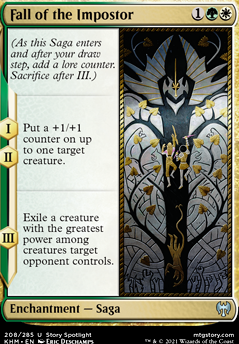 Legality
7 months ago
Decisive Denial works based on power, not effective power, so you're only really using the counterspell mode. In that case, I'd suggest Dovin's Veto or Disdainful Stroke or Bant Charm.
Archetype of Courage and Archetype of Endurance aren't super good value for the mana you put in. If you want increased combat effectiveness, there are toughness buffs, and if you want protection, that are counterspells or targeted protections like Ephemerate or Dive Down or Simic Charm or Resolute Watchdog
Turn to Frog is not a very exciting removal effect if you're in white and could just be running Swords to Plowshares. Same for the tapdown of Winterthorn Blessing, or the delayed value of Fall of the Impostor. Beast Within or Generous Gift are also premier removal.
You have a few off-theme creatures I think you won't much like: Disciplined Duelist works off power, Horizon Chimera gains a little life which is pretty low value overall, same for Lunarch Veteran  Flip. Rootcoil Creeper and Llanowar Scout aren't too bad, but I think there are probably better ramp effects for you.
Into the Wilds is kind of a slow and unreliable card advantage effect. I would usually prefer something like Shamanic Revelation or Collective Unconscious or Lifecrafter's Bestiary.
Aqueous Form and Staggering Insight are best on little creatures that attack a lot. You will often struggle to let your creatures attack at all, so I don't recommend them.
Cathar's Shield and Spidersilk Net are pretty low impact buffs. If you really want this effect, there's Slagwurm Armor.
Traveler's Amulet or Dromoka Monument aren't too exciting when you're in green and could have Vine Trellis or Wall of Roots or Rampant Growth.
Pledge of Unity and Brave the Sands are okish team buffs, but you can do better. Bar the Door and Solidarity are a little more on synergistic for your deck.
Slaughter the Strong is crazy strong in your deck!
1 year ago
Hey, what you have so far is a strong start at upgrading the precon for your first deck, nice Hammer of Nazahn upgrade.
Currently you need to cut 24 cards to get to 100 cards. Some advice is start with cutting some lands because 43 lands is too much. Reduce it to 36 and if you think you need more mana then add more low converted mana cost (CMC) ramp sources or draw sources instead of lands.
Some lands to consider cutting:
All these lands always enter the battlefield (ETB) tapped and you have other lands that always do this too, but those other lands are better than these.
---
The next cuts to consider are some high CMC cards to reduce the mana curve.
Further cuts are some cards that are not as good as others here or have similar or the same effects.
Heirloom Blade and Reflections of Littjara are tribal cards that care about only one type of creature. That's not the strategy here since you have many different creature types. Skyclave Cleric  Flip and Tangled Florahedron  Flip are double face cards (DFC) that can be lands or played as the front face of the card and that can be helpful. The problem is the front face of the card is not worth playing even though they might be lands. Bala Ged Recovery  Flip is an example of a good DFC upgrade since front face is a good card and the bonus is that could be a land.
Suppression Field is a powerful card, but it affects equipment equip costs since that's an activated ability. Even if you control Puresteel Paladin with metalcraft activated you still have to pay 2 mana to equip the equipment to a creature you control. Puresteel will reduce the equip cost to 0, but then Field makes you pay an additional 2 mana to activate the equip ability. If an equipment is in your hand and you cast it or already on the battlefield you can't free equip if you control Field.
You have ways to get around having to pay for equip with attach. Difference is you're not equipping when you attach an equipment to a creature you control. The key word here is attach which bypasses the need to activate equip. You can free attach an equipment with Galea, Kindler of Hope, Halvar, God of Battle  Flip or Hammer of Nazahn. With Galea only if you cast an equipment from the top of your library, with Halvar only if the equipment is already equipped to another creature you control and with Hammer only if you cast the equipment or the equipment ETB. Free attach has synergy with Suppression Field, but the interaction is limited.
Good luck with your deck.