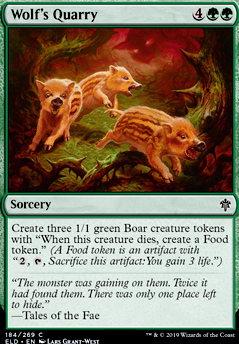 Wolf's Quarry
Sorcery
Create three 1/1 green Boar creature tokens with "When this creature is put into the graveyard from the battlefield, create a Food token." (A Food token is an artifact with ", , Sacrifice this artifact: You gain 3 life.")
Browse Alters
Tokens
Legality
| | |
| --- | --- |
| Format | Legality |
| Pre-release | Legal |
| Tiny Leaders | Legal |
| Frontier | Legal |
| Vintage | Legal |
| Penny Dreadful | Legal |
| Pioneer | Legal |
| Commander / EDH | Legal |
| 1v1 Commander | Legal |
| Magic Duels | Legal |
| Brawl | Legal |
| Block Constructed | Legal |
| Standard | Legal |
| Historic | Legal |
| Arena | Legal |
| Canadian Highlander | Legal |
| Leviathan | Legal |
| Duel Commander | Legal |
| Unformat | Legal |
| Modern | Legal |
| Pauper | Legal |
| Pauper EDH | Legal |
| Legacy | Legal |
| Casual | Legal |
| Oathbreaker | Legal |
Wolf's Quarry Discussion
3 months ago
Probably Domri, City Smasher since it is pretty high cost and dosen't bring all that much to the table.
Lightning Strike since 3 damage to a target won't come in handy that often. Abrade is effectively the same but also artifact removal.
Trespasser's Curse is only really good if you are up against another token deck.
Possibility Storm isn't all that necessary and you don't want the randomness too often in edh.
Ayula's Influence since triple green can be hard to cast sometimes and discarding cards for 2/2 tokens isn't all that great.
Wolf's Quarry costs way too much for what it does.
Nissa's Triumph dosen't really ramp, only guarantees some land drops.
Zhur-Taa Goblin he is an early drop, but dosen't do much beyond like turn 4.
Edh is a marathon for the most part. You want to ramp and get momentum to bring you to the end game and keep yourself in a better position than other players. Getting ramp and removal is necessary to make sure they don't pull too far ahead of you. I'd check YouTube and EDHrec for other Prosh decks to get some more ideas for your deck.