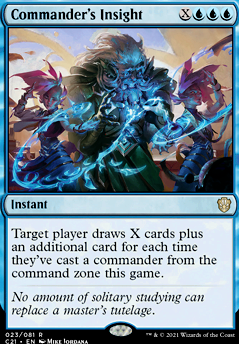 Commander's Insight
Instant
Target player draws X cards plus an additional card for each time they've cast a commander from the command zone this game.
Latest Decks as Commander
Commander's Insight Discussion
3 months ago
Hey, well done so far on a budget. What's Troll 2?
Are you upgrading the Kalamax Commander precon? Or are you building from singles? I ask because I can't tell and there's several good budget cards in the precon to consider adding.
Even if you didn't get the precon all these cards would be upgrades especially the lands.
Some other budget cards to consider:
---
A more expensive price card to consider is Narset's Reversal . It has great interaction with Kalamax because he makes it a repeatable effect to copy any instant or sorcery an opponent casts. The copy of Reversal that Kalamax makes targets the original Reversal which then sends the original Reversal back to your hand and you resolve a copy of opponent's spell.
Reversal is nice to keep triggering magecraft especially Storm-Kiln Artist since with Kalamax Artist creates two treasures just by casting Reversal and it's returned to your hand. Use those two treasures to then cast Reversal on the next player's turn and repeat each turn an opponent casts an instant or sorcery.
You can do other neat tricks with Narset's Reversal and Kalamax.
Twinning Staff makes an infinite copy spell combo which equals infinite +1/+1 counters on Kalamax as well as infinite magecraft triggers.
Can use Reversal on your own sorceries to return Reversal and the sorcery back to your hand to cast again and resolve a copy of the sorcery.
Good luck with your deck.