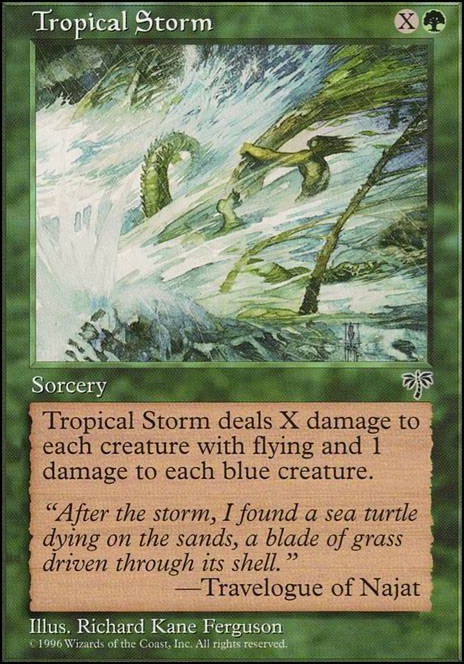 Tropical Storm
Sorcery
Tropical Storm deals X damage to each creature with flying and 1 additional damage to each blue creature.
Browse Alters
View at Gatherer
Legality
| | |
| --- | --- |
| Format | Legality |
| Tiny Leaders | Legal |
| Noble | Legal |
| Magic Duels | Legal |
| Canadian Highlander | Legal |
| Vintage | Legal |
| Highlander | Legal |
| Penny Dreadful | Legal |
| 2019-10-04 | Legal |
| Leviathan | Legal |
| Legacy | Legal |
| 1v1 Commander | Legal |
| Duel Commander | Legal |
| Oathbreaker | Legal |
| Unformat | Legal |
| Casual | Legal |
| Commander / EDH | Legal |
Tropical Storm Discussion
1 year ago
Firstly, you need
I would start with cutting Arcane Encyclopedia. In green, you have much better options. Guardian Project , Lead the Stampede , Vanquisher's Banner , and Harmonize are all better.
Elvish Piper can go. What are you putting into play that's worth the 5-mana, two turns, and a card of investment?
Devikarin Dissident can go. It's just not very strong.
Druid of the Cowl, Elfhame Druid, Llanowar Scout should be the next creatures to go. There are better mana elves out there. Llanowar Elves , Fyndhorn Elves , Joraga Treespeaker , and Arbor Elf should all be in there before more mana elves enter the equation.
Blanchwood Armor, Oakenform, Arbor Armament, Dragonscale Boon, Gift of Growth, Mutagenic Growth, Pounce, Shape the Sands, Vines of the Recluse, and Takedown are all poorly suited to EDH. You'll want effects that pump your whole team like Beastmaster Ascension , Overwhelming Stampede , Craterhoof Behemoth , and Thunderfoot Baloth , rather than targeted combat tricks. Likewise, you'll want Heroic Intervention to save creatures. As for flying removal, consider Hurricane , Tropical Storm , Whiptongue Hydra , and Tornado Elemental .
2 years ago
odd mechanics in green:
Bellowing Tanglewurm, Beacon Behemoth, Avoid Fate, Cream of the Crop, City of Solitude, Brooding Saurian, Heartwood Storyteller, Gurzigost, Genju of the Cedars, Gaea's Liege, Freyalise's Winds, Fertile Imagination, Eyes of the Wisent, Engulfing Slagwurm, Elven Warhounds, Elephant Grass, Hermit of the Natterknolls Flip, Hidden Gibbons (and the other hidden creatures / enchantments), Dosan the Falling Leaf, Holistic Wisdom, Hornet Sting, Hunted Troll, Ichneumon Druid, Kashi-Tribe Reaver (and the rest of kashi-tri, if only for the lockdown mechanic), Lifeforce, Lignify, Lost in the Woods, Mammoth Harness, Meandering Towershell, Midsummer Revel, Mindbender Spores, Mortal Wound, Multani, Maro-Sorcerer, Nacatl War-Pride, Nature's Wrath, Night Soil (okay, this one is odd - because the colon is after the removal of creatures, it happens faster than players can respond or trigger to - it happens at the "cost" step of activating the ability), Noxious Revival, Panglacial Wurm, Permeating Mass, Planeswalker's Favor, Protean Hydra, Quirion Druid, Recycle, Revelation, Riftsweeper, Rite of Passage, Root Maze, Rootrunner, Rust, Scarwood Bandits, Sprouting Phytohydra, Sporogenesis, Spike Tiller, Sheltering Ancient, Selvala's Charge, Sekki, Seasons' Guide, Wave of Vitriol, Wonderlust, Vernal Equinox, Unyaro Bees, Typhoon, Tropical Storm, Tornado, Tempting Wurm, Tempting Licid, Symbiotic Deployment, Superior Numbers, Stunted Growth, Wild Mammoth, Wolfcaller's Howl, Worldspine Wurm, Xantid Swarm, and Yavimaya Dryad
3 years ago
Ancient Ziggurat, Rupture Spire could be basics i think
Vandalblast could be Subterranean Tremors
Tropical Storm could be Arashi, the Sky Asunder
Apprentice Necromancer could be Doomed Necromancer I think you'll like the card advantage over a pump to kresh in the long run
Essence Harvest, Rupture, Soul's Fire, Stalking Vengeance, seems like a good complement to Fling
Primal Growth, Quietus Spike, Urza's Incubator, Elbrus, the Binding Blade Flip possible cut?
Back to Nature over Tranquil Path i think the mana efficiency will be better over the card draw all lot of the time for this type of effect
In your sideboard I see a couple cards that I think should make there way to the main deck, such as Chandra's Ignition and Blasphemous Act