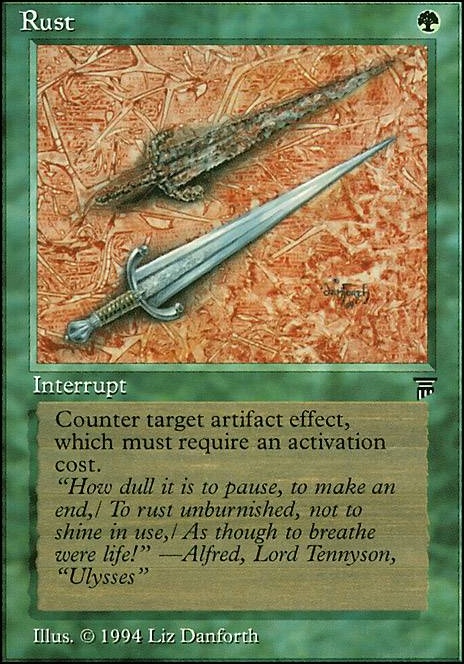 Rust
Instant
Counter target activated ability from an artifact source.
Browse Alters
View at Gatherer
Legality
| | |
| --- | --- |
| Format | Legality |
| Leviathan | Legal |
| Unformat | Legal |
| Limited | Legal |
| 2019-10-04 | Legal |
| Commander / EDH | Legal |
| Duel Commander | Legal |
| 1v1 Commander | Legal |
| Pauper EDH | Legal |
| Oathbreaker | Legal |
| Casual | Legal |
| Vintage | Legal |
| Highlander | Legal |
| Tiny Leaders | Legal |
| Oldschool 93/94 | Legal |
| Canadian Highlander | Legal |
| Pauper | Legal |
| Legacy | Legal |
Latest Decks as Commander
Rust Discussion
1 month ago
Mark Rosewater joined Magic in 1996, from Alliances forward. This means that there are a lot of counter spells in non-blue colors that predate him joining.
Red
Green
Black
White
There are also a handful of countering abilities in non-blue from pre-Rosewater sets
Richard Garfield had intended colors besides blue to have access to counter spells. Garfield also built the game to have a greater focus on interactions between colors, with hosers such as Tsunami and Acid Rain being another example, or the frequent Protection from X Color cards that are rampant in the early sets. Maro has moved away from viewing the colors as interactions and relationships between colors and towards trying to define the colors in relation to themselves (a la color pie). Whether or not you agree with Garfield's vision for the game or Rosewater's, we can't ignore that Red Elemental Blast predates Rosewater even working for Wizards. Red Elemental Blast also predates Maro's theory of the color pie, which must be applied retroactively to REB.
We also have numerous examples of non-blue counter spells in sets even after Maro started designing cards or even becoming a lead set designer. I think that while counter spells and interacting with spells/abilities on the stack is primarily a blue ability, other colors need to have access to this powerful and necessary tool. While I agree that blue should be the market share, we need closer to 85-90% of counter spells printed as blue, instead of the current ~98%
1 year ago
had to stop to think about non-blue counters once you mentioned it. I remembered Avoid Fate , Dawn Charm , Rebuff the Wicked , Dash Hopes , and Mana Tithe . but after that I was stumped on any others.
then I checked the gatherer...
Artifact Blast , Burnout , Red Elemental Blast , Pyroblast , Guttural Response , Lapse of Certainty , Illumination , Mages' Contest , Molten Influence , Not of This World , Warping Wail , and Withering Boon .
and thats not counting Bind and Rust , which while counters, don't counter spells.
3 years ago
odd mechanics in green:
Bellowing Tanglewurm, Beacon Behemoth, Avoid Fate, Cream of the Crop, City of Solitude, Brooding Saurian, Heartwood Storyteller, Gurzigost, Genju of the Cedars, Gaea's Liege, Freyalise's Winds, Fertile Imagination, Eyes of the Wisent, Engulfing Slagwurm, Elven Warhounds, Elephant Grass, Hermit of the Natterknolls Flip, Hidden Gibbons (and the other hidden creatures / enchantments), Dosan the Falling Leaf, Holistic Wisdom, Hornet Sting, Hunted Troll, Ichneumon Druid, Kashi-Tribe Reaver (and the rest of kashi-tri, if only for the lockdown mechanic), Lifeforce, Lignify, Lost in the Woods, Mammoth Harness, Meandering Towershell, Midsummer Revel, Mindbender Spores, Mortal Wound, Multani, Maro-Sorcerer, Nacatl War-Pride, Nature's Wrath, Night Soil (okay, this one is odd - because the colon is after the removal of creatures, it happens faster than players can respond or trigger to - it happens at the "cost" step of activating the ability), Noxious Revival, Panglacial Wurm, Permeating Mass, Planeswalker's Favor, Protean Hydra, Quirion Druid, Recycle, Revelation, Riftsweeper, Rite of Passage, Root Maze, Rootrunner, Rust, Scarwood Bandits, Sprouting Phytohydra, Sporogenesis, Spike Tiller, Sheltering Ancient, Selvala's Charge, Sekki, Seasons' Guide, Wave of Vitriol, Wonderlust, Vernal Equinox, Unyaro Bees, Typhoon, Tropical Storm, Tornado, Tempting Wurm, Tempting Licid, Symbiotic Deployment, Superior Numbers, Stunted Growth, Wild Mammoth, Wolfcaller's Howl, Worldspine Wurm, Xantid Swarm, and Yavimaya Dryad