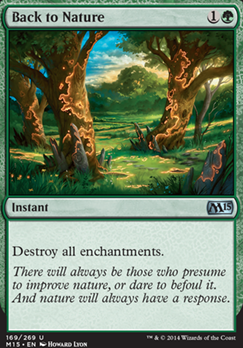 Back to Nature
Instant
Destroy all enchantments.
Have (14)

v

o

l

l

r

a

t

h

, geazykagar ,

G

r

a

n

d

e

K

h

a

n

, Fatred , JadfihfTheMerc ,

H

a

v

o

k

X

, Danielsworlds ,

T

h

e

G

r

e

a

t

S

e

a

m

u

s

, Raistlin911822 , KungPowBacon ,

a

g

t

b

u

b

b

l

e

z

7

4

,

D

u

c

k

_

o

f

_

d

o

o

m

, webdokkeren , saj0219
Want (2)
LowlyHumanCub ,

H

a

l

l

o

w

e

d

_

T

i

t

a

n
Back to Nature Discussion
2 hours ago
Cool deck idea. I really think your only problem would be Back to Nature. I would sideboard at least 3 Stain the Mind, which also wins you the game against control decks, since you can snatch their win-cons.
1 day ago
You are running a deck that is enchantment focused and has blue in it. Back to Nature and Erase will ruin your day if you let them. Get yourself some sort of counterspells on the main-board. Negate or Dissolve are excellent options.
I also wonder if running 4x Thassa, God of the Sea is a good idea; 4 of a legendary in a deck can cause some issues. Maybe lose one or 2 for some counterspell to actually keep your enchantments around.
1 day ago
Hilarious idea! +1 For creativity!
If someone kills the thief before you can pull off the exchange, you're stuck with that enchantment though.
Maybe some Naturalize or Back to Nature in the SB just in case?
I'm also thinking about some LD to stall the opponent if you can't assemble the combo in the first 3-4 turns.
2 days ago
Moar stormbreaths! I run 4 in mine, with 2 sarkhans, and 1 ashcloud. I only have 2 ground fatties, poluk and fanatic. The evasion has done crazy things. I'd recomend some Destructive Revelry over sage. Back to Nature can completely stop a reanimator too.
Take a look at mine, for some reason the link won't work but its on my profile.
R/g gruul monsters
3 days ago
A version of this deck exists in Modern, namely Bogles or Aura Hexproof. Some important cards in this type of deck normally (note that I realize you may be trying to do something new, in which case I will have to think for a while) are Slippery Bogle Gladecover Scout Keen Sense Spider Umbra Hyena Umbra Unflinching Courage and Daybreak Coronet. This sort of deck normally tries to avoid enchanting Kor Spiritdancer because spot removal (like the classic example Doom Blade) leaves the enchanter 3-or-4 for 1'd, which is very bad in Modern. Additionally, this deck is a more aggressive version of yours, with T3 wins possibly and T4 very common. Also, this type of deck doesn't play anything that costs more than 3 mana because that is a very large investment if you're planning to win T4. If you wanted to play this kind of deck, cut the Enchanted Evenings! and basically everything else that costs more than 3 mana.
However, I think it would also be viable to play an "enchantment control" style deck with nice little synergies like Enchanted Evening + Primeval Light . This style of deck would need Path to Exiles, Naturalizes (because who doesn't love instant speed unconditional targetted permanent removal), Back to Nature (destroying every permanent is fun), Ghostly Prison and the like. I don't think it would be competitive, but it would certainly be fun.
| | |
| --- | --- |
| Color(s) | Green |
| Cost | 1G |
| Converted cost | 2 |
| Avg. draft pick | 11.48 |
| Avg. cube pick | 5.28 |
Legality
| | |
| --- | --- |
| Format | Legality |
| Heirloom | Legal |
| Standard | Legal |
| Legacy | Legal |
| Vintage | Legal |
| Commander / EDH | Legal |
| Modern | Legal |
| Duel Commander | Legal |