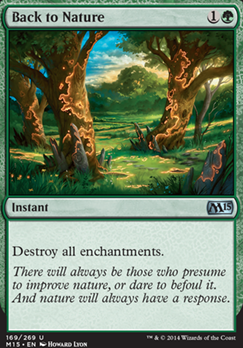 Back to Nature
Instant
Destroy all enchantments.
Have (12)

s

a

j

0

2

1

9

, Raistlin911822 ,

H

a

v

o

k

X

, Pinkiepiek9 , Hellsing , ZooGambler ,

C

a

s

t

l

e

S

i

e

g

e

, HouseDimir13 ,

C

a

l

i

g

u

l

a

, CookieJedi , AzulHunter , Fatred
Want (3)
Myris , cannon_Spectacle , Torlelukor
Back to Nature Discussion
4 days ago
Mr.grizzly Andyroo987 Heavystorm274 Thanks for the help and not alot of people run Back to Nature but if they do im done but this is just a test at the moment. I have only tested once and i beat my opponent 1-0 but he had to go to work. This is not my main deck however. I like the combinded idea of Nykthos, Shrine to Nyx and Mass Calcify for kind of a boardwipe control that wouldn't hurt as much as if i pulled End Hostilities I knew mass calcify existed i just didnt see the chemistry. Seeker of the Way however has worked fine with as many as I have and Monastery Mentor was not doing as good as alot of people hoped. I also added Elspeth, Sun's Champion for shats and giggles. Thamks for all your suggestions and help. Plz leave more tips if you believe it needs it and have time.
5 days ago
Haha, great idea! +1
Unfortunately, there is so much enchantment hate in standard, one Back to Nature screws everything up.
But anyways, I suggest Sage's Reverie for card draw (though I'm not sure if it falls off of the myth when it turns back to a noncreature), and Mass Calcify is a brutal win-con when all your white creatures are on the field. Spear of Heliod is legendary, so I wouldn't run 4. 2 Maximum. Perhaps a splash of blue for Mirror Mockery, Ephara, God of the Polis, etc. Also, I'm not a huge fan of Oppressive Rays. They just don't hold them back for long. I'd get rid of 2 for more Monastery Mentors and Seeker of the Ways.
1 week ago
Some suggestions for the sideboard:
Against Aggro: Anger of the Gods, Arc Lightning, and Wild Slash.
Against Midrange: Roast, another Dragonlord Atarka, Hornet Queen, and maybe even Ugin, the Spirit Dragon.
Against Control: a fourth Xenagos, the Reveler, Nissa, Worldwaker, Sarkhan, the Dragonspeaker, and Outpost Siege.
You'll also want at least 2-3 Disenchant effects, such as Back to Nature, Reclamation Sage, and Destructive Revelry. And if you're worried about Dragonlord Ojutai, then Rending Volley is the perfect answer.
1 week ago
I like the general idea des of then deck, but I see a lot of problems with being on the draw and not having any removal spells. Dromoka's Command seems super solid for a wide variety of options but also a potential kill spell. Personally, I'd move Arbor Colossus to sideboard, and consider taking out Soul of Theros because it seema like a weaker part of the deck.
As for sideboard 2 Surge of Righteousness is pretty good, and maybe a one of Display of Dominance similar cards, pretty common in sideboard. Back to Nature of course is fantastic against enchantment heavy decks.
Other than that, great deck. Gets a +1 from me. :D
1 week ago
I think Atarka as a 1 of is fine for testing purposes, and I agree with going up to 4 Thunderbreak's I previously really liked Ashcloud Phoenix, but Thunderbreak's synergy with Stormbreath is too good to turn down. And it doesn't get any better for enchantment removal than Back to Nature.
| | |
| --- | --- |
| Color(s) | Green |
| Cost | 1G |
| Converted cost | 2 |
| Avg. draft pick | 11.44 |
| Avg. cube pick | 5.29 |
Legality
| | |
| --- | --- |
| Format | Legality |
| Heirloom | Legal |
| Standard | Legal |
| Legacy | Legal |
| Vintage | Legal |
| Commander / EDH | Legal |
| Modern | Legal |
| Duel Commander | Legal |