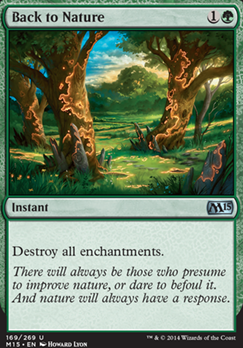 Back to Nature
Instant
Destroy all enchantments.
Have (10)
Tanis44 , Raistlin911822 , Hellsing ,

C

a

s

t

l

e

S

i

e

g

e

, saj0219 , HouseDimir13 ,

C

a

l

i

g

u

l

a

, CookieJedi , AzulHunter , Fatred
Want (4)
Myris , Kryzis , cannon_Spectacle , Torlelukor
Back to Nature Discussion
2 days ago
there's plenty of ways to get through uril, zur, derevi... Wave of Vitriol is good. AEtherspouts doesn't tuck them, but it does remove all of their enchantments, regardless of how many totem armors then have. AEtherize does the same thing. Back to Nature gets rid of enchantments.
on narset, I'm around a narset player a lot. if they can create a window where a 3/2 without evasion gets to attack without repurcussion, they deserve whatever win they can get. yes they made their deck so they can get that window fast enough. cool. hopefully no one has an early-game counter spell for their mana rock, or their narset. she doesn't have haste and you should have board wipes in your deck anyways, those kill narset. she isn't some impossible to beat threat.
wanderer has no form of evasion or resilience, aside from it being a bad idea to let someone continually recast him. Song of the Dryads, Pacifism, Darksteel Mutation, any form of polymorph card. any chump blocker, Maze of Ith.
derevi isn't winning on its own, it needs its other pieces to go off, artifacts and enchantments. yes it sucks that blue/red/black don't have easy access to removal for them. blue can counter. red/black have to look to colorless sources that destroy permanents, but solutions exist, and you should be running solutions to artifacts/enchantments.
3 days ago
I guess siding them out Game 2 is good enough. Especially if you know your opponent has access to Back to Nature (every green deck that isn't Constelation or Whip), Erase, or Utter End
5 days ago
There are several key problems here.
Land: You're running 24 lands in a control deck with all the win cons coming down on 6 or 8. If your playing control and miss any of your first 4 land drops that's almost and they haven't then its almost a sure loss.
Colors: The only card I see that you have green for is Back to Nature This card is generally a sideboard card and horribly conflicts with your banishing lights. To even play the Hornet queen in the sideboard you would have to some how manage to pull almost every green source of mana in your deck. This is very unlikely to happen and recommend just simply dropping green from this deck.
Specific cards:
Fascination is not a good card at all (in standard in EDH its ok.) If you put 2 in to the X it's a sorcery speed Weave Fate and with 3 its a sorcery speed [Jace's Ingenuity]. Both of those cards would easily replace this one.
Banishing Light With your colors it makes more sense to just run Utter End. 1 more colorless mana but its instant and would stop conflicting with ugin.
6 days ago
What do you have against Back to Nature? Seems to crush you and I run 2 sideboard plus Destructive Revelry. Just wondering if you have a plan against that?
| | |
| --- | --- |
| Color(s) | Green |
| Cost | 1G |
| Converted cost | 2 |
| Avg. draft pick | 11.45 |
| Avg. cube pick | 5.29 |
Legality
| | |
| --- | --- |
| Format | Legality |
| Heirloom | Legal |
| Standard | Legal |
| Legacy | Legal |
| Vintage | Legal |
| Commander / EDH | Legal |
| Modern | Legal |
| Duel Commander | Legal |