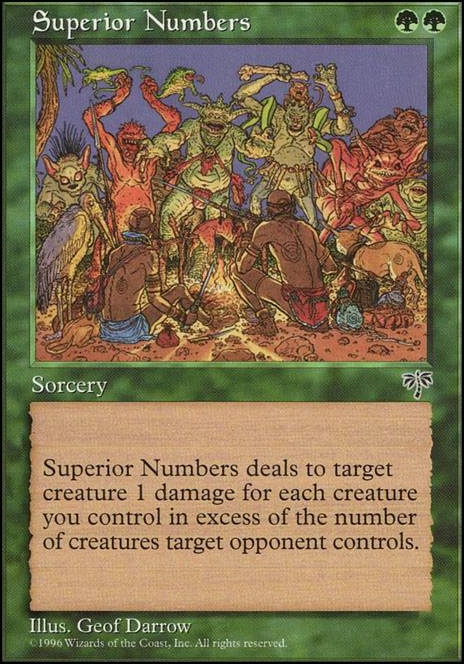 Superior Numbers
Sorcery
Superior Numbers deals damage to target creature equal to the number of creatures you control in excess of the number of creatures target opponent controls.
Browse Alters
View at Gatherer
Legality
| | |
| --- | --- |
| Format | Legality |
| Tiny Leaders | Legal |
| Noble | Legal |
| Magic Duels | Legal |
| Canadian Highlander | Legal |
| Vintage | Legal |
| Highlander | Legal |
| 2019-10-04 | Legal |
| Leviathan | Legal |
| Legacy | Legal |
| 1v1 Commander | Legal |
| Duel Commander | Legal |
| Oathbreaker | Legal |
| Unformat | Legal |
| Casual | Legal |
| Commander / EDH | Legal |
Superior Numbers Discussion
2 years ago
odd mechanics in green:
Bellowing Tanglewurm, Beacon Behemoth, Avoid Fate, Cream of the Crop, City of Solitude, Brooding Saurian, Heartwood Storyteller, Gurzigost, Genju of the Cedars, Gaea's Liege, Freyalise's Winds, Fertile Imagination, Eyes of the Wisent, Engulfing Slagwurm, Elven Warhounds, Elephant Grass, Hermit of the Natterknolls Flip, Hidden Gibbons (and the other hidden creatures / enchantments), Dosan the Falling Leaf, Holistic Wisdom, Hornet Sting, Hunted Troll, Ichneumon Druid, Kashi-Tribe Reaver (and the rest of kashi-tri, if only for the lockdown mechanic), Lifeforce, Lignify, Lost in the Woods, Mammoth Harness, Meandering Towershell, Midsummer Revel, Mindbender Spores, Mortal Wound, Multani, Maro-Sorcerer, Nacatl War-Pride, Nature's Wrath, Night Soil (okay, this one is odd - because the colon is after the removal of creatures, it happens faster than players can respond or trigger to - it happens at the "cost" step of activating the ability), Noxious Revival, Panglacial Wurm, Permeating Mass, Planeswalker's Favor, Protean Hydra, Quirion Druid, Recycle, Revelation, Riftsweeper, Rite of Passage, Root Maze, Rootrunner, Rust, Scarwood Bandits, Sprouting Phytohydra, Sporogenesis, Spike Tiller, Sheltering Ancient, Selvala's Charge, Sekki, Seasons' Guide, Wave of Vitriol, Wonderlust, Vernal Equinox, Unyaro Bees, Typhoon, Tropical Storm, Tornado, Tempting Wurm, Tempting Licid, Symbiotic Deployment, Superior Numbers, Stunted Growth, Wild Mammoth, Wolfcaller's Howl, Worldspine Wurm, Xantid Swarm, and Yavimaya Dryad
4 years ago
I really like the idea of this deck. Seems like it would be fun to play. I would suggest trying to scale your mana curve back closer to one cost.
Stuff like Birds of Paradise, Bond Beetle, Caller of Gales, Caustic Caterpillar, Druid Lyrist for utility.
Cosi's Trickster because of the format.
Essence Warden, Overrun, Gaea's Anthem, Overwhelm, Predatory Rampage, Superior Numbers, Triumph of the Hordes, Tower Above just to frustrate people.
Blue Sun's Zenith, Telling Time kind of stuff for card draw.
If you are going deathtouch for removal, cards that allow you to dictate blockers could help alot. Hunt Down - Irresistible Prey - Provoke. That kind of thing.
Also you might want to consider using bounce effects as limited removal. Peel from Reality - Evacuation Seems like that would play in nicely with the commander's theme.