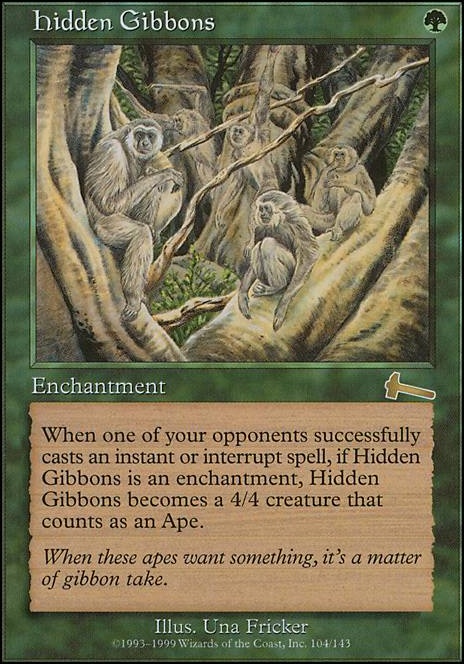 Hidden Gibbons
Enchantment
When an opponent plays an instant spell, if Hidden Gibbons is an enchantment, Hidden Gibbons becomes a 4/4 Ape creature.
Browse Alters
View at Gatherer
Legality
| | |
| --- | --- |
| Format | Legality |
| Tiny Leaders | Legal |
| Noble | Legal |
| Leviathan | Legal |
| Magic Duels | Legal |
| Canadian Highlander | Legal |
| Vintage | Legal |
| 2019-10-04 | Legal |
| Vanguard | Legal |
| Legacy | Legal |
| Archenemy | Legal |
| Planechase | Legal |
| 1v1 Commander | Legal |
| Duel Commander | Legal |
| Oathbreaker | Legal |
| Unformat | Legal |
| Casual | Legal |
| Commander / EDH | Legal |
Hidden Gibbons Discussion
2 years ago
odd mechanics in green:
Bellowing Tanglewurm, Beacon Behemoth, Avoid Fate, Cream of the Crop, City of Solitude, Brooding Saurian, Heartwood Storyteller, Gurzigost, Genju of the Cedars, Gaea's Liege, Freyalise's Winds, Fertile Imagination, Eyes of the Wisent, Engulfing Slagwurm, Elven Warhounds, Elephant Grass, Hermit of the Natterknolls Flip, Hidden Gibbons (and the other hidden creatures / enchantments), Dosan the Falling Leaf, Holistic Wisdom, Hornet Sting, Hunted Troll, Ichneumon Druid, Kashi-Tribe Reaver (and the rest of kashi-tri, if only for the lockdown mechanic), Lifeforce, Lignify, Lost in the Woods, Mammoth Harness, Meandering Towershell, Midsummer Revel, Mindbender Spores, Mortal Wound, Multani, Maro-Sorcerer, Nacatl War-Pride, Nature's Wrath, Night Soil (okay, this one is odd - because the colon is after the removal of creatures, it happens faster than players can respond or trigger to - it happens at the "cost" step of activating the ability), Noxious Revival, Panglacial Wurm, Permeating Mass, Planeswalker's Favor, Protean Hydra, Quirion Druid, Recycle, Revelation, Riftsweeper, Rite of Passage, Root Maze, Rootrunner, Rust, Scarwood Bandits, Sprouting Phytohydra, Sporogenesis, Spike Tiller, Sheltering Ancient, Selvala's Charge, Sekki, Seasons' Guide, Wave of Vitriol, Wonderlust, Vernal Equinox, Unyaro Bees, Typhoon, Tropical Storm, Tornado, Tempting Wurm, Tempting Licid, Symbiotic Deployment, Superior Numbers, Stunted Growth, Wild Mammoth, Wolfcaller's Howl, Worldspine Wurm, Xantid Swarm, and Yavimaya Dryad
4 years ago
Nice deck! Everyone fears, (or is at least annoyed by) Winter Orb. I've been running 10-Land Stompy since Odyssey Block, so of course I run Wild Mongrel. It not only fills the 2-drop slot, but also serves to utilize extra Land Grant and Elvish Spirit Guide in your hand. I see Bounty of the Hunt on your maybe board which is really good for the same reason. I used to run Vine Dryad, but it's low power disappointed me in such an aggressive deck. Skullclamp is fun to turn elves into cards.
Side board is tough and really depends on the field. My experience is that expensive blue decks win tournaments. So I run 4x Insist on the board. Hidden Gibbons is fun turn one, if you can sneak by Force of Will. Phyrexian Revoker is cheap way for green to interact with the opponent, I even main deck one now. Good luck and have fun!