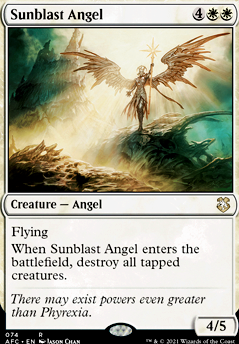 Sunblast Angel
Creature — Angel
Flying
When this enters the battlefield, destroy all tapped creatures.
Browse Alters
Trade
Legality
| | |
| --- | --- |
| Format | Legality |
| 1v1 Commander | Legal |
| Block Constructed | Legal |
| Canadian Highlander | Legal |
| Commander / EDH | Legal |
| Duel Commander | Legal |
| Highlander | Legal |
| Legacy | Legal |
| Leviathan | Legal |
| Limited | Legal |
| Modern | Legal |
| Oathbreaker | Legal |
| Unformat | Legal |
| Vintage | Legal |
| Casual | Legal |
| Custom | Legal |
| Quest Magic | Legal |
Latest Decks as Commander
Sunblast Angel Discussion
2 months ago
Sup lobsternips!
As a baseline, you'll need to add lands, which I'm sure you know. Since you're making Treasure and Gold tokens in this deck you'd probably be good with roughly 34-36 lands, leaning more to the most mana color you'll need, say like a 25/25/50 split if thats what you're going for.
That basically does it for my brief review, hope I was of some help!
2 months ago
A Cloudshift that comes back to your hand with some angel ETB effects could be fun Angel of Renewal Angel of the Dawn or even Subjugator Angel + Sunblast Angel .
Gatherer search of all etb modern legal angels (also landfall sorry): https://gatherer.wizards.com/Pages/Search/Default.aspx?action=advanced&subtype=+[angel]&type=+[%22Creature%22]&text=+[enters]+[the]+[battlefield]&format=+[%22Modern%22]
2 months ago
I would heartily NOT recommend Armageddon . You can check out the thread in the Forum on MLD (mass land destruction) from this week. It is NOT generally considered polite in casual circles, and generally frowned upon overall. Social Contract and LD Discussion
As to the Planeswalker question, looking at the options, I would front the extra money and buy Sorin Markov , as he fits well here. The others don't seem like they would add a lot of value. Overall, though, I usually don't run Planeswalkers. I have a few here and there that I like in certain decks, but overall, I find they aren't really worth it to me. They just put a target on my head, and unless they significantly advance my strategy, they're not worth the slot. Now I have a deck that does some Druid tribal, and Freyalise, Llanowar's Fury is awesome. I love Nissa Revane in an elf tribal deck. I like Teyo, the Shieldmage because he's a cheap option for personal hexproof, which can be very annoying. But overall, a Planeswalker is optional unless it really helps you.
Sunblast Angel and Blinding Light is a fun combo, but you need to be running multiple copies of each, and possibly some blink, to actually make it work. I had a deck that abused that, running Astral Slide , Rune of Protection: White et al, Auramancer , Momentary Blink , Cloudshift , Sunblast Angel , Subjugator Angel , Blinding Light , and Resolute Archangel . Yes, I am awful. It eventually became Hoofprints through the Galaxy, but that didn't last long, as all my friends hated playing against it. Basically, I just stopped them from attacking me by preventing damage from their sources until I could start dropping my big angels and swing for the kill. Still trying to come up with a deck for Hoofprints of the Stag that doesn't piss everyone off. Also, Sunblast Angel won't work if you're running Hushwing Gryff , FYI.
2 months ago
libraryjoy i got a lot of the suggestions that you made and I am already enjoying the new deck! I was wondering if you could also take a look at my sideboard. These are other cards that I own. Some of them are a little extreme, like Armageddon for a mana - ramp deck, but should I put any of these in my main deck? Or leave them in my sideboard depending on the opponent? Another card I am considering is Sunblast Angel . Its ability to destroy all tapped creatures could be used with Blinding Light , but I feel like that would not happen enough to make it worth it.
What are your thoughts on Planeswalkers? Some that I am considering that are on the more affordable side but still good cards are Sorin, Solemn Visitor , Liliana, Waker of the Dead , Ajani Goldmane , and Ajani, Caller of the Pride . I would consider getting two of these because they are only about $4 each. Or should would it be worth it to buy only one PlanesWalker and get Sorin Markov ?
Again, I really appreciate all the help! MTG is a lot more fun when your deck works well!
4 months ago
I play Kathril myself, but I focus entirely on the unbeatable Voltron strategy. However I'd lose Harmonize for Return of the Wildspeaker , and not just for this deck but in general. It offers so much better value in Commander for the extra mana. Also Underworld Dreams seems a bit out of place even if accounting for Sanguine Bond . I'd lose it alongside Wood Elves and Sunblast Angel . For those I'd add Underrealm Lich , he's great in pretty much any graveyard themed deck (I run him a bunch and he's always well worth his mana cost) and Perpetual Timepiece . It rarely gets targeted and keeps milling you constantly most of the time. Just my two cents :) for this fun commander.
4 months ago
Generally, the abilities of sagas are intended to synergize with each other. For instance, Chainer's Torment raises your life total to give you a larger token, History of Benalia creates knights that it can buff, and The Binding of the Titans puts cards in the yard so it can interact with them later. Thus, it stands to reason that The Akroan War was designed to force your opponents' creatures to attack specifically so it can then damage them on your next turn.
At the beginning of your next first main phase after you play The Akroan War , you'll put a second lore counter on the enchantment, causing the second chapter ability to trigger. This forces opposing creatures to attack each combat if able. However, attacks can only be declared during the combat phase of the player controlling those creatures. For example, in a 3 player game where you have 2 opponents, the first opponent will be forced to attack with all of their creatures (that are able) during their combat phase. That opponent doesn't have to attack again on the second opponent's turn or your turn since that would violate the rules of combat. Then, the second opponent is forced to attack during their combat phase. If your opponents gain extra turns or extra combat phases, they will be forced to attack then as well. Finally, it will be the start of your turn again and the effect will no longer apply.
Once you move to the precombat main phase of that turn, you'll again put a lore counter on the saga and trigger the third chapter ability. This will cause all tapped creatures to damage themselves by the relevant amount. This will probably include many of your opponents' creatures that were forced to tap on their turns because of the prior ability. If they tried to dodge the forced attack by tapping their own creatures before combat, they will still get hit by the Solar Blaze effect. However, if the creatures had vigilance, summoning sickness, were untapped by something like a Savage Surge , or were otherwise unable to attack and/or remain tapped, they won't get hit. Note that your creatures are also subjected to the effect, although they'll likely be untapped at this point. If you can find a way to tap down the creature stolen by The Akroan War 's first ability before your first main, you might be able to kill it before you're forced to give it back. Once the final chapter ability has resolved, you will sacrifice the saga.
TLDR: Creatures tapped during attacks provoked by the second chapter ability will usually be victims of the third chapter ability. Sleep effects are not required, although they could still be useful if you're trying to build a deck around Sunblast Angel effects like this.
I'd normally include the relevant rulings here, but I find the saga rules text needlessly hard to parse. If you're still confused about any of the rules, let me know.
5 months ago
     Mcat1999: Thanks for the Comment and Upvote!
      I was actually looking at Sunblast Angel in my binder yesterday and thinking that it would be good with Marisi! I'm not sure if it will make the final cut in the end as my opponents having creatures can often be beneficial to me, but definitely a great suggestion either way! =)
6 months ago
thanks for the hints. The first four cards you mentioed sounds very intersting. I think about adding two of them into my deck: No Mercy and Ghostly Prison.
To include The Great Henge I removed one plain resulting in 36 lands. I think this is still ok. To insert Carnage Tyrant I removed Sunblast Angel. There are enough creatures with flying and the ability to remove tapped creatures didn't worked very well in my games. So I think no great loss. At last, I removed Selective Adaptation to add Rise of the Dark Realms as an additional win condition if Kathril is blocked by opponents actions.
I looked on your deck Kathril Voltron Reanimator and noticed that you have much less creatures than me. How hard is it for you to get the keywords in the graveyard? A lot of Kathril decks include around 36 creatures. I reduced it to 32 to add some sourceries and enchanment. But you 25 feels very less (therefore my question). So perhaps that would be an option: remove 2-3 creatures to add some of the cards you suggested.
Load more