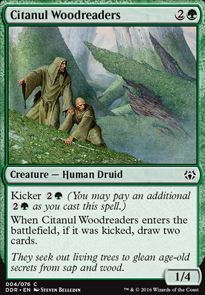 Legality
1 year ago
Sorted by CMC

Accomplished Automaton is about 2/3 of the way down

MFW
This is gorgeous.
Having played decks like this before I'd like to suggest:
Also maybe cut back on some of the fogs, I can't imagine folks profitably attacking into this. XD
2 years ago
Okay buddy here we go!
I think we need to fix a lot of things here. Ramp is an easy fix, we'll get some more instant/sorceries that get lands because they are safest. Then we'll work on getting more counters on Hallar in more efficient ways. We'll also swap out some of your kicker spells for other kicker spells that do better things.
Cards to look at:
Cards to maybe cut
So with all that I hope you're mana will be more consistant and your draw will be more powerful, then you'll be able to dump more counters on Hallar and snipe some wins. If not, your kicker spells will have more impact because they'll draw or remove or ramp. Focus on the 2cmc ramp cards, then swap out the kicker spells, then get those draw cards in there.
Here's a Deck you can also look at
2 years ago
In the past my wife and I have built both Paragon of the Amesha (enchantment voltron) and Dragonsoul Knight (infect voltron) as pauper EDH lists.
The benefit that both of them have compared to Worldheart Phoenix is that you can just dump a bunch of ramp into the list and you have a built in mana sink win condition in your commander.
Any I'm pretty sure that my wife's Dragonsoul Knight list was played against a bunch of casual EDH lists and stomped on them (basically the same situation you're in).
As for good cards - I got a lot of value out of kicker cards. They do something by themselves but you can also get more value late game. Citanul Woodreaders and Dismantling Blow are both decent sources of card draw. You also have Blink of an Eye and Into the Roil for pseudo removal/draw. Agonizing Demise is decent creature removal.
3 years ago
I also run a Hallar deck, and I'm liking yours a lot. You have a lot of stuff that I don't.
Here are some suggestions that I've found useful:
In general, I've found that a good way to play Hallar is to focus on providing a lot of +1/+1 counters and then using a few cheap kicker spells to trigger Hallar. I tend to avoid most kickers that are expensive or that require multiple colored mana whenever possible. I also like to use something like Reclaim to get back a cheap kicker so I can potentially trigger Hallar twice in one turn.
I might recommend cutting out some of the more expensive cards, like:
Another fun way to play Hallar if you include a lot of cards that put +1/+1 counters on creatures is to include cards like:
If you use cards like Hunger of the Howlpack and Blessings of Nature to dump counters on them, you can really do some damage with these. They also help to take some of the heat off of Hallar.
3 years ago
it looks pretty voltron, because of that i would run Ranger's Guile another save. maybe Harrow and Cultivate because the deck is already really mana intensive with kickers plus you always want to be able replay your general. Rabid Bite would be really nice there. i love that you have a few ping creatures as well to help finish the game did you choose the ones you did because they ping each opponent? i would suggest Spikeshot Goblin for the versatility, specially because it synergies so well with your deck already.
other then that i think Podkomorkas cut suggestions are spot on. and i got really excited to see Citanul Woodreaders fit so perfectly into your deck. that cards amazing!
hope that helps! i would love to know how hes playing!
4 years ago
A few suggestions:
Load more