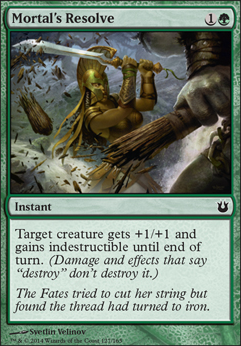 Mortal's Resolve
Instant
Target creature gets +1/+1 and gains indestructible until end of turn. (Damage and effects that say "destroy" don't destroy it.)
Browse Alters
View at Gatherer
Legality
| | |
| --- | --- |
| Format | Legality |
| Tiny Leaders | Legal |
| Vintage | Legal |
| Penny Dreadful | Legal |
| Pioneer | Legal |
| Commander / EDH | Legal |
| Noble | Legal |
| Hero | Legal |
| Magic Duels | Legal |
| Block Constructed | Legal |
| 1v1 Commander | Legal |
| Canadian Highlander | Legal |
| MTGO | Legal |
| Vanguard | Legal |
| Leviathan | Legal |
| Planechase | Legal |
| Duel Commander | Legal |
| Unformat | Legal |
| Heirloom | Legal |
| Modern | Legal |
| Pauper | Legal |
| Pauper EDH | Legal |
| Legacy | Legal |
| Archenemy | Legal |
| Casual | Legal |
| Oathbreaker | Legal |
Rules Q&A
Mortal's Resolve Discussion
5 months ago
I also read your deck help request and I've got a few possible additions. Bear in mind though, you didn't really specify a budget, so I'm just going to aim for under $20 per card:
I have to run for now, I'll add voltron-esque cards in another comment later.
7 months ago
Also liking the combo of Mortal's Resolve for 1 Gargos Trigger, also making it indestructible to kill off any deathtouch threats, then hit it with Bounty of Might .
It may be a sorcery speed combo, but it'll remove 4 threats pre-combat and make Gargos huge for turn and an attack phase.
9 months ago
Needs more Fortitude
Frog Tongue is a cantrip
Also consider Yavimaya Enchantress and Aura Gnarlid . They get big.
Also also: I've been Wombating for a long time, and I can tell you with certainty that when you play against people, they are going to try to kill your boy, because they lack both culture and sophistication. Hexproof and Indestructible instants like Ranger's Guile , Vines of Vastwood , and Mortal's Resolve are pretty clutch.
Seeing another Wombat deck pleases me greatly. Godspeed, friend.
9 months ago
A creature like Rot Wolf might be good as a recurring source of draw -- Just pump it up and they either get poisoned or you draw a card from them blocking it. That's the big pick I'd suggest, as it's a threat, can draw cards and infect, while oppressive, can win you the game easily.
I see you have Ranger's Guile -- I always love Sheltering Word in decks with big green creatures along with that. Withstand Death and Mortal's Resolve give indestructible as opposed to hexproof if you need it.
If you're looking to ramp quickly, you might want to consider land auras that get you a little extra like Fertile Ground or Wild Growth -- Sadly the ones that draw you cards only seem to let you get mana of any colour which is sort of useless in mono-G. Bequeathal might be an idea in the early game, pop it on a chump blocker and get some draw.
Aura Gnarlid and creatures like Wandering Wolf might be an idea -- If you can pump those up, they're virtually unblockable. Silhana Ledgewalker comes with hexproof too as well as pseudo-unblockable.
Only other thing I could say is to mark Mowu with CMDR in the list so it stands out -- I'm really liking the build otherwise, and as you say at this rarity level it's hard to find good sources of draw, but with some testing and tuning I'm sure it'll be a strong deck to fight against! +1 for good boyes!
10 months ago
Nice deck. I really enjoy the constraint of a genuine Pauper build. +1
As far as suggestions go, Vitalize and Wirewood Pride (I see you already have Timberwatch in there) are two commons that play extremely well with elves and common elf abilities (even in non-Pauper builds imo) and Ezuri's Archers is another great low-mana way to deal with flying, especially early on.
I'm not sure if Deathtouch or targeted destroy is a viable concern for this deck with its need (like most Elf decks) for multiple creatures in play to properly amp-up/combo, but if so both Withstand Death and Mortal's Resolve are decent Pauper options.
11 months ago
These upgrades aren't huge, cards I'd drop are the following:
Ambush Viper , Lay of the Land , Boundless Realms , Tower Defense , Mortal's Resolve , Fog , Burst of Strength , Panharmonicon , Lure , Verdant Haven , Sandwurm Convergence , Shapers' Sanctuary , Shapers' Sanctuary , Greenseeker , Kalonian Tusker , Oak Street Innkeeper , Duskdale Wurm , Elvish Aberration , Borderland Ranger , Civic Wayfinder , and Centaur's Herald .
These 21 cards don't do enough to warrant inclusion overall, and you can ask me about any specific drops, but I'd not run them. I would argue to run at least 3-5 more Forests (4 for now will be my estimate leaving 17 cards left to work with) and to run the following:
Yisan, the Wanderer Bard , End-Raze Forerunners , Karametra's Acolyte , Terastodon , Reclamation Sage , Primordial Sage , Wolfbriar Elemental , Ulvenwald Tracker , Rampaging Baloths , Regal Force , Temur Sabertooth , Fierce Empath , Harmonize , Rampant Growth , Primal Command , Lignify , and Beast Within
These should all round out the deck! Many are creatures that can be flashed in with big effect, like Yisan, the Wanderer Bard / End-Raze Forerunners / Rampaging Baloths / Regal Force , etc. or are card draw/removal to keep you in the game when an opponent 'goes off'. Often if green gets board wiped they hurt, and while Heroic Intervention helps out, Temur Sabertooth too, sometimes just rebuilding is the answer. Think of the value of in response to a Wrath of God you flash in a Regal Force , draw 7 cards, then on your next turn empty your hand of new creatures to win with!
I chose relatively cheap cards for this list, hoping you don't have to spend to much!
1 year ago
Sorry, unfortunately I don't have any fetches or Nissa, Voice of Zendikar or Become Immense, but I do have other green themed pump cards like Blossoming Defense, Giant Growth, Groundswell, Might of Old Krosa, Might of the Masses, Mortal's Resolve, Predator's Strike, Prey's Vengeance, Ranger's Guile, Strength in Numbers, Swell of Growth, and Titanic Growth.
Load more