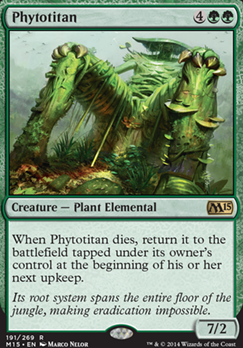 Legality
| | |
| --- | --- |
| Format | Legality |
| Tiny Leaders | Legal |
| 1v1 Commander | Legal |
| Magic Duels | Legal |
| Canadian Highlander | Legal |
| Vintage | Legal |
| Modern | Legal |
| Penny Dreadful | Legal |
| Custom | Legal |
| Leviathan | Legal |
| Legacy | Legal |
| Frontier | Legal |
| Duel Commander | Legal |
| Oathbreaker | Legal |
| Unformat | Legal |
| Casual | Legal |
| Commander / EDH | Legal |
Phytotitan
Creature — Plant Elemental
When Phytotitan dies, return it to the battlefield tapped under its owner's control at the beginning of his or her next upkeep.
Phytotitan Discussion
4 months ago
Love the concept! gota couple suggestions, figured I'll accordian them to keep from filling up the whole page.
6 months ago
Agreed with the first three. Khalni Gem could be alright, but it's also kind of a karoo.
I don't like: Undergrowth Champion, Tunneling Geopede, Tornado Elemental, Phytotitan, and especially Geyser Glider, Grove Rumbler, Sylvan Awakening, Embodiment of Fury and Embodiment of Insight. That's most of your elemental and landfall synergy. I don't think those are worth building around at all, since nearly your only payoff is your commander and the cards are pretty awful without him (and even with him they're not great.)
I'd suggest: Ramunap Excavator, Mina and Denn, Wildborn, Perilous Forays (this especially combos really well with Omnath), Harrow, Ulvenwald Hydra, Terramorphic Expanse and Evolving Wilds, Goreclaw, Terror of Qal Sisma, Ranger's Path, Thaumatic Compass Flip, Goblin Bombardment, Blighted Woodland, Temple of the False God
7 months ago
So with the theme of being aggro/removal, and keeping the deck at a budget I'll try and list some budget alternatives that can be upgrades, off the cards I can think of off the top of my head. I'm also noticing a trend with +1/+1 counters so I'll consider those as well
Remove:
Arbor Colossus: He's basically an 11 cost 9/9 that removes one single flying creature
Druid of the Cowl: Two drop mana dork that can be replaced by Llanowar Elves or Elvish Mystic. Though Druid of the Cowl has more toughness, playing one of the others turn 1 helps accelerate you better.
Experiment One: Cool one drop that gives himself counters and can regenerate, but the downside is that your deck does run a lot of creatures with similar low power/toughness creatures making this hard to get passed more than 3 counters without the aid of using resources on him.
Greenwarden of Murasa: I would keep him if you can't get your hands on a Eternal Witness because 3 > 6 mana wise.
Kabira Vindicator: Level up is a cool mechanic, but having to spend 4 mana to cast him and then another 6 mana to give your creatures +1/+1 is pretty bad. Glorious Anthem would already give them +1/+1 OR you can always get Gideon, Ally of Zendikar use his -4 ability immediately and have the emblem to have an almost permanent buff to your creatures.
Knight of Cliffhaven: Same reason as Kabira, 5 mana to have a flying 2/3 is pretty meh. and 14 mana total to have a flying, vigilant 4/4 is the worst.
Sunscorch Regent may not have vigilance, but he does have flying, and gets stronger the more spells that cast as well as gaining you life.
Master of Pearls: Has to be morphed and flipped to have any real usage. Overwhelming Stampede gives your creatures trample on top of whoever has the highest power on your board.
Nekrataal: 4 drop creature version of the 2 drop Terror. Avatar of Woe may not have the etb, but she can become a 2 drop pretty easy and can destroy a creature for you each turn.
Netcaster Spider: Would just replace this with
Longshot Squad, would synergize more with the deck and grants your other creatures +1/+1
Salt Road Patrol: For aggro, this card is too slow and only boost itself.
Sporemound: You don't have any mana accelerators or extra land drop enablers
Scapeshift: This spells rocks if you Golgari Rot Farm, Selesnya Sanctuary, Orzhov Basilica
Oath of Ajani: Would replace with Abzan Ascendancy, one extra mana for the same first ability, but the second ability will have more usage since you don't run any planeswalkers in the deck which makes the oath just a dead card on the field.
Zendikar's Roil: As mentioned with Sporemound, an alternative with a better landfall effect is Rampaging Baloths
Consume the Meek: This kills your commander and most of your creatures
Cards I would consider adding:
Pir, Imaginative Rascal & Hardened Scales work almost the same way your Winding Constrictor work
Cathars' Crusade: Considered a staple in most creature decks that use +1/+1 counter things
Ivorytusk Fortress: The budget version of Seedborn Muse and synergy with counters
Forgotten Ancient: Allows itself to gain more counters on it while the game continues and can move them to other creatures
Retribution of the Ancients: Great kill enchantment that revolves around +1/+1 counters
Oran-Rief, the Vastwood: Just an all around decent land that gives counters to all your creatures that entered on the same turn.
11 months ago
If there was ever an excuse to play Phytotitan its kresh.
11 months ago
I think your deck relies too heavily on Omnath's Landfall ability to make elementals, so I would recommend taking out some of the ramp spells and artifacts and putting in a few more elemental creatures and elemental generators. I would suggest:
Additionally, these would increase the or enable the damage dealt by Omnath's abilities:
You have a lot of ramp spells, but there are defiantly some better ones you might want put in instead of the some of the ones you have are:
Bounce lands and sac lands would work really well here as well:
I would also recommend:
1 year ago
These cards are absolutely NESSECARY in any omnath deck and will give you a HUGE advantage in any game.
These are cards that, I run in my deck because they all are apart of my gameplan to combo out and kill all of the players at the table, and I play in a 6 man pod.
And if you want to play test the combo version of the deck, or just do me a solid and upvote the deck, here it is
---

Commander / EDH DrkNinja
124 VIEWS | IN 1 FOLDER
---
Load more
Phytotitan occurrence in decks from the last year
Commander / EDH:
All decks: 0.0%