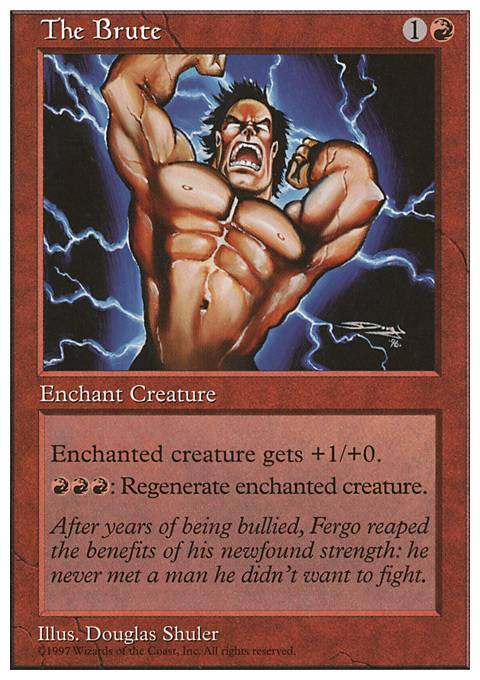 The Brute
Enchantment — Aura
Enchant creature
Enchanted creature gets +1/+0.
(Red)(Red)(Red): Regenerate enchanted creature.
Browse Alters
View at Gatherer
Legality
| | |
| --- | --- |
| Format | Legality |
| Tiny Leaders | Legal |
| Noble | Legal |
| Leviathan | Legal |
| Magic Duels | Legal |
| Canadian Highlander | Legal |
| Vintage | Legal |
| Oldschool 93/94 | Legal |
| Casual | Legal |
| Pauper EDH | Legal |
| Vanguard | Legal |
| Legacy | Legal |
| Archenemy | Legal |
| Planechase | Legal |
| 1v1 Commander | Legal |
| Duel Commander | Legal |
| Oathbreaker | Legal |
| Unformat | Legal |
| Pauper | Legal |
| Commander / EDH | Legal |
The Brute Discussion
1 year ago
I too am building voltron for the first time, i'm gonna throw down a couple of categories for cards to cut, cause im too lazy to type out individual reasons.
Too small: These artifacts arn't very impactful to the board state, as they provide very little stats wise. I can see why you would want to run these, for they let you get 3/1s on the cheap, but you need 14 3/1s to connect to face per person to win, so try taking these out, and adding in more high value equipment. I think you'll if you keep these cards in you will end up with an empty hand in the later game. -BoNeSaW
-Thornbite Staff (You have to pay 2 to activate it,)
-Jhoira's Familiar (This guy probably won't get you much value, as nothing in your deck is that expensive, and your not drawing or anything whenever you are playing artifacts, I can see why it looks good, but i think you'd rather have any other card in your hand at any stage of the game.
-Sword of the Animist this card is questionable, and its totally your opinion to run it or not. I would advise against it, as you are ramping into few impactful cards, and you'd rather have a strong buff for valduk.
-Inspiring Statuary (this card seems strong because of the pure amount of artifacts you are running, however your average card cost is under 3, and even you high end card are most 5-6.
-Darksteel Forge (as mentioned before, your average CMC is below 3, and a random 9 cost card is questionable. Although never allowing your artifacts to be destroyed is a great effect, this card will be dead in you hand for most of the game.
-Elixir of Immortality / Silent Gravestone (don't know why you run these, if it works in your meta fine, but otherwise i don't see a real appeal to running it)
-Flamespeaker's Will just a low impact card
-The Brute Rarely will you be saving mana, as you want to build as big a valduk as possible, let alone RRR. and the +1/+0 is very un-impactful.
-Comet Storm as the highest cost card(ignoring the forge) is 6, thats around the amount of mana you'll have by the time that your best option is to cast this card. Assuming you have 3 opponents, it will cost 2 mana to start, and two extra to target to second and third opponents, leaving you with 2 mana for the X cost. This deck fails to capitalize of this card because it has such a low mana curve, therefore this card is a dead card for most if not all of your games.
-Kazuul, Tyrant of the Cliffs a weird card to be running in this deck. It'll be hard to find a deck more aggresive then this one, therefore you opponent's will usually be saving their creatures to be blocking not attacking.
-Brass Squire try this card out in your deck if you want, as I'm not sure how it will preform.
-Armory Automaton/Kazuul's Toll Collector These cards serve as mini valduks, not much room for them for your opponent's ability to remove valduk shouldn't be very consistant as he has shroud alot of the time. Maybe run the Armory Automaton, as he could easily replace valduk should he get removed, swing big, and then you can reattach your stuff to valduk.
Thats all I got for now, don't take any of this personally, just my opinion. Good luck!