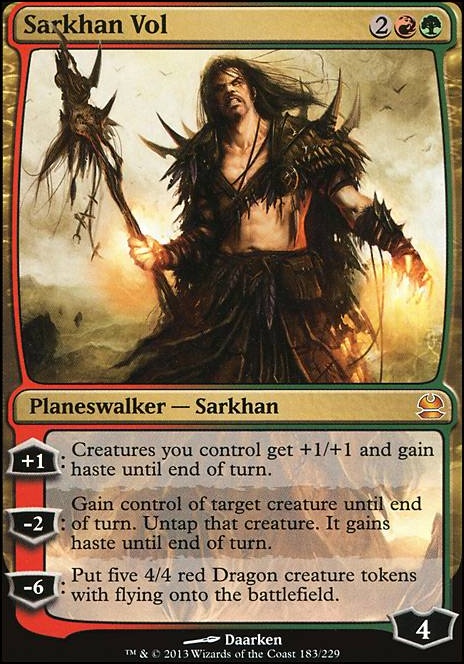 Legality
| | |
| --- | --- |
| Format | Legality |
| Tiny Leaders | Legal |
| Noble | Legal |
| Leviathan | Legal |
| Magic Duels | Legal |
| Canadian Highlander | Legal |
| Vintage | Legal |
| Modern | Legal |
| Custom | Legal |
| Vanguard | Legal |
| Legacy | Legal |
| Archenemy | Legal |
| Planechase | Legal |
| 1v1 Commander | Legal |
| Duel Commander | Legal |
| Oathbreaker | Legal |
| Unformat | Legal |
| Casual | Legal |
| Commander / EDH | Legal |
Tokens
Sarkhan Vol
Planeswalker — Sarkhan
+1: Creatures you control get +1/+1 and gain haste until end of turn.
-2: Gain control of target creature until end of turn. Untap that creature. It gains haste until end of turn.
-6: Put five 4/4 red Dragon creature tokens with flying into play.
Sarkhan Vol Discussion
1 week ago
I pulled this idea off of BMHKain's profile. Hope that's okay mate! :D
The premise is simple: We design our own User Spellbooks!
EDIT: Cleaning up a bit :)
For those who need a little refreshing, a "Spellbook" is something WOTC is attempting to do for certain Planeswalkers. Jace and Gideon currently each have one. These are collections of specific cards that key toward the attributes of that Planeswalker within their color(s).
Each Spellbook contains 8 cards - of which 7x instants / sorceries / artifacts / enchantments. We have yet to see if creatures are included.
If you'd like to create a Planeswalker card that is a reflection of yourself, your motivations, interests, hobbies, whatever please feel free to do so. However, that is really more so something for the Custom Cards Forum. Otherwise, please feel free to pick a Planeswalker that speaks to you and use them to run your Spellbook! We understand not all color combinations have Planeswalkers associated to them, and some might not fit your vibe. If you can find a Legendary Creature, please feel free to use that too :)
Tips on what spells to select:
How you enjoy playing MTG
How you personally feel IRL
Cards that speak to you on a personal level
Cards that you just think are super awesome / weird / unique
Cards that you enjoy to build around
As for the colors, I would say try to think of what color combination fits you best. Do you love to control the board and as such find Azorius or Jeskai fits your personality? Are you a relatively calm person, but you love to have titanic and explosive plays in Selesnya? Do you have an unsettling rage in your heart and want to watch the world burn under Rakdos' ire? Perhaps you just love big fluffy animals and want to go mono-green!
This is YOUR Spellbook! There is no right or wrong answer; Only your personal feelings and attachments to the game. With that said, have fun! :)
---
TypicalTimmy's Spellbook:
I love big, stupid spells. High-cost trap cards that most people wouldn't be caught dead with. I love playing fringe decks and making things work. I find, in my core, Gruul is the most fun. I get the speed of red, but the titanic plays of green. :)
2 months ago
BUMPILIUMCIOUS BARS FOR ALL!!!
Chose Omnath as my CMDR in an Anti-Meta Mono Color Deck. Even the description states 4 individuals (Me, & 3 of my Fan-Made Post-Mending Era Walkers.). Also, since you stated that nothing is known about what happened at a time of Chaos before Pre-Guildpact Beta Era Ravnica. Really makes me wish all 10 Guilds can coexist with another; but because of color difference, this is never possible even Post-WAR. So, yeah, I have a name for my cEDH Boros Community Deck after all this: "Razia's Parhelion II △ Legion of the Damned." Oh, & as I said earlier, Suns_Champion is also allowed to join despite not knowing cEDH that well; but is a very great Guru on this subject matter. So close enough.
I still haven't found one resourceful enough about the feedback part of the Competitive Gauge. Any ideas? Also, how does Inverter of Truth work w/ Manifesting, Morphing, & Megamorphing, when the first former exiles a whole library face down? That is out of reach for Manifests! Is it truly worth adding after all this?
Finally, one last plan: Outside my Kykar, Wind's Fury Vorthos Deck, I've one other thing to do: A literal Mono- Burn/Red Deck Wins deck where scorching is the name of the game; & when stuff like The Wanderer (SPOILER: Sarkhan Vol knows her back at one time.) w/ her ability to prevent noncreature damage to them, Stuff giving you (As an opponent), & even enemy permanents Hexproof; potentially retiring Shroud as a Keyword forever. I just need ideas to bypass Target Protection, & even ways to bypass ol' Wanderer-dono's noncreature damage immunity. I'll start development as I finish both my Exiles Matter Deck, & Mono- Deck. Though I'd like it if I can find a use for Inverter of Truth ; Maybe MTGGoldfish had something like that; it was an Against the Odds Deck. Ah well, better than Tibalt #1 as everyone would say...
Thanks for the update reading; I hope I didn't tick you off or something...
UPDATE: Now the situation escalades: I found some stuff for Inverter of Truth ; but does even one card exist to negate only ETB Triggers I have that can be negated? I got Inverter of Truth , Eater of Days , Leveler , Hunted Horror , & Dust Elemental ? Even if one of this even exists, AT ALL, I'd be more than happy to try & get a copy; you know, selective ETB Trigger Negation? Ah whatever, I can't even find something close to that... DX
3 months ago
Hi Wolf0312, thanks for stopping by and thanks for the suggestions. Sarkhan Vol looks right at home for that purpose, and still fits the budget theme for a planeswalker. I might pass on Zealous Conscripts though, it's a lot of mana for a once off effect and only a 3/3. Liliana Vess would fit nicely in here too, lots to think about with what to remove!
4 months ago
Do you think that we might need some more haste enablers or those we have with tutos package might be enough? I'm quite torn on Samut, Tyrant Smasher since she might be better than Sarkhan Vol in that one narrow thing but still I got rid of Sarkhan to up the consistency so... I'd like to hear your thoughts about it, maybe it's good in more casual version.
4 months ago
Sounds like a plan - let me know how the games went without Thunderbreak Regent since its the one that might get cut out.
Also I didn't mention Brainstorm or Ponder since we were trying to focus on 3 main colors and not that much on splashes.
In my build I'd probably cut Sarkhan Vol to make place for Enlightened Tutor
5 months ago
Conqueror's Flail seems to work quite nice for me since it often gives 3-5 power boost, which is more than enough to win with Atarka, World Render + The Ur-Dragon . I once equipped it onto Dragonlord Dromoka because I didn't have any better target and it gave me so much life that I didn't care about lack of blockers later. Also if it draws hate it's great because I have waaay better things to come in terms of Artifacts/Enchantments. Also giving 3-5 power means that Bloom Tender will give 3-5 mana.
Kindred Discovery has been on my mind for about 2-3 weeks now. It sometimes gets in a way of actually casting a Dragon so after I've listened to a few podcasts I'm starting to thinking about one-shot draw effects like Night's Whisper or Painful Truths in it's place. Don't like the idea of having another conditional draw especially after someone blows my board but if I'd swap something right now I'd probably do Kindred Discovery for Elemental Bond
How's been Greater Good performing for you? I wish I had some sort of sac outlet for Dragon Egg tokens but I think Vaevictis Asmadi, the Dire and Devour babies from Dragon Broodmother should be enough.
Planeswalker removal shouldn't be too much of a concern since I review planeswalkers by their abilities and if it actually impacts my board when they "do the thing" and immediately after hit the bin. So Sarkhan Vol 's haste or Act of Treason is good enough and Sarkhan the Mad after dropping of The Ur-Dragon 's trigger (done it a few times already, feels great) is just knock-out spell (best used for pillowfort players) and later I don't care if it stays. Sarkhan, Fireblood is so small and on the surface seems to be weak that other players don't care about killing it unless it's unblocked and can easily die. But it's actually a ramp/fixing planeswalker. All of them also have token spawning options, which helps win with Scourge of Valkas / Dragon Tempest .
Also you've mentioned some cheap interaction or ramp spells - do you have anything specific in mind? I'm thinking recently about Mystic Remora .
Also I'll respond to your other thread later, this one seemed to be shorter :D
5 months ago
Hello, first things first I must thank you for reaching out to me. Recently I got sick and tired of more casual Ur-Dragon decks and I'm very glad that someone out there also looks for ways to make it more optimized.
So let's start the analysis, creatures first:
I feel like this deck would use more dorks like Bloom Tender and Deathrite Shaman - this brings total of non-Dragon creatures to 5 but they all have CMC 1-4 and very clear purpose as they ramp and provide other useful abilities like grave hate, trample or more than 1 mana. I perfectly understand hesitation when it comes to Bloom Tender because of it's high price but Deathrite Shaman is pure value so it gets banned everywhere, which combined with recent reprint makes it very affordable.
Verix Bladewing - I feel like this dragon is a trap. It tempts you with 3 CMC but brings nothing more than a quasi-vanilla 4/4 with Flying and when kicked is nothing more than 1 mana more expensive Broodmate Dragon so...
In case of Broodmate... I don't think someone would use spell like this:
Crucible of Fire - I think it's a "win more" card and sometimes you win without combat so I'd recommend Carpet of Flowers - helps estabilishing early even if it gives only 1 more mana. There are of course times that this enchantment will be useless but the times it's very powerful and helpful really outweigh the negatives so no wonder it's used in many cEDH builds
I really like the idea of 1 CMC counterspell but how about Stubborn Denial ? Instead of giving someone body to block/sac you have Mana Tithe early (just observe if someone completely taps out) and straight up Negate later since almost every creature in the deck is able to meet that requirement.
Also I can't recommend enough value of Vandalblast - it's very cheap removal or just artifact wipe and I'm really happy card with this flexibility exists.
I don't really like the idea of Urza's Incubator since it helps other's cast their Dragons and I just prefer mana rocks that color fix. This might sound contradictory to the idea behind Goreclaw but she is a big body and provides slight buff and trample on top of cost reduction so it all justifies it's inclusion. For mana rock that would help maybe Mana Vault ?
Speaking of fixing I personally use Expedition Map for this reason and when I'm done fixing I can just tutor for Cavern of Souls or Homeward Path in more control match-ups. Also I don't understand the hype behind Coalition Relic .
Planeswalkers tend to die fast so I evaluate them as modal spells and Sarkhan Unbroken is not very impressive:
So to the above point I'd just go for Sarkhan Vol , which has haste or Act of Treason modes or Sarkhan the Mad to just kill someone with dragons by combat without combat (like some kind of Sun Tzu xD) and if it survives for another turn then draw off of it or get token.
Also I'm thinking about running Living Death - what are your thoughts?
And that's probably it from me, let me know what you think about these.
Load more
Sarkhan Vol occurrence in decks from the last year
Commander / EDH:
All decks: 0.01%