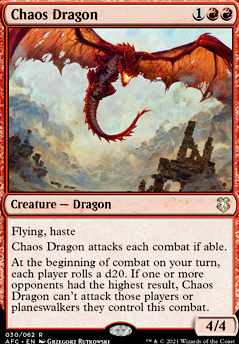 Chaos Dragon
Creature — Dragon
Flying, haste
This attacks each combat if able.
At the beginning of combat on your turn, each player rolls a twenty sided die. If one or more opponents had the highest result, this can't attack those players or planeswalker they control this combat. (Remember that MTG spindowns are not well weight balanced, so please roll a die that isn't an MTG spindown.)
Latest Decks as Commander
Chaos Dragon Discussion
2 weeks ago
Hey, well done, nice update especially the cutting of Knights for more Dragons. Nice upgrades of cards that care about Dragons, but you could expand on this further. You've doubled your budget by adding only three Dragons.
Streamlining is the process of cutting out filler cards leaving you with cards that matter more for your deck. Blood Knight and Silver Knight are vanilla Knights who don't really help gameplay thus my advice is avoid these types of Knights. You're still playing too many Knights that are not helping gameplay.
My advice is don't include a Knight because it's a Knight, being a Knight is a bonus. Instead include it because it has other good abilities that can help Dragons or efficiently make Sylvia better. Taurean Mauler is an exception, it's just a three drop Dragon that's also a Knight. It's both types of creatures as well as can grow big in multiplayer Commander when have many opponents which is good with double strike. Instead of playing many four drop Knights play four drop Dragons?
You also use streamlining to better the mana curve which helps gameplay by reducing the curve which happens when you cut out unnecessary high CMC cards such as Rowan's Stalwarts, Worldgorger Dragon, Ancestor Dragon, Caged Sun. Worldgorger Dragon is only good in decks that want to combo with Animate Dead to make infinite mana and infinite ETB triggers of creatures. You can't combo with Worldgorger, all it's doing here is exiling all your permanents including all your lands until it leaves the battlefield which would hurt gameplay more than help it. Rowan's Stalwarts tutoring for Rowan, Fearless Sparkmage is not worth it since Stalwarts is a really bad card for five mana and Rowan is subpar for five mana too.
---
Example of a streamlined midrange creature base with Dragons and some Knights (sorted by CMC):
The few Knights in this example give you more than just being a Knight and the emphasis is even more on Dragons not Knights. More four and five drop Dragons to take more advantage of early game ramp and Sylvia's double strike.
In the example the high CMC Dragons have been reduced to the best ones you have. Khorvath is also a high CMC Dragon who you want to cast. Worldgorger Dragon, Ancestor Dragon, Demanding Dragon, Eternal Dragon, Sunscorch Regent, Runehorn Hellkite, Skyline Despot are subpar compared to the other high CMC Dragons here thus you don't need them. In the place of one of these Dragons consider adding Sarkhan's Triumph? It's an instant tutor to search for any Dragon letting you choose the best Dragon at that point of the game.
Shall I continue in another comment about how to streamline other areas of your deck?
1 month ago
Hey, there's a new Commander product that just released called Adventures in the Forgotten Realms Commander and Draconic Rage is one of the four precons. It's two color Gruul with Dragon theme and in the precon are several cards that are upgrades for your deck.
---
If you want to be more competitive than the number one area for improvements to consider is the manabase. Due to budget I don't expect to see Shock lands and Fetch lands, but you could improve the manabase a lot even without them. On a budget rely more on basic lands, more Forests than others and some dual lands that have interaction with basic lands. The reason for this is basic lands always ETB untapped to make mana.
Play more Forests than others because green mana helps the most to get the other colors with land ramp spells. Mountains should be next because red is the most important color to cast Dragons. Those two colors are overall the two most important with Dragons.
Currently there's 26 of the 37 lands that always ETB tapped which makes the manabase really slow. In my opinion you're better off having the land ETB untapped and make less colors then ETB tapped and make more colors. On a budget a don't expect you to play all lands that always ETB untapped, but limit the amount of lands that don't to much less than 26. If you're going to play lands that always ETB tapped then choose Rainbow lands ( Path of Ancestry ) or the Tri lands ( Savage Lands ) since these lands can make one of five colors or one of three colors which on a budget is worth it ETB tapped.
---
Example of a budget five color manabase:
15 basic lands: more Forests and Mountains than others.
Command Tower, Exotic Orchard, Unclaimed Territory , Haven of the Spirit Dragon , Path of Ancestry
Ash Barrens, Evolving Wilds, Terramorphic Expanse
4 Tri lands: Jungle Shrine, Savage Lands , Frontier Bivouac , Opulent Palace
5 Tango lands: Cinder Glade, Canopy Vista , Sunken Hollow , Prairie Stream , Smoldering Marsh
3 Pain lands: Murmuring Bosk , Yavimaya Coast , Llanowar Wastes
Tango lands can ETB tapped, but more basic lands help for them not to. By adding more Tango lands then Farseek could also be added as a land upgrade for Grow from the Ashes since Farseek can search for a Tango land.
If interested I offer more advice. Would you like more advice? Good luck with your deck.