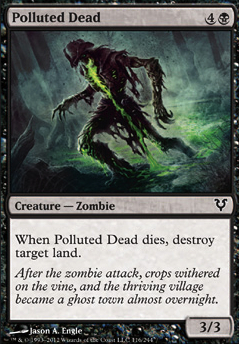 Legality
| | |
| --- | --- |
| Format | Legality |
| Pre-release | Legal |
| Tiny Leaders | Legal |
| Magic Duels | Legal |
| Vintage | Legal |
| Modern | Legal |
| Penny Dreadful | Legal |
| Casual | Legal |
| Leviathan | Legal |
| Legacy | Legal |
| 1v1 Commander | Legal |
| Duel Commander | Legal |
| Unformat | Legal |
| Pauper | Legal |
| Commander / EDH | Legal |
Polluted Dead
Creature — Zombie
When Polluted DEad dies, destroy target land.
Recent Decks
Polluted Dead Discussion
8 months ago
Polluted Dead Helldozer Deus of Calamity
Some cards that destroy lands. Helldozer might be good if everythings a swamp, wont be hard to cast and you can untap him lots to destroy more land
1 year ago
Hello there,Personally I would cut
Creatures:
From artifacts I'd toss:
What should be instantly binned: (Get the pun?:D)
What is this sorcery?:
Now, for the replacements:
Dredge fun! Golgari Grave-Troll, Stinkweed Imp and especially Life from the Loam are all strong options that have synergy with Meren :)
Sac outlets: Nothing more fun than Sadistic Hypnotist and Attrition. If you want draw, you can use Greater Good and Disciple of Bolas
What I love about B/G decks, is the powerful package that Crop Rotation brings in: Mortuary Mire for returning a creature in a pinch, Glacial Chasm for protection, Blighted Fen for an edict, Bojuka Bog for instant graveyard purge to that pesky Mer... reanimator player and some other options.
And If you didn't fall asleep, don't forget the staples:
Tooth and Nail for instawins, Solemn Simulacrum for a birthing pod chain element and good value, Cauldron of Souls because in this deck, it's gonna be disgusting. Another good pod target would be Phyrexian Delver.
Remember to keep a few options for each CMC in the pod chain.