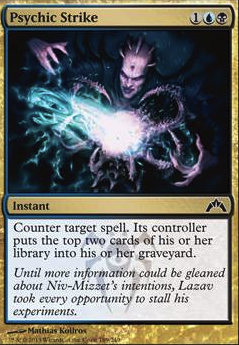 Psychic Strike
Instant
Counter target spell. Its controller puts the top two cards of his or her library into his or her graveyard.
Psychic Strike Discussion
2 weeks ago
First off, just wanted to let you know the the 1st deck I ever played that was Standard legal was a Mono-Blue Mill Deck, so I'm feeling a little nostalgic. If you're going for a "Mill" kind of strategy then there are a few things to consider:
The primary consideration is a way to deal with decks that you cannot "deck out" i.e. those decks that contain cards such as Emrakul, the Aeons Torn. This can be accomplished either through the inclusion cards such as Extirpate, as you have above, or through the inclusion of an alternate win condition .
Speed/Consistency vs Interactivity/Resiliency - "Turbo Mill", as I sometimes like to call it, has a spectrum of variations ranging from those that play more like a Burn or Combo deck to those that play like a Control deck. Whichever direction that you decide to go will determine not only the method of play, but how various match-ups should be navigated and sideboarded accordingly.
With just these two primary considerations in mind here are a few recommendations:
Remove "low-impact" cards. While I've won a game or two ( maybe more =P ) off the back of a Tome Scour in Limited, there are higher impact cards available to be played.
Look for synergies. I actually like the card Memory Sluice when it is played in a deck that maximizes the ability to play it with the Conspire additional cost.
Build in resilience. Try and include cards that perform the two-fold function of preventing our opponent from doing what they want to do, while protecting our strategy. Cards like Inquisition of Kozilek and Duress fit into this category, as opposed to Blackmail and Horrifying Revelation, both of which are cards that I do like, however they don't do much for us here.
---
Cards to Consider:
Jace, Memory Adept - may seem a bit exspensive, but Jace's ability to either play cleanup by milling 10 or provide a single card win condition (4-5 activations after he hits will pretty much always do the trick) is nice.
Jace, Telepath Unbound Flip - Shiny! New! Only time will trully tell how awesome this new Jace is that comes in a little creature package, but his abilities are all relevant to both our primary strategy and how we'll want to interact with the various decks floating around the meta. Plus, that ultimate...yeah that's good.
Jace Beleren - While I like the original Jace, and his ultimate is usually game winning, I don't think this is where we want hime primarily because his

+2

has too much potential to give our opponent something we do NOT want them to have. Not entirely ruling this guy out, but I'm of the belief that he is too anti-synergistic with what we're attempting to do.
Ashiok, Nightmare Weaver - I likey! What else need be said? Honestly though, I do believe that Ashiok is one to take a look at. While I believe that he fits better in decks like ["Pixy Stix/Lanter Control"](http://www.gatheringmagic.com/insidethedeck-053014-inside-the-deck-modern-pixy-stix-deck-tech/) I still think he could be really good here. Worth testing.
2 weeks ago
3 weeks ago
Yo mate, check this out.
First off, criss, Memory Erosion isn't that good, you might want to consider sindeborading it in favor of some counter spells, like Counterspell or Psychic Strike.
Also, Archive Trap could be switch for cheaper mill spells like Tome Scour considering that the first reaches its full potential in precise situations, while the other is generally good.
Some other recurrent mill cards that might catch your fancy : Hedron Crab, Jace, Memory Adept, Nemesis of Reason (sugoi) and whatever!
1 month ago
Just saw the spoiler for "Starfield of Nyx" from Magic Origins. That will have to go in here, but not sure what to take out for it. Possibly Psychic Strike or Loreseeker's Stone will come out for it.
| | |
| --- | --- |
| Color(s) | Black Blue |
| Cost | 1UB |
| Converted cost | 3 |
Legality
| | |
| --- | --- |
| Format | Legality |
| Legacy | Legal |
| Vintage | Legal |
| Commander / EDH | Legal |
| Modern | Legal |
| Duel Commander | Legal |