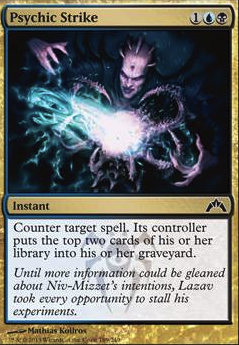 Psychic Strike
Instant
Counter target spell. Its controller puts the top two cards of his or her library into his or her graveyard.
Psychic Strike Discussion
1 week ago
Just saw the spoiler for "Starfield of Nyx" from Magic Origins. That will have to go in here, but not sure what to take out for it. Possibly Psychic Strike or Loreseeker's Stone will come out for it.
1 month ago
I was a bit hesitant to add in the Psychic Strike, but I thought about it and that's a great modification. I'm going to start a sideboard and add in the drawing cards, along with Aqueous Form and Artful Dodge.
1 month ago
Also, I might recommend Thought Scour, Counterspell, and Smother in here if you are looking more cheap control options. Could also consider/playtest: Dimir Charm, Jace's Phantasm, Mental Misstep, Psychic Strike.
Cards like Brainstorm, Serum Visions, Ponder, Preordain all synergize well with Chasm Skulker (and the whole deck). Trepanation Blade would be good with cards like Thassa, God of the Sea and Rogue's Passage and Jace's Phantasm if you want to try to take advantage of your general.
Food for thought.
| | |
| --- | --- |
| Color(s) | Black Blue |
| Cost | 1UB |
| Converted cost | 3 |
| Avg. draft pick | 5.84 |
| Avg. cube pick | 3.23 |
Legality
| | |
| --- | --- |
| Format | Legality |
| Legacy | Legal |
| Vintage | Legal |
| Commander / EDH | Legal |
| Modern | Legal |
| Duel Commander | Legal |