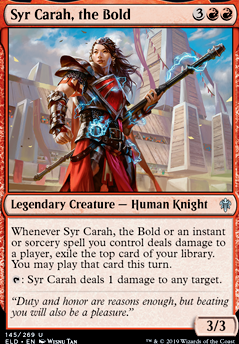 Syr Carah, the Bold
Legendary Creature — Human Knight
Whenever Syr Carah, the Bold or an instant or sorcery spell you control deals damage to a player, exile the top card of your library. You may play that card this turn.
: Syr Carah, the Bold deals 1 damage to target creature, player or planeswalker.
Start Commander Deck
Browse Alters
Trade
Legality
| | |
| --- | --- |
| Format | Legality |
| Pre-release | Legal |
| Tiny Leaders | Legal |
| Magic Duels | Legal |
| Canadian Highlander | Legal |
| Vintage | Legal |
| Modern | Legal |
| Arena | Legal |
| Penny Dreadful | Legal |
| Block Constructed | Legal |
| Standard | Legal |
| Pioneer | Legal |
| Leviathan | Legal |
| Legacy | Legal |
| Brawl | Legal |
| Frontier | Legal |
| 1v1 Commander | Legal |
| Duel Commander | Legal |
| Oathbreaker | Legal |
| Unformat | Legal |
| Casual | Legal |
| Commander / EDH | Legal |
Latest Decks as Commander
Syr Carah, the Bold Discussion
2 months ago
ELD Updates
Maximum
Competitive
High
Mid
Casual
Changes
Explanations
Maximum
Kenrith, the Returned King -- Now the de-facto pick for 5-color commander-outlet-agnostic infinite mana strategies. Powerful and versatile, Kenrith can helm a lot of builds and his large cost is carried by his general flexibility with the adaptability and raw strength of the 5 color card pool.
On his comparison to Thrasios: it is the case that Thrasios + partner as an infinite mana outlet may lend an unfavorable comparison to Kenrith in a broad, general sense. Thrasios in a tier above denotes this difference sufficiently. However, there are applications in which one would want to build with all 5 colors, and Kenrith remains strong enough to compete at the top of the metagame.
There is still a lot of room to brew and optimize Kenrith. As dominant builds emerge, the featured lists will update to reflect this.
https://scryfall.com/@Wedge/decks/07c7ab8e-cf05-4187-9e6e-cd258f00614c by Wedge
http://tappedout.net/mtg-decks/king-of-thieves-1/ by ShaperSavant
http://tappedout.net/mtg-decks/hulk-king/ by ShaperSavant
Competitive
Chulane, Teller of Tales -- Chulane represents an incredible amount of value and offers Bant not-yet-before-seen access to concise win conditions, such as Village Bellringer, Food Chain, and Aluren. Some weaknesses to boardwipes and a lack of access to black tutors.
http://tappedout.net/mtg-decks/chulane-cia/ by Spleenface
Emry, Lurker of the Loch -- Emry is powerful and consistent as an engine in the Command Zone, but lacks accessible, susinct win conditions on artifacts. Struggles with losing to Null Rod, Cursed Totem, and grave hate. This is an optimistic tentative placement.
Build to be posted.
Korvold, Fae-Cursed King -- Korvold has proven quite strong as a value engine and wincon outlet rolled into one. Immense synergies with Dockside Extortionist. An outlet for Food Chain. Synergies with fetches and a host of win conditions.
http://tappedout.net/mtg-decks/korvold-food-chain/ by Centipedantic
http://tappedout.net/mtg-decks/korvold-land-chain/ by ShaperSavant
High
Alela, Artful Provocateur -- Alela is in a powerful color combination and sets up well for a stax-centric long game. Compares unfavorably to other competitive Esper options.
Ayara, First of Locthwain -- A Blood Artist with a value engine stapled to it can power mono-black combos reasonably well.
Gadwick, the Wizened -- Infinite mana in mono-blue, though not the best at the role.
Torbran, Thane of Red Fell -- Quite potent, though burn in a 120 life game is always an uphill battle.
Syr Carah, the Bold -- Storms out powerfully and keeps the board clear. Inconsistent wincons and high fizzle chance on a given storm turn.
Syr Konrad, the Grim -- An extremely powerful commander with strong Necropotence and infect synergies. Gated by color identity for interaction and support.
Mid
Grumgully, the Generous -- A bit janky and of questionable finite value.
Questing Beast -- Combat-oriented.
Rankle, Master of Pranks -- High value; no clear wincon. Possibly decent reanimator commander. Tentative pessimistic placement.
Syr Elenora, the Discerning -- No clear wincons; slow value.
Syr Faren, the Hengehammer -- Combat-oriented, though reasonably strong for its context.
Syr Gwyn, Hero of Ashvale -- Very expensively costed. Pushed toward tribal.
Yorvo, Lord of Garenbrig -- Combat-oriented.
Casual
Linden, the Steadfast Queen -- Mono-white and very low impact. Combat-oriented.
Syr Alin, the Lion's Claw -- Mono-white and expensive for yield. Combat-oriented.
Changes
Yisan, the Wanderer Bard - Maximum to Competitive
Yisan continues to be a strong competitive pick, but has been pushed out of the top meta with the increase in speed wrought by Hulk (which he does not interact with particularly well) and being sideswiped by Hulk hate such as Grafdigger's cage. As a niche, he preys on staxxy strategies that have moved out of favor for not interacting with Hulk and Consult optimally.
Pir & Toothy - High to Competitive
P&T have demonstrated a strong amount of value and good tools to be played successfully in the competitive environment. Toothy's flicker synergies are difficult to interact with profitably and offer a lot of power in combo-control oriented games.
Grenzo, Dungeon Warder - High to Competitive
Dockside offers powerful new Doomsday lines to Grenzo, who can also layer Worldgorger. With this addition it moves back to competing with the other Competitive Level Rakdos commanders in power.
3 months ago
Ooo that's a good idea with mentor! That'd be the perfect mentor commander. I'm glad you put my idea on to a full card.
Additionally, it could instead Double combat damage triggers.
I really liked what they did with Syr Carah, the Bold , I feel a Boros version of that could be good. "Whenever you gain life, exile 1 card yada yada yada"
There's plenty of ideas and plenty of space to explore. Hoping for some good ones in commander legends!
3 months ago
Kazarov is so cool! Definitely an underrated general. You might like these: Thrashing Wumpus , Pestilence Demon , Scythe of the Wretched , Pyrohemia , Blazing Volley , Boiling Earth , Scouring Sands , Syr Carah, the Bold , Dry Spell , Wail of the Nim , Blade of the Bloodchief , Eternal Thirst , Infernal Genesis , Genesis Chamber , Akroan Horse
4 months ago
One card.
Whenever a card says [Card Name] on it (such as "Whenever Syr Carah, the Bold ..." on this card and its copies), it means "This specific object that this text is on." So each token copy has the same text, but each is referring to itself, not all objects named " Syr Carah, the Bold ."
If the ability cared about any object named Syr Carah, then the ability would be worded "Whenever a creature named Syr Carah, the Bold ..." (or "Whenever a permanent named" if it doesn't specifically have to be a creature).
4 months ago
If I create, let's say, two copies of Syr Carah, the Bold with Helm of the Host and I use the activated ability of one of them to ping an opponent... will I exile one, two or three cards from the top of my library? Thanks!
Load more