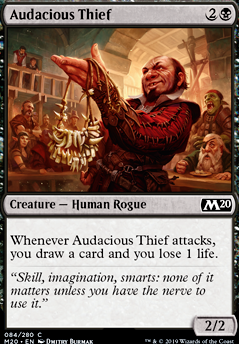 Audacious Thief
Creature — Human Rogue
Whenever Audacious Thief attacks, you draw a card and you lose 1 life.
Browse Alters
Legality
| | |
| --- | --- |
| Format | Legality |
| Pre-release | Legal |
| Tiny Leaders | Legal |
| Frontier | Legal |
| Vintage | Legal |
| Pioneer | Legal |
| Commander / EDH | Legal |
| 1v1 Commander | Legal |
| Magic Duels | Legal |
| Brawl | Legal |
| Block Constructed | Legal |
| Standard | Legal |
| Historic | Legal |
| Arena | Legal |
| Canadian Highlander | Legal |
| Leviathan | Legal |
| Duel Commander | Legal |
| Unformat | Legal |
| Modern | Legal |
| Highlander | Legal |
| Casual | Legal |
| Pauper EDH | Legal |
| Legacy | Legal |
| Pauper | Legal |
| Oathbreaker | Legal |
Audacious Thief Discussion
2 months ago
Epicurus thanks for checking my deck man :D.
i really like Karador and i am trying always to improve him.
Beast Whisperer,Skullclamp,Audacious Thief,Oakhame Adversary,Mindblade Render,Yawgmoth, Thran Physician are all amazing draw engines. Sometimes i forget i have them and neglected to tell you to add them.
on that idea also add Guardian Project and Path of Discovery they are really amazing enchantments i had to cut them out because they costed 2 much. But i still like them.
Runic Armasaur believe it or not is the first to be swapped out when i find a replacement because he is too cirumstancial.
Finally i do love Syr Konrad, the Grim but my meta is too fast for that.I tried him and really like him but 5 mana is too much for the slot i wanted him for (protect my graveyard). I don't need his damage to end the game so i had to remove him.
Thanks for checkning my deck :D
9 months ago
I feel like Flux Channeler doesn't get off much. Consider replacing with Gleaming Overseer to help protect your Zombie Army and get it through defenses. -- If you feel Flux Channeler is really working for you, Tomebound Lich could be replaced instead. I feel there's a chance he's not as effective in practice as he is on paper.
Consider Aether Tunnel to help your big Zombie Army get through defenses unscathed and boost there power a little quicker. It also synergizes with Audacious Thief since he's weak and won't survive too many attack attempts otherwise. Also synergizes with the Lifelink creatures a small bit to make sure they can keep banging away at boosting Bloodthirsty Aerialist .
You might get rid of Cryptic Caves , since it kind of slows down momentum; especially since you've also got Karn's Bastion . You wouldn't want your opening hand to have both.
Angrath, Captain of Chaos might also have a place in this deck.
Four Dreadhorde Invasion might be too many. - If you have too many out there, you're taking a lot of damage each turn. Additionally, its value isn't fully realized until the next turn, so its not necessarily much help when you need an immediate answer. Maybe remove one of them.