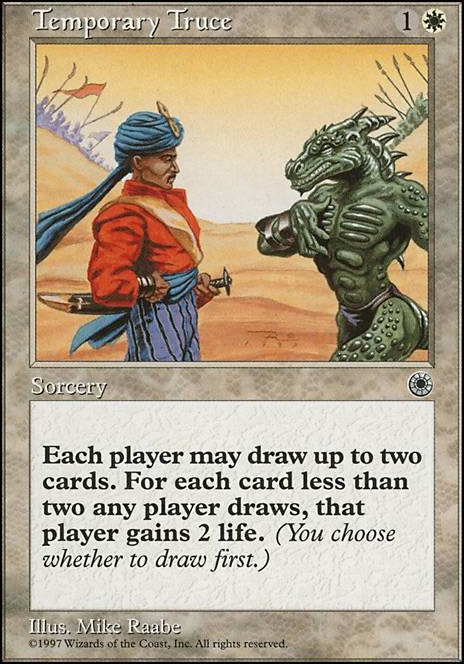 Legality
| | |
| --- | --- |
| Format | Legality |
| Noble | Legal |
| 1v1 Commander | Legal |
| Vintage | Legal |
| Casual | Legal |
| Vanguard | Legal |
| Legacy | Legal |
| Archenemy | Legal |
| Planechase | Legal |
| Duel Commander | Legal |
| Unformat | Legal |
| Pauper | Legal |
| Commander / EDH | Legal |
Temporary Truce
Sorcery
Each player may draw up to two cards. For each card less than two a player draws this way, that player gains 2 life.
Temporary Truce Discussion
1 month ago
RubyOrzhov - The deck didn't start out to expensive, but its been one I play and tweak the most over the past couple of years. Looking at it now yikes, lol. Snow-Covered Plains are important for Sunstone, but you can ditch Scrying Sheets if you're trying to knock down the budget. Kor Haven can slot in for the Maze of Ith for a couple of bucks cheaper, and it taps for mana (or more straight up removal like Condemn works too!). Glacial Chasm is a new edition, but before then it was just a plains and I was still running a Selfless Squire as another fog. Serra's Sanctum is completely non-essential. I'm not even running enough enchantments to get as much value from it as I'd like.
Land Tax and Tithe can be Gift of Estates and Oreskos Explorer. Temporary Truce is from Portal so it costs a few bucks because of that, but for much less you can run Truce, which is the instant version of it. Or just slot back in the Mentor of the Meek I took out. Angel of Finality can be Stonecloaker. In the general theme, you can run Mobilization and Knight-Captain of Eos for a nice repeatable fog as well. This works well if you've got out a way to protect the Captain.
Academy Rector and Crucible of Worlds are the two expensive cards I put the closest to be needed, but you can work around that too. Just the way EDH works there's still cards I've NEVER drawn in the deck, so I can't say any one is completely needed unless its the actual wincon. Plea for Guidance is your budget Idyllic Tutor or Rector. And White has enough ways to find land (including Eternal Dragon) that CoW is just something nice to have if you can run it.
Thanks for the comment, I hadn't really taken the time to think about a more budget friendly version of this lately!
1 year ago
poorpinkus Fair enough. I mainly play online, and considering both Truce and Temporary Truce aren't available on MTGO, which of the maybeboard cards would you recommend in its place?