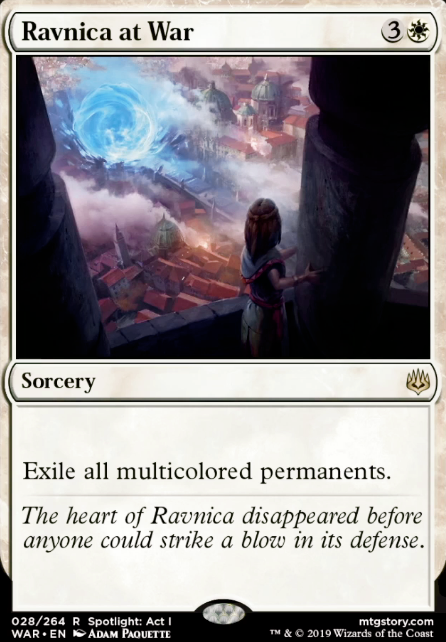 Legality
| | |
| --- | --- |
| Format | Legality |
| Pre-release | Legal |
| Tiny Leaders | Legal |
| Custom | Legal |
| Magic Duels | Legal |
| Canadian Highlander | Legal |
| Vintage | Legal |
| Modern | Legal |
| Arena | Legal |
| Penny Dreadful | Legal |
| Standard | Legal |
| Leviathan | Legal |
| Legacy | Legal |
| Brawl | Legal |
| 1v1 Commander | Legal |
| Duel Commander | Legal |
| Oathbreaker | Legal |
| Unformat | Legal |
| Casual | Legal |
| Commander / EDH | Legal |
Ravnica at War
Sorcery
Exile all multicoloured permanents.
Ravnica at War Discussion
3 months ago
Hey, Brimaz and several other cards here make tokens; consider adding some more interaction with tokens? My card suggestions can help to decrease the avg. CMC of your deck which is currently high at 3.5.
Cards to consider adding:
Mentor who's a Soldier and Skullclamp is repeatable draw with tokens. Entity who is a Solider can pump your entire army of tokens giving them a lot of power and toughness. Brimaz needs to be attacking to give you the most value consider adding more cards that can give him repeatable protection or evasion helping him to attack?
Ajani can make Brimaz a real threat when attacking, make him bigger each turn or give him flying and double strike is powerful. Gideon during your turn is a 4/4 Solider who's hard to kill while also being able to use a loyalty ability to give Brimaz indestructible protecting him in combat. Mother can protect Brimaz from targeted removal or make him unblockable by giving him protection of the color of the creature who's going to block him.
---
Cards to consider cutting:
Gideon, the Oathsworn
Helm of the Host
Akroma's Memorial
Deploy to the Front
Mass Calcify
Spear of Heliod or Honor of the Pure
Many of these suggested cuts are redundancy that's a high mana cost. Memorial for instance is giving you the same effect as Eldrazi Monument and Monument in my opinion is a better card because of tokens. Deploy is worse than Finale of Glory since Glory is flexible. Calcity is worse than Ravnica at War , a seven mana creature board wipe is not what you want. Helm is a powerful card, but only if you have ways to cheat it onto the battlefield and reduce it's equip cost. Without being able to do this it costs too much mana for what it does. Good luck with your deck.
3 months ago
Maybe Ravnica at War in the side because it absolutely wrecks Esper/Grixis Midrange player's day
LMK your thoughts
5 months ago
---

Commander / EDH* ohmless
SCORE: 1 | 41 VIEWS
---
just added Infiltration Lens , Temporary Truce , Divine Reckoning , Ravnica at War , Single Combat , and Vorrac Battlehorns . Looking for critiques and possible adds.
No data for this card yet.