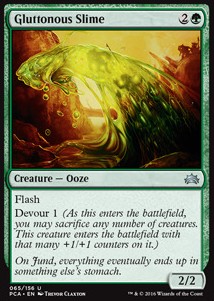 Legality
| | |
| --- | --- |
| Format | Legality |
| Tiny Leaders | Legal |
| Noble | Legal |
| Leviathan | Legal |
| Magic Duels | Legal |
| Canadian Highlander | Legal |
| Vintage | Legal |
| Modern | Legal |
| Penny Dreadful | Legal |
| Custom | Legal |
| Vanguard | Legal |
| Legacy | Legal |
| Archenemy | Legal |
| Planechase | Legal |
| 1v1 Commander | Legal |
| Duel Commander | Legal |
| Oathbreaker | Legal |
| Unformat | Legal |
| Casual | Legal |
| Commander / EDH | Legal |
Gluttonous Slime
Creature — Ooze
Flash
Devour 1 (As this enters the battlefield, you may sacrifice any number of creatures. This creature enters the battlefield with that many +1/+1 counters on it.)
Gluttonous Slime Discussion
1 month ago
Hey VexenX, I love Burgeoning in the deck, it is almost if not the best turn 1 play we can have I would be very reluctant to cut it. If you're not seeing the value then of course do what works best with your play style.
In regards utility creatures there are a few I have tested, as mentioned World Shaper is a great Splendid reclaimation on stick, I rarely used it for the attack trigger and it normally got a bolt from Omnath, Locus of Rage or sacrificed to one of our many outlets, comboing this with Sylvan Safekeeper , Titania, Protector of Argoth and Omnath, Locus of Rage on the field is explosive. Other creatures I like but can't find space for are Skullmulcher , a creature + sac outlet and card draw on a body, Green Sun's Zenith or Chord of Calling this guy out when your sac outlets have been removed or countered to finish of a player second main phase, remember it is a may ability so can still keep enough tokens out for defense if needs be. The other option which is slightly less value but more reliable and cheaper CMC is Gluttonous Slime , this doesn't have the card draw but is an instant speed sac outlet. If I could find a space for one of them I'd include them but I haven't been able to justify the slot yet. There is also Silverglade Elemental and obviously Wood Elves , I used to run the latter and use it as a Natural Order target. I would typically do the same with Dryad Arbor keeping an uncracked fetch in play so I can find the Dryad Arbor when it's time to cast Natural Order or if you need a blocker at a push.
Some food for thought..
3 years ago
@AwesomeName Thanks for the suggestions! I did consider adding Experiment One (I have a playset lol) but I opted to go with Servant of the Scale because although he doesn't dodge removal persay like Experiment One does, when he is hit with removal (as long as it doesn't bounce or exile, which regenerate doesn't dodge anyways) he can make one of my other threats stronger with his "die move", instead of leaving me with just a much weaker Experiment One. He also doesn't enter the battlefield with counters to start unless he is Savage Summoninged, so I don't get an immediate benefit from Hardened Scales.
As for Predator Ooze, he also doesn't enter with any counters and doesn't provide me any other benefit other than an inevitable clock (unless bounced or exiled). Gluttonous Slime allows me to effectively negate spells that target my other creatures by absorbing their power since I can cast him at instant speed, whereas Gristleback can enter with a counter on it and provides life gain versus other aggro decks if needed. Also Predator Ooze is more expensive lmao.
Scavenging Ooze Is a great suggestion, I would really like to add him in place of like the Gristlebacks or something but I'm not willing to drop 20$ on a playset right now. Maybe in the future!
Strangleroot Geist also sounds like a great addition, I will definitely be testing those out. I totally missed those interactions when I was thinking about what to add to this deck, so thanks for pointing those out.
Avatar of the Resolute. This one looks good on paper but I feel like against some/most decks they won't be allowing my creatures to stick for long, so it wouldn't be providing a lot of lategame benefit for me. The lategame is also why I have the hydras in here since they scale throughout the game with their x costs. I will definitely be testing this one though and if in most games my creatures stick then I will consider adding this one.
Thank you for your suggestions, they were very helpful!
@SirFowler,
I don't really like Skarrgan Pit-Skulk because I can't reliably get damage in until like turn 3 in a perfect world and it could still get removed or blocked. It's more of a high risk reward type of thing whether I can proc it or not. So actually I may look into that still, idk.
Idk if I can get behind Simic Initiate, cause you can only distribute one counter at a time and I feel like that's too slow for my liking.
Also Hangarback Walker= rip wallet, I wish though. That would be fantastic.
Thanks for the suggestions!
3 years ago
Cool deck! Here's my suggestions:
No data for this card yet.