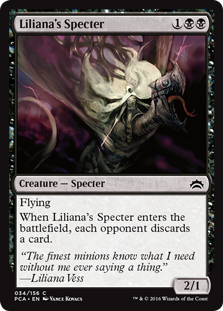 Legality
| | |
| --- | --- |
| Format | Legality |
| Tiny Leaders | Legal |
| Noble | Legal |
| Leviathan | Legal |
| Custom | Legal |
| Magic Duels | Legal |
| Canadian Highlander | Legal |
| Vintage | Legal |
| Modern | Legal |
| Penny Dreadful | Legal |
| Casual | Legal |
| Pauper EDH | Legal |
| Vanguard | Legal |
| Legacy | Legal |
| Archenemy | Legal |
| Planechase | Legal |
| 1v1 Commander | Legal |
| Duel Commander | Legal |
| Oathbreaker | Legal |
| Unformat | Legal |
| Pauper | Legal |
| Commander / EDH | Legal |
Liliana's Specter
Creature — Specter
Flying
When Liliana's Specter enters the battlefield, each opponent discards a card.
Liliana's Specter Discussion
1 month ago
Saw your post on /r/edh. I've been tweaking a casual mono-black Belzenlok for a while now (...bascially Necrologia -on-a-commander into every version of Rise of the Dark Realms ).
Chainer's game plan should be something like... Ramp > Control > Reanimate.
Focus on filling and stealing from your opponents' graveyards and protecting Chainer.
Stax: Honestly, I would avoid hard stax. It encourages your opponents to hate you and escalate their power-level.
What this deck really needs is ramp: 38-40 lands and 12-16 cards like Bubbling Muck , Charcoal Diamond , Heartless Summoning , Burnished Hart , Coalition Relic , Revel in Riches , Black Market , Magus of the Coffers , Gauntlet of Power , Nirkana Revenant , etc. Also Phyrexian Tower .
I'd recommend Dark Deal and Ward of Bones as soft stax. The first fits right into your game plan and the second is pretty clutch vs. artifacts and enchantments.
Board wipes like Boompile , Nevinyrral's Disk , Coercive Portal , Perilous Vault are very necessary in mono-black because they are some of the only ways to deal with artifacts and enchantments.
...If you want to lean into stax... here's a list for evil people :)
glhf!
1 month ago
2 ways I would build SG on a budget:
Zombie token makers ( Liliana's Reaver ) + Zombie Token lords ( Eternal Skylord ) + kill spells ( Go for the Throat ); since SG makes zombie tokens you can kill an opponent's best creature, reanimate it, and it will get buffed. You will proactively make zombies for offense/defense while reactively killing problem creatures and turning them into your minions.
Strong enter-the-battlefield trigger creatures ( Plaguecrafter ) + Arcane Adaptation + kill spells ( Murder ); since SG makes a token of the exiled creature, being able to get a second trigger is great. With AA you obviously name "zombies" and now all your creatures boost SG' upkeep trigger. You are controlling opponents through your creatures entering the battlefield while, again, you are using kill spells to get rid of threatening creatures you want to turn into zombies.
2 other viable routes, though less 'zombie,' are discard via spells ( Syphon Mind ) and creatures ( Liliana's Specter ) to which you reanimate creatures your opponents' discard & mill via creatures ( Consuming Aberration ) and spells ( Mind Grind ).
You chose a lot of good zombies but I would ask whether they are good enough that you would reanimate? While SG promotes creatures, I would not forget about relevant zombie-focused spells. Ex. Apprentice Necromancer is cute but I would cut it for Cemetery Recruitment since it draws a card too or Ghoulcaller's Chant which grabs 2 back.
I would add more card advantage ( Ambition's Cost , Ancient Craving , Live Fast ) and ramp ( Mind Stone , Dimir Cluestone , Seer's Lantern ). I would shoot 10+ sources of each because nothing is less fun than not being able to cast your spells and top-decking.
A fun interaction to go with zombies, many of your 'each opponent loses a life', and free sacrifice outlets is Metallic Mimic + Putrid Goblin for infinite damage.
The inclusion of Paradox Haze is a great idea!
3 months ago
Mirage Mirror , one of my favorite pet cards!
I would probably also end up picking Bog Initiate if I were running Ashnod's Altar , too. I ran the pair for a bit, but I'm going a bit of a token fuel route with Pawn of Ulamog / Sifter of Skulls with Dross Harvester and Pitiless Plunderer . Initiate also helps with Ancient Tomb / Sol Ring / Temple of the False God , of course.
"My opponent's don't tend to have a shortage of blockers..." In light of that, some alternatives to Hypnotic Specter : Liliana's Specter or Plaguecrafter , and work with Sangromancer all the better.
Also Vesuva could replace a Swamp, not just one of your nonbasics, because if nothing else it can be a Swamp. But of your nonbasics, Path of Ancestry only supports 4 of your cards, including Chainer, for only a rare scry 1. Has Ash Barrens been useful? I run fetchlands because of Rings of Brighthearth and it would turn that into ", discard Ash Barrens: Search my library for 2 Swamps and put them in my hand, shuffle library".
With three sources of "no maximum hand size", do you ever aim Sadistic Hypnotist at yourself as a discard outlet, or do you just not encounter a need to pitch something from your hand?
5 months ago
As for creatures, I would cut Abysmal Specter, Alley Grifters, Angel of Despair, Balustrade Spy, Confessor, Cunning Advisor, and Hollowsage. They're all about as valuable as Hill Giant , since your opponents will never agree to let you get the card advantage you're looking for, since the life is meaningless in EDH. That or they'll be outclassed by the time they hit the board. Angel is just too low impact for its cost. You should be positioning yourself to win the game with 7-drops. There are a lot of good options for creatures that make opponents discard. Just off the top of my head, Blazing Specter and Liliana's Specter beat the specters you've included. Here's a Scryfall search I set up for creatures that have discard in the text.
All of the instants are bad. They're mostly low-impact cards that make sense in 1-on-1, 20-life formats, but aren't worth a card in EDH.
As for sorceries, Deception and all Mind Rot variants aren't good enough for the format. That means Purge the Profane and Stupor, as well. Doomfall doesn't discard, so it's not good here. Liliana's Spoils is just too inefficient. Mind Knives just puts the two opponents you aren't targeting ahead of both the target and you.
As for enchantments, Ajani's Welcome and Impact Tremors need to go. I kind of see what you're doing with the lifegain subtheme, but there aren't really any payoffs in the deck, and a few life just doesn't matter in a format where people win by putting 100 power on the board in one turn or infinitely combo'ing off is the norm.
I recommend checking out the page for Tariel at EDHREC. Also the page for discard. Good luck!
6 months ago
Since pirates are fairly weak as a tribe, you're going to need to limit what others can do and attack their resources in order to chip in for the win. Your commander helps with creatures, so I would attack the hand and mana to slow them down.
I recommend discard like Capital Punishment , Dark Intimations , Discovery / Dispersal , Herald of Anguish (great with treasures!), Syphon Mind , Liliana's Specter , Nicol Bolas, the Ravager Flip, Scythe Specter , Siren of the Silent Song , Skull Rend , Tasigur's Cruelty , and Torment of Hailfire .
While land destruction is often looked down upon as unfun, if you decide to keep with a lot of small creatures, you can come out at an advantage by keeping the lands on the board low. You'd have to build your deck to accommodate that, though. For that, you have Mana Vortex , Tectonic Break , Desolation , Epicenter , Ember Swallower , Rite of Ruin (again, great with treasures), Boom / Bust , Impending Disaster , and Wake of Destruction . You'll also find that creature stealing effects snowball, since you can remove blockers to get in with your pirates. Insurrection , Expropriate , and Blatant Thievery will all serve you well.
I would also lean more heavily into treasures. Mechanized Production acts as a second copy of Revel in Riches to that end, and Brass's Bounty will help get you there.
Some generic tribal cards will also help. Cards like Vanquisher's Banner , Shared Animosity , Door of Destinies , Konda's Banner , Kindred Dominance , Kindred Discovery , Coat of Arms , Metallic Mimic , Adaptive Automaton , Obelisk of Urd , Path of Ancestry , etc. will help shore up the weakness of the tribe.
As for old pirates, consider Rishadan Brigand , Rishadan Cutpurse , Rishadan Footpad , Talas Explorer , Talas Warrior , and Cloud Pirates .
Finally, I would head to EDHREC just to see the staples that are played in Grixis colors, as well as for your commander and whatever theme you choose to go with. You can also toggle to budget in the top right in order to see what will make it easier to build without sinking a bunch of money into the deck. However, keep in mind that cards like River's Rebuke don't scale up well to multiplayer, so you'll find the choices people make are very different. While cards like Cyclonic Rift , Sol Ring and Vandalblast will hurt the pocketbook a bit, they're good investments for whatever Commander decks you choose to build in the future.
If you don't like what you see, you can also head to Scryfall to search for cards. They'll let you limit the results to cards in your color identity, put price limits, and let your rank the results by how much commander play they see.
6 months ago
I run a black/blue discard deck, Nebuchadnezzar is the commander. I recommend cards like Oppression and Bottomless Pit. Even though they hurt you, they are too powerful to pass up in my opinion. In essence they will be top decking a lot faster with those enchantments on the field. I also run in my discard deck, Reanimate, Necromancy, and Animate Dead as a way to steal other players powerful creatures that they ended up discarding. Sepulchral Primordial is also a wonderful big guy to run in a discard deck. He is pretty powerful by himself but he steals multiple creatures for you. You also should consider the most powerful discard card in the game, Mind Twist. I also run its weaker version too, Mind Shatter. Also Liliana's Specter is pretty nice, 3 mana causes all your opponents to discard one card. I recommend checking out my Nebuchadnezzar deck for my ideas, discard and graveyard decks are my favorite stuff.
Overall, your deck looks like a lot of fun and I hope you cause mayhem in your games.
7 months ago
for starters you could cut down on creatures like: Aether Poisoner, Child of Night, Daggerdrome Imp, Deathgaze Cockatrice, Farbog Revenant, Feral Abomination, Fetid Imp, Flensermite, Giant Scorpion, Hand of Silumgar, Hired Poisoner, Markov Patrician, Maze Abomination, Moonglove Changeling, Moonglove Winnower, Nirkana Assassin, Queen's Agent, Rancid Rats, Ruin Rat, Scrounger of Souls, Sidisi's Pet, Skittering Heartstopper Vampire Champion and replace others for: Black Cat, Burglar Rat, Cadaver Imp, Liliana's Specter, Ravenous Rats, Twisted Abomination, Gurmag Angler but would compite with Shambling Attendants for the gy. some usefuls spells you might replace or add cound be: Blessing of Leeches, Sadistic Glee, Soul Channeling, Ashes to Ashes, Evincar's Justice, Shred Memory, Dark Bargain, maybe Crypt Incursion. im out of ideas for cards, for now, and you could add more artifact ramp or artifact that can be creatures like Guardian Idol, Wayfarer's Bauble is in every deck i play, Relic of Progenitus and Nihil Spellbomb are always good gy hate.
Load more
Liliana's Specter occurrence in decks from the last year
Commander / EDH:
All decks: 0.0%