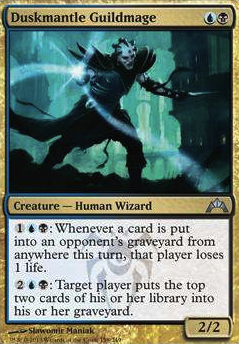 Duskmantle Guildmage
Creature — Human Wizard
1UB: Whenever a card is put into an opponent's graveyard from anywhere this turn, that player loses 1 life.2UB: Target player puts the top two cards of his or her library into his or her graveyard.
Duskmantle Guildmage Discussion
1 day ago
If you're going to mill them, then mill them. Don't waste precious resources on Delver of Secrets Flip, Desecration Demon, or Nightveil Specter. It's hard enough to mill someone out before they run you over. Those cards need to proactively progress your milling gameplan. Like Glimpse the Unthinkable.
If it doesn't mill them, and mill them good, then take it out for a control card, or a card that's going to not half-ass try to attack the opponent and instead do its job and mill the opponent.
Duskmantle Guildmage... four mana to mill two cards. No thanks.
You could mill your opponent in one swoop with a combo like Retraction Helix targeting Zephyr Scribe + Any 0-drop noncreature artifact like Tormod's Crypt + Altar of the Brood. Arguably, a combo shell that aims to protect and assemble its pieces is going to win more often and be harder to defeat than your current strategy. If that's not your playstyle, milling is going to be hard to do.
The best mill decks, in my opinion, have an extremely powerful control shell with plenty of draw power, removal, disruption, counterspells etc, and then small investment permanents that get the job done over time while continuing to control the game. The cards you would use to mill would be permanents like Ashiok, Nightmare Weaver, Nephalia Drownyard, and Sphinx's Tutelage. Also, playing Rest in Peace continues to strengthen your gameplan because it allows you to mill your opponent without fueling their graveyard and strengthening their Tarmogoyf, Deathrite Shaman, Snapcaster Mage, and any delve cards they might have like Tasigur, the Golden Fang.
If that doesn't strike your fancy, which after you said you don't like Cryptic Command, I can't imagine that it does, then there are other options. I feel like you enjoy knowing your opponent's hidden information. It's clear as I see you're running Dimir Charm and that you want to run Lantern of Insight. Knowing your opponent's hand and future draws can be really good for planning your plays, but it is certainly going to be hard to turn that into a win-condition with shuffling triggers. Even if you did, I wouldn't do that AND mill, AND try to be attacking with Delver. Delver can win, if you focus on being a delver deck. Milling can win if you focus on being a mill deck... Your deck needs some focus.
1 week ago
I will say I have used this very deck and it is extremely effective. However, The combo of Undead Alchemist and Wight of Precinct Six doesn't work really well. The Alchemist exiles the creatures so Wight gets no counters. I removed both Wights and replaced them with Duskmantle Guildmage for some infinite mill action with Mindcrank
I feel as though Undead Alchemist is a better card than Wight - more blockers and more mill in time...
| | |
| --- | --- |
| Power / Toughness | 2/2 |
| Color(s) | Black Blue |
| Cost | UB |
| Converted cost | 2 |
Legality
| | |
| --- | --- |
| Format | Legality |
| Legacy | Legal |
| Vintage | Legal |
| Commander / EDH | Legal |
| Modern | Legal |
| Duel Commander | Legal |