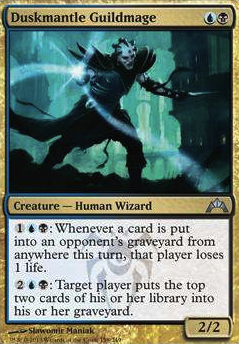 Duskmantle Guildmage
Creature — Human Wizard
1UB: Whenever a card is put into an opponent's graveyard from anywhere this turn, that player loses 1 life.2UB: Target player puts the top two cards of his or her library into his or her graveyard.
Duskmantle Guildmage Discussion
1 day ago
There are lots of fun combos in Mill.
For example, a fun infinite combo would be Duskmantle Guildmage + Mindcrank
Then you have a turtle mill approach you can take with Phenax, God of Deception you would use in combination with Wall of Frost or Colossus of Akros (For lack of a more efficient defender at the moment), and tap these creatures at the end of your opponent's turn for some huge mill, then they become untapped on your turn to defend again for the next round.
| | |
| --- | --- |
| Power / Toughness | 2/2 |
| Color(s) | Black Blue |
| Cost | UB |
| Converted cost | 2 |
Legality
| | |
| --- | --- |
| Format | Legality |
| Legacy | Legal |
| Vintage | Legal |
| Commander / EDH | Legal |
| Modern | Legal |
| Duel Commander | Legal |