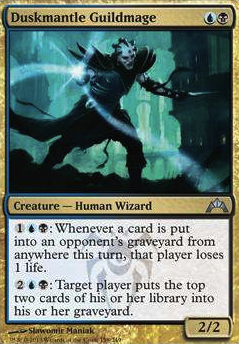 Duskmantle Guildmage
Creature — Human Wizard
1UB: Whenever a card is put into an opponent's graveyard from anywhere this turn, that player loses 1 life.2UB: Target player puts the top two cards of his or her library into his or her graveyard.
Duskmantle Guildmage Discussion
2 days ago
I think Mill is probably my favourite method of winning, even though it may not be viable in tournaments, it sure is fun in casual. I like this deck Giech!
For other ideas, have you tried Nemesis of Reason with Duskmantle Guildmage's ability? they lose 10 life off the start, just by attacking before damage is done :D. I have a Dimir Mill deck. Even though it may be Legacy, there might be some Modern ideas in it for ya! Here is the link. The Creed of House Dimir
| | |
| --- | --- |
| Power / Toughness | 2/2 |
| Cost | UB |
| Converted cost | 2 |
Legality
| | |
| --- | --- |
| Format | Legality |
| Legacy | Legal |
| Vintage | Legal |
| Commander / EDH | Legal |
| Modern | Legal |
| Duel Commander | Legal |