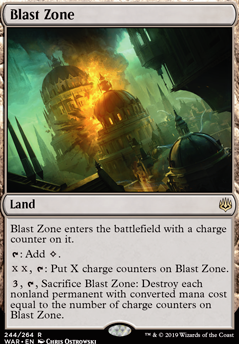 Legality
| | |
| --- | --- |
| Format | Legality |
| Pre-release | Legal |
| Tiny Leaders | Legal |
| Custom | Legal |
| Magic Duels | Legal |
| Canadian Highlander | Legal |
| Vintage | Legal |
| Modern | Legal |
| Arena | Legal |
| Standard | Legal |
| Leviathan | Legal |
| Legacy | Legal |
| Brawl | Legal |
| 1v1 Commander | Legal |
| Duel Commander | Legal |
| Oathbreaker | Legal |
| Unformat | Legal |
| Casual | Legal |
| Commander / EDH | Legal |
Blast Zone
Land
Blast Zone enters the battlefield with a charge counter on it.
: Gain .
, : Put X charge counters on Blast Zone.
, , Sacrifice Blast Zone: Destroy each nonland permanent with converted mana cost equal to the number of charge counters on Blast Zone.
Blast Zone Discussion
44 minutes ago
additions:
6 days ago
Inkmoth I appreciate your feeback :) I always wished to put Mouth of Ronom inside the deck, but I never found space for it. Usually you would want to remove low costed stax creatures (like the ones that have Torpor Orb -like effects) and that's why I run Blast Zone . Do you believe that Mouth would be better?
1 week ago
With your knight of the reliquary you can play more of a toolbox with lands. Cards like Bojuka Bog , Blast Zone , and maybe a horizon land for card draw like Horizon Canopy . I made a deck that I am not exactly satisfied with, and that I need to give more attention. it is more centered around lands https://tappedout.net/mtg-decks/landfall-zoo-m20/. although Elvish Reclaimer isnt as aggressive, you can find lands, improving the tool box strategy, and turn it into a 3/4 beater. Sweet deck +1
1 week ago
Made some minor adjustmants-
Removals: Living Wish , Oran-Rief, the Vastwood , and Mirrorpool
Additions: Finale of Devastation , Blast Zone , and Prismatic Vista
Living Wish was removed to be more compliant with the general EDH rules - even though my playgroup uses "Open Wishes" and lets it grab from our collection, I wanted this deck to be more 'pure' and so I could potentially play it in a LGS without issue. Oran-Rief and Mirrorpool - were replaced with the fifth fetch, and a more useful utility land - neither of which come into play tapped, which will hopefully improve performance slightly.
I cannot stress how good fetchlands are in this deck - if I could, I would run closer to 8. But alas, monocolor only has 5 to work with.
Finale of Devastation is curious - I'm not quite sure whether it will be worse or better than Green Sun's Zenith yet. It's one mana more, but it can grab from graveyard, and if I have enough mana (12 or more) act as a finisher - potentially a 22/22 Kozilek haste-swing plus massive buffs to whatever else I have. Time will tell, but there's no reason to not just run both.
3 weeks ago
Trying out some new tec! From now on I'll be doing a more consistent job of logging my deck revisions.
Cut ol'reliable, Terastodon for Force of Vigor . Nasty Terasty has always been amazing utility, either using him the way he's meant to be played or using him to hit my own lands and getting 33 power across 7 creatures and making Gaea's Cradle tap for significantly more mana. However, 0 mana is a lot less than 8 mana, and instant speed removal is generally better. Late game I expect to usually only pitch ramp spells after I no longer need them.
Cut Terramorphic Expanse for Prismatic Vista . It was either going to be my signed copy of Teramorphic Expanse or my FNM promo Evolving Wilds , but the Evolving Wilds was too pretty to cut. No-brainer include, the land enters untapped. Effectively a fifth fetchland for my mono colored deck.
Cut Cultivate for Springbloom Druid . This one hurt, I loved my FNM promo Cultivate signed by John Avon! I had already cut Kodama's Reach for Three Visits , and Nissa's Pilgrimage is strictly better in a mono colored deck. Springbloom Druid is also stronger for my strategy, so Cultivate got the axe.
Cut a Forest for Elvish Reclaimer . I play a lot of lands. Like, a lot. I have a million and a half ways to get more lands. With 12 Forests there's still a 91% chance of having green mana on turn one. Reclaimer is too good to not include.
Cut Homeward Path for Cryptic Caves . It's inclusion was originally to protect Titania since the deck just folds without her. However, Control Magic effects are rarely played in my meta, so the cut is justified.
Cut Blast Zone for Lotus Field. Blast Zone is extremely powerful in theory. The problem is that it's just too slow.
Load more
No data for this card yet.