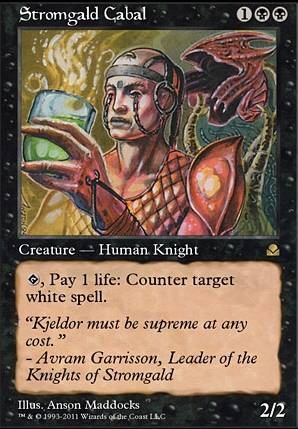 Legality
| | |
| --- | --- |
| Format | Legality |
| Tiny Leaders | Legal |
| Noble | Legal |
| Leviathan | Legal |
| Magic Duels | Legal |
| Canadian Highlander | Legal |
| Vintage | Legal |
| Vanguard | Legal |
| Legacy | Legal |
| Archenemy | Legal |
| Planechase | Legal |
| 1v1 Commander | Legal |
| Duel Commander | Legal |
| Unformat | Legal |
| Casual | Legal |
| Commander / EDH | Legal |
Stromgald Cabal
Creature — Human Knight
Tap, Pay 1 life: Counter target white spell.
Stromgald Cabal Discussion
1 year ago
Step one: Refill your hand.
Sandstone Oracle, Knollspine Dragon, Combustible Gearhulk, Harvester of Souls, and Kozilek, Butcher of Truth are pretty good at putting cards into your hand. Rune-Scarred Demon Will fetch these cards for you if you need them.Sin Prodder and Chandra, Torch of Defiance can each start riots AND give you card advantage. They're pretty outstanding.
Artisan of Kozilek will recur a big dude. Sheoldred, Whispering One will recur several.
Step three: prevent the board wipe.
Nullstone Gargoyle and Void Winnower shut most of them down. (The Winnower even shuts down Cyc Rift.) Not all of them, but they help out a lot. I maindeck Stromgald Cabal because Wrath of God is obnoxious and terrible. He also starts riots alright if you need him to. (Sometimes, all yo uneed to do is attack.)
Also: Your opponent can't board wipe if there's not a board wipe in their hand. Sire Of Insanity and Myojin of Night's Reach will get you there.
Also also: Your opponent can't board wipe if they can't afford the board wipe. Keldon Firebombers and Myojin of Infinite Rage will get you there.
Step four: Ignore the board wipe.
Darksteel Colossus is huge, doesn't care about Wrath of God, and is Free if you Riot hard enough. Ulamog, the Infinite Gyre is all of that AND removal on a stick. The Myojins start out indestructible, and can stay that way if you want.
I've been Rioting for a while, and I feel your pain, my friend. Board wipes make me cry. Take a look, you might find something you like: It's Riot Time
Good luck!