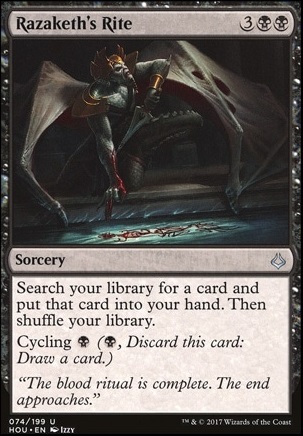 Legality
| | |
| --- | --- |
| Format | Legality |
| Pre-release | Legal |
| Tiny Leaders | Legal |
| Magic Duels | Legal |
| Canadian Highlander | Legal |
| Vintage | Legal |
| Modern | Legal |
| Arena | Legal |
| Standard | Legal |
| Leviathan | Legal |
| Legacy | Legal |
| Brawl | Legal |
| 1v1 Commander | Legal |
| Duel Commander | Legal |
| Oathbreaker | Legal |
| Unformat | Legal |
| Casual | Legal |
| Commander / EDH | Legal |
Razaketh's Rite
Sorcery
Search your library for a card and put it into your hand. Shuffle your library.
Cycling B (B, Discard this card: Draw a card.)
Razaketh's Rite Discussion
4 weeks ago
What Pikobyte said. But for specific suggestions, I'll list them below.
---
6 months ago
Hi hoardofnotions,
Thanks for the comments on Spirits Wall.
What do you guys use to value your decks? We use Deckstats.net Un-FLICKING-believable!!!!!!!!!! Deck. $60.82 - Basic Lands $1.10 = $59.72. We always found TCGPlayer.com (Sidebar) was always missing cards (Caution triangle), and was so variable made it unpleasant. Interested to know what you guys settled on.
Rakdos Charm in all honesty is not the best, but it is modular (graveyard protection), and it kills a go-wide token strategy that you indicated to have issues with. Also, or alternatively, you can run board clearing, like Chandra's Ignition or Whipflare.
Ontop of Dualcaster Mage + Ghostly Flicker + Piranha Marsh, Archaeomancer + Peregrine Drake also work.Animate Dead + Worldgorger Dragon can also, but he is high risk. Maybe some additional Tutors to consistently get the Ghostly Flicker.
Rite of Replication + Dualcaster Mage / Naru Meha, Master Wizard is infinite Wizards (Don't even need to kick it). Rite of Replication is good on it's own too, especially with all the ETB's you run. Add a Gray Merchant of Asphodel and that's a win-con (unless the opponent is playing heavy life gain), does 60 damage to each opponent ( x 6 Gray Merchant of Asphodel + 5 triggers) by itself, and you gain 180 life.
I see the mana fixing in the base, but so many tapped lands can slow you down too much. May overcome this with the ramp?
Dinrova Horror I understand he can be a powerhouse, and recurring him makes him good, but High CMC, and can't target yourself (efficiently anyway).
Dreamscape Artist that is a hell of a price to pay, I wouldn't. If it could pull any land maybe, but not basic.
I'm not sure Duplicant is effective enough, and high CMC, for his $ cost in a budget format. There's lots of ETB's to abuse, for sure, he is one of them, but not sure worth it. Would rather have money for a Rite of Replication.
Withered Wretch and Ingot Chewer are ok, but I would rather have a Rakdos Charm, I realize can't flicker them, but those creatures aren't the greatest anyway, and Withered Wretch doesn't benefit from flicker.
I would play but evaluate Discovery / Dispersal, doesn't provide any card advantage, have to see how often it is Surveil a card into the graveyard that you return as a %. If it inconsistently works, I wouldn't run it. If you find your usually recurring the card it throws, or your aggressive enough to dig for a combo piece, might be ok. Hard to evaluate.
Evil Twin (CMC4) can be great, or not. Situational. Same with Memory Plunder, too random, too situational. Difficult to evaluate it's value, I usually stay away from those.
Animate Dead is very high $, again would rather see something like a Rite of Replication in it's place.
Nightscape Familiar is not a terrible ramp, and he has Regenerate, so can block Non-Flample pretty good.
Devastation Tide scares me to, because you probably rebuild your board the slowest (or close to the slowest). I wouldn't want to reset myself, after doing all the ramping work. Might be situational good on occasion, but rarely on a miracle. There is a blue card (not Cyclonic Rift that does opponents stuff, name escapes me now, but it has a very high CMC)
Commit / Memory at CMC4 seems pretty high too. Seems to much, lose the game with it in hand and unable to cast, or saving CMC4 and don't end up using it. Not Flash or anything (other than the copy spell guys) to really utilize the saved mana, or draw, etc. Some with the artifact returns/recur though.
Burnished Hart is really good, I know he doesn't ETB, but if you can recur him, lots of ramping. A little $ expensive too.
Most of your drawing is CMC 3+ which, I understand early turns your playing tapped lands for the most part, so you're slowly moving, then turn 3-5 your trying to draw. You have a couple tutors, but you might get overwhelmed before you can get to it. Luckily in a multi-pod, you'll probably be left alone for a while, but hard to evaluate if your fast enough. Since you restrict to only Tier 4+ commanders, you may have enough time, our league doesn't restrict, just restricts the budget, Animar or Brago, you'd never get ahead of, so you have that going for you!
Cloud of Faeries + Deadeye Navigator + Dimir Aqueduct or Izzet Boilerworks or Rakdos Carnarium does indeed make infinite mana.
Razaketh's Rite is high CMC, but the Cycling makes it playable if drawn in opening rounds.
Sever the Bloodline is great for Horde removal too (or indestructible), or Bile Blight. Not sure how often you see it though, we have 1/1 Snake and 2/2 Wolf and */* Vampire in our league. Tragic Slip too (instant speed).
Murder is a good budget removal too. Can free up some $ with a Dissipate instead of Counterspell.
I like the draw on Illusionist's Stratagem but the CMC4 sucks, it's still good though because it triggers the 2 creatures, which you need.
Custodi Lich is awesome (for the extra draw and the sacrifice), but his $ and his CMC5 make him not budget friendly. Plus he many not even get the target your really want to kill, and sorcery speed. Once the Monarch is on the table, if you don't have a way to take it back, you may actually hurt yourself by giving away card advantage.
Notion Thief is best with Wheel of Fortune type effects, or when you play "all players draw a card" type effects. Not sure if you've found him consistent enough in this flicker type build?
Good deck idea, like the flicker. +1.
7 months ago
Night's Whisper $1.58 is too much, Sign in Blood is $0.18 (and can target opponents), Read the Bones is $0.16 but I don't like the CMC3. Night's Whisper/Sign in Blood definitely the best. Brainstorm $0.70 is even better imo. Ponder is $2.30 so not a great option. Brainstorm/Sign in Blood best for budget. Altar's Reap don't like it either. Costly Plunder also not quite right.
Telling Time also not bad in budget $0.23 lets you scry one to bottom and replaces itself.
Dimir Signet $1.80 is so much. Talisman of Dominance $1.29 is better because it's CMC2. Also, Talisman of Indulgence $0.72. Fellwar Stone $1.25 but less predictable. I think the Signets are great, but $1.80 is tough.
Baleful Strix is $2.95 but pretty amazing, if you free up enough cash for him.
Archfiend of Depravity $1.01 can dominate this format, you've seen it from my Glissa, the Traitor deck.
Displacement Wave slows you down too much I feel, it can give you a Thraximundar alone. You control it with , but it's not going to work in 1 hour format, outside of the 1 hour feel it's pretty weak anyway.
Soul's Fire also feels wrong, a turn you cast Thraximundar you won't have mana for it, only a handful of creatures going to deal enough to be of consequence.
Shrieking Affliction is going to guarantee that 3x players are attacking you, and it's too slow to win you the game.
Nighthowler is a better Wight of Precinct Six (you can run both), he is CMC3, but he also counts your graveyard, and he also has Bestow if you have the extra mana (modular)
Consuming Aberration is a higher CMC, but he can also build the graveyards, remember that time SolomonsEfreet had him out. But high CMC. $1.90 too.
Can up you mana ramp with stuff like Mycosynth Wellspring $0.15,
You have Fleshbag Marauder & Merciless Executioner but missing their good buddy Slum Reaper $0.19.
Traveler's Amulet and Wanderer's Twig are great for color fixing and ramping. Wayfarer's Bauble goes onto the battlefield for CMC1 more.
Deadeye Navigator has lots of positive applications in your build, but he's $2.15. I won't list everyone, you can read the LTB/ETB guys, but Peregrine Drake is infinite ETB & infinite mana.
Murder always a nice multi-purpose removal in this format.
Far // Away $0.24 can also be handy.
You're mana source distribution is quite good 24% / 24% / 37% .
Vona's Hunger was pretty good when SolomonsEfreet played it.
Diabolic Tutor for Torment of Hailfire or the other half of Rite of Replication / Gray Merchant of Asphodel win-con.
Dark Petition is $2.32 but can assist with casting the Gray Merchant of Asphodel, I also don't mind Razaketh's Rite because I just cycle it for if it's drawn early on.
Desecration Demon might be fun, he's only CMC4.
I think your fairly balanced too, maybe a little too heavy on Sorcery, sub 1 for an instant or another creature or artifact.
One of the nice things with Thraximundar is you should get left alone early on because your not an immediate threat vs. someone like your Xenagos.
I wouldn't go counterspell (maybeboard has so many), won't work in this format effectively.
Havengul Lich has some recursion built in, but wouldn't say he's really that synergistic with Thraximundar but he can target others graveyards.
He's not a Xenagos, God of Revels but a good serviceable Commander in $50 budget. Crosis, the Purger no way lol, Sedris, the Traitor King would also work but he the same CMC anyway,
7 months ago
Hi bushido_man96,
Traveler's Amulet and Wanderer's Twig are very good in this format, I do use them frequently in $50 budget decks (example 2C Mardu Alesha, Boros' Crust.
Whip of Erebos is very important in this format, often because combos are less prevalent, and often you will be killed through having your life reduced to 0. Lifelink is powerful in $50 budget commander league. Also, it's an artifact so can avoid removal, plus it allows me to recur creatures like Fleshbag Marauder/Slum Reaper/Merciless Executioner/etc that I can't recur, to trigger my Glissa, the Traitor ability to return my artifacts. Sangromancer to can gain quite a bit of life in an Barter in Blood/Mutilate/Etc type situation.
I did opt-in things like Golgari Cluestone/Horizon Spellbomb/Etc because of draw or LTB triggers as well (on stuff like Mycosynth Wellspring for example. I thought I needed more tutors Razaketh's Rite/Diabolic Tutor but you might be right where I need more ramp now. I'll try and get some reps in, I have 4 $50 commanders now, so i usually randomly choose, but I can select, last season, and this season Glissa, the Traitor runs a 33% win ratio (in 4-player pods), so it is fairly consistent.
Graveborn Muse recently added has been doing tons of work for me, giving Bone Picker a chance now, really like the deathtouch.
8 months ago
I recommend Sanguine Bond, Exquisite Blood, Command Tower, Tainted Sigil, Sol Ring, Orzhov Signet, Isolated Chapel, Batwing Brume, Beacon of Immortality, Congregate, Fetid Heath, Vindicate, Well of Lost Dreams, Chalice of Life Flip, Norn's Annex, Enlightened Tutor, Demonic Tutor, Urborg, Tomb of Yawgmoth, Vault of the Archangel, Godless Shrine, Marsh Flats, Blood Baron of Vizkopa, Crypt Ghast, Tithe Drinker, Mortify, Liliana of the Dark Realms, Debt to the Deathless, Exsanguinate, Blind Obedience, Legion Lieutenant, Anowon, the Ruin Sage, Captivating Vampire, Profane Procession Flip, Anointed Procession, Yahenni, Undying Partisan, Blood Artist, Bloodlord of Vaasgoth, Bloodline Necromancer, Bloodline Keeper

Flip, Drana, Liberator of Malakir, Viscera Seer, Vona's Hunger, Doom Blade, Path to Exile, Swords to Plowshares, Recover, Blood Tribute, Necromantic Summons, Razaketh's Rite, Blade of the Bloodchief, Ashnod's Altar, Cathars' Crusade, Sorin, Solemn Visitor, Sorin, Lord of Innistrad, Sorin, Grim Nemesis, Orzhov Basilica, Path of Ancestry, Scoured Barrens, Caves of Koilos, Shambling Vent, and High Market. (Reposted for links)
11 months ago
With only 6 Relentless Rats you need half of your total number on the battlefield to even make them 4/4s. Most of the time they will be 3 mana 2/2s. You need a critical mass of Relentless Rats--at least 20. If you want to dedicate only a small portion of your deck to the Relentless effect, then Rat Colony is much better; unlike Relentless Rats it benefits from any rat you control, including Marrow-Gnawer's tokens. Pack Rat is also superior if you have many non-Relentless Rats.
Rat Colony is strictly better than Swarm of Rats. It's also generally better than Bog Rats, Carrion Rats, Muck Rats, Nezumi Cutthroat (fear isn't worth a large power loss and "can't block", especially when Marrow-Gnawer provides fear), Pestilence Rats (Rat Colony gets +2/-2 under most conditions and costs 1 less), and Earsplitting Rats (not enough graveyard/discard synergies).
Other suggestions
Tormod's Crypt -> Nihil Spellbomb, Bojuka Bog. You can run Crypt in addition if needed, but I would use these first.
Kitesail -> Bladed Pinions, Fleetfeather Sandals.
Geth's Grimoire -> remove. Only four or so cards in this deck actually cause an opponent to discard. Since you're running Ancient Craving, might as well slot in Ambition's Cost as well.
Nightmare Lash -> Lashwrithe. Or just run both, but Lashwrithe first.
Sword of the Paruns -> Bad Moon, Adaptive Automaton, Hall of Triumph, Vanquisher's Banner, and Obelisk of Urd are all more mana efficient and consistent ways to pump your rats.
Altar's Reap -> Costly Plunder, Night's Whisper, Sign in Blood.
I'm not sure how Shriveling Rot serves the deck.
There are two Cabal Strongholds, so one needs to come out. Cycling lands--Barren Moor, Polluted Mire, and Desert of the Glorified--hedge against land-heavy draws. Some cheap utility/value lands like Zhalfirin Void, Encroaching Wastes, Mystifying Maze, or Temple of the False God might be good over some number of Swamps too.
Phyrexian Tribute -> Scour from Existence, Unstable Obelisk. I know black is bad with artifacts, but there is a reason Phyrexian Tribute is in 55 edh decks, and the other two are in over 5000 each, and it isn't just color restriction. They cover all five permanent types instead of just one, including the equally hard-for-black enchantments. Requiring two creatures to sacrifice, Phyrexian Tribute isn't even always easier to cast, and it's effect is far less flexible.
Speaking of Unstable Obelisk, more mana ramp would be prudent, like Wayfarer's Bauble, Mind Stone, and Commander's Sphere. Bontu's Monument isn't Jet Medallion, but is still worthwhile with 27 creatures.
I don't think there are enough graveyard synergies to make Living Death appropriate.
Night Dealings is slow, does nothing if the battlefield isn't somewhat favorable, can potentially get removed, makes you reveal, and can't get lands. Razaketh's Rite and Mastermind's Acquisition tutor with no fuss. If you want slow, multi-card tutoring, Diabolic Revelation, Demonic Collusion, and Increasing Ambition are reliable options. Although none feature Nezumi in their art.
Curse of Death's Hold is a bit narrow for multiplayer; I'd prefer Ascendant Evincar which will hit more enemy creatures overall while buffing your own and being a 3/3 flier.
Load more
Razaketh's Rite occurrence in decks from the last year
Commander / EDH:
All decks: 0.01%