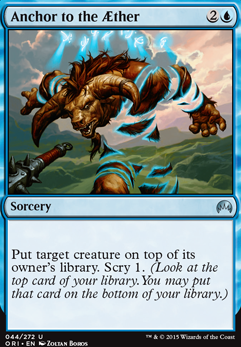 Legality
| | |
| --- | --- |
| Format | Legality |
| Pre-release | Legal |
| Tiny Leaders | Legal |
| Magic Duels | Legal |
| Vintage | Legal |
| Modern | Legal |
| Penny Dreadful | Legal |
| Casual | Legal |
| Leviathan | Legal |
| Legacy | Legal |
| Frontier | Legal |
| 1v1 Commander | Legal |
| Duel Commander | Legal |
| Unformat | Legal |
| Pauper | Legal |
| Commander / EDH | Legal |
Anchor to the Aether
Sorcery
Put target creature on top of its owner's library. Scry 1. (Look at the top card of your library. You may put that card on the bottom of your library.)
Anchor to the Aether Discussion
2 weeks ago
Unstable Obelisk- Its mana intensive to do, but this effect is very valuable to have in your colors. I recommend having it just in case.
Bedlam Reveler- A very good topdeck late in the game, as well as an efficent beater for that refills your hand. Not so good if you're early on and dont have self mill
Bloodwater Entity- for a Reclaim and an evasive body with prowess is not a bad rate. Downside of course is having to use your jori trigger or a cantrip to get the card into your hand (but thats not so hard).
Jace, Vryn's Prodigy Flip- Card selection is King. This fuels your delve spells and smooths out your draws in the early game, while relieving pressure and ensuring you get your jori triggers late
Torrential Gearhulk- This is the only gearhulk that is seeing modern play for a reason. It lets us keep using our graveyard as a resource, while being a big body. Very often you can flash it in to block and cast a random spell in your graveyard FOR FREE to get a jori trigger. Thats a 3 for 1. And now you have a 5/6.
Chaos Warp- see Unstable Obelisk
Magma Jet- Part of my efforts to find interaction that gives card advantage. 2 damage isn't a lot, but its an instant speed play that can pick off utility creatures while giving us powerful card selection
Oona's Grace-Particularly powerful with your cost reducers, gives us a way to use our excess lands to hit jori triggers. Also an excellent card to discard.
Remand- Tempo play that digs you deeper. I'd probably fire this one off at the first chance i'd get.
Think Twice- Similar to Oona's Grace.
Voyage's End- Instant speed bounce with scry. Similar options discussed later.
Riptide Laboratory- mana is actually a big issue with this deck, but I think this effect is powerful enough
Anchor to the Aether- Sorcery speed, but going to the top of the library messes up your opponent's next draw, while the scry digs you further through the deck. I haven't played with this one yet, but it might be good to test.
Pieces of the Puzzle- is a lot and sorcery speed sucks, but this is a powerful draw spell that has the advantage of also filling your graveyard
Spite of Mogis- This is the addition that I am most proud of. I can't believe we didn't know this card existed.
Desperate Ravings
- Good rate on this card and instant speed with flashback is nice. random is bad though
Lat-Nam's Legacy- similar rate to Desperate Ravings, but doesn't get you the card immediately
Perilous Voyage- Excellent if it hits something with cmc or less, underwhelming if not. Meta call. Also note that it has cyclonic rift's restriction.
Repulse-Bounce with draw. I think this is the best rate for this effect.
Select for Inspection-A bit troublesome to use, but the scry bounce for only is nice
Stymied Hopes- I'd consider this one a tempo play. Hit the first thing you can, so you can get that sweet sweet scry.
Unsubstantiate- Versatile spell, but the lack of card advantage on it is a minus
Baral's Expertise- Big bounce spell, will trigger Jori. But costs .
Mystic Speculation- Could be ok. Scry 3 is a lot, but thats all it does. I dont see you buying this back all that often.
Shreds of Sanity- 2 cards back for 3 mana + a card. Sounds interesting
Strategic Planning- sorcery speed impulse, but fills your yard.
Void Snare- 1 mana bounce
8 months ago
First, I think a deck headed by Geralf will have an extremely hard time milling an opponent out because he isn't meant for that type of deck, imo. Phenax, God of Deception is a better option to which you could bring a lot of your deck too but also take advantage of some great Dimir mill cards too.
Regardless, here's how I think you could improve this:
Anchor to the Aether, Time Ebb, Griptide, etc. allow you to snag an opponents' favorite creature (and not guess/hope a creature was actually on top of their deck) to which you immediately activate Geralf to "improve" them. Janky control but that's how I play, take from that what you will.
Is this 1v1 or multiplayer? I love Mind Sculpt but if this is multiplayer it will be subpar, sadly. What about Mesmeric Orb instead?
And blue is king of draw, so why play Dictate of Kruphix or Kami of the Crescent Moon? Please choose nearly anything else (Blue Sun's Zenith, Brainstorm, Ponder, etc.) that doesn't also give your opponent(s) an advantage too. You're already running a janky commander, no need to further disadvantage yourself.
It's also surprising you're running very few actual threats too. Why? Why not more guys like Scourge of Fleets, Tromokratis, or Inkwell Leviathan who will be fun "stitchings" or legitimate threats if hard-casted?
Geralf is a very atypical mono-blue commander, kudos for building him, but I think this can be improved. I'd be happy to check back to help with that process!
1 year ago
Flusterstorm is pretty bad in EDH except in the highest tiers, TBH. I have a copy and I'm struggling to find a deck for it.
Looking at your description, here are some things that might interest you: Anchor to the Aether, Chronostutter, Ether Well, Forced Retreat, Grasp of Phantoms, Griptide, Metamorphose, Repel, Spin into Myth, Submerge, Sweep Away, Temporal Eddy, Whisk Away. There are also a million Control Magic effects, though they usually center around 5 mana (Mind Control, Treachery, Spirit Away, Volition Reins, etc).
You might also want a Braids, Conjurer Adept in here. It should help you get some of those big fatties out of your hand.
Happy deckbuilding! :)
1 year ago
See personally I feel running this as a simic aggro deck would work and use the synnergy of Sweep Away, Griptide, and Anchor to the Aether. Imagine putting a goyf on top then attacking... instantly exiled
just food for thought I still think this card is good and can see modern play
1 year ago
also more cards!!! I'm looking through cards to improve my discard deck. Hinder,Dimir Machinations (almost lando and can be interchanged for a trini sphere search or any othe high value 3 cost card) , Noxious Revival(I see it as very similar to shadow of doubt its bassically zero cost lando,oh and it could return a dead thragtusk or kiki or angel or any other creature or primal command or lando or or or or ) Dimir Charm, Jeskai Charm, Lurking Informant, Psychic Surgery(could be a bitch)
Anyways I highly suggest.
Noxious Revival(must test absolutely tremendous potential)
Load more