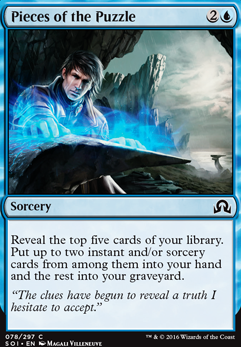 Legality
| | |
| --- | --- |
| Format | Legality |
| Tiny Leaders | Legal |
| 1v1 Commander | Legal |
| Heirloom | Legal |
| Vintage | Legal |
| Modern | Legal |
| Block Constructed | Legal |
| Casual | Legal |
| Legacy | Legal |
| Frontier | Legal |
| Duel Commander | Legal |
| Unformat | Legal |
| Pauper | Legal |
| Commander / EDH | Legal |
Pieces of the Puzzle
Sorcery
Reveal the top five cards of your library. Put up to two instant and/or sorcery cards from among them into your hand and the rest into your graveyard.
Pieces of the Puzzle Discussion
2 weeks ago
Unstable Obelisk- Its mana intensive to do, but this effect is very valuable to have in your colors. I recommend having it just in case.
Bedlam Reveler- A very good topdeck late in the game, as well as an efficent beater for that refills your hand. Not so good if you're early on and dont have self mill
Bloodwater Entity- for a Reclaim and an evasive body with prowess is not a bad rate. Downside of course is having to use your jori trigger or a cantrip to get the card into your hand (but thats not so hard).
Jace, Vryn's Prodigy Flip- Card selection is King. This fuels your delve spells and smooths out your draws in the early game, while relieving pressure and ensuring you get your jori triggers late
Torrential Gearhulk- This is the only gearhulk that is seeing modern play for a reason. It lets us keep using our graveyard as a resource, while being a big body. Very often you can flash it in to block and cast a random spell in your graveyard FOR FREE to get a jori trigger. Thats a 3 for 1. And now you have a 5/6.
Chaos Warp- see Unstable Obelisk
Magma Jet- Part of my efforts to find interaction that gives card advantage. 2 damage isn't a lot, but its an instant speed play that can pick off utility creatures while giving us powerful card selection
Oona's Grace-Particularly powerful with your cost reducers, gives us a way to use our excess lands to hit jori triggers. Also an excellent card to discard.
Remand- Tempo play that digs you deeper. I'd probably fire this one off at the first chance i'd get.
Think Twice- Similar to Oona's Grace.
Voyage's End- Instant speed bounce with scry. Similar options discussed later.
Riptide Laboratory- mana is actually a big issue with this deck, but I think this effect is powerful enough
Anchor to the Aether- Sorcery speed, but going to the top of the library messes up your opponent's next draw, while the scry digs you further through the deck. I haven't played with this one yet, but it might be good to test.
Pieces of the Puzzle- is a lot and sorcery speed sucks, but this is a powerful draw spell that has the advantage of also filling your graveyard
Spite of Mogis- This is the addition that I am most proud of. I can't believe we didn't know this card existed.
Desperate Ravings
- Good rate on this card and instant speed with flashback is nice. random is bad though
Lat-Nam's Legacy- similar rate to Desperate Ravings, but doesn't get you the card immediately
Perilous Voyage- Excellent if it hits something with cmc or less, underwhelming if not. Meta call. Also note that it has cyclonic rift's restriction.
Repulse-Bounce with draw. I think this is the best rate for this effect.
Select for Inspection-A bit troublesome to use, but the scry bounce for only is nice
Stymied Hopes- I'd consider this one a tempo play. Hit the first thing you can, so you can get that sweet sweet scry.
Unsubstantiate- Versatile spell, but the lack of card advantage on it is a minus
Baral's Expertise- Big bounce spell, will trigger Jori. But costs .
Mystic Speculation- Could be ok. Scry 3 is a lot, but thats all it does. I dont see you buying this back all that often.
Shreds of Sanity- 2 cards back for 3 mana + a card. Sounds interesting
Strategic Planning- sorcery speed impulse, but fills your yard.
Void Snare- 1 mana bounce
4 weeks ago
Autres idees :
1 month ago
If you think you are going to run into decks that will shut you down 2nd or 3rd turn, may I recommend the following...
Mainboard:
+1 Echoing Truth - Simply remove the offender/Barrier. This will also free up a SB slot.
With the amount of Eldrazi/Tron, 5c/4c and even 3c decks running around our old friend Blood Moon may have to make a reappearance.
Sideboard:
Spicy Tech:
If your feeling it perhaps look at getting rid of the two Dispel and shifting to two Swan Song. The song does give them a 2/2 Flyer, but if your going to go off and just needed to counter something a little more broad then just an instant, this is a GREAT choice.
1 month ago
Pieces of the Puzzle > Uncovered Clues, since it digs 1 deeper, its a bonus that it fills the grave for Logic Knot & Snapcaster Mage - and in my humble opinion revealing the cards that are put in the grave doesn't give any additional information, even if done before they enter the graveyard.

Anyway, thanks for the effort!
2 months ago
Bit different from normal build. Postmortem Lunge is bit odd, i don't really see reason for it. If game goes that long you could cast it and storm on same turn you likely can just Storm without creature.
Inferno Titan In sideboard seems very strange for the deck that wants to win on T3.
You don't really need 8 creatures, some pros actually plays only 6.
So what i would do is: go down to 7 creatures, shave one Grapeshot and Postmortem Lunge.
And put in 1 or 2 Remands and Noxious Revival. Maybe some amount of Opts or Peeks
If you go fetchless you can also shave 1 land.
And for sideboard you want Pieces of the Puzzle to fight through gravehate. Also Wipe Away and Echoing Truth for leylines and Relics. Shatterstorm should change to Shattering Spree.
I don't really like Blood Moons either. Though if your local meta is full of Tron it is amazing.
Emperion combo is questionable, i would not go with it in competitive play.
Dragonstorm is fun but no.
There is my opinions
2 months ago
Wombatz
Before anything thanks for taking time to post a reply!

This deck is not built to be played as a Blood Moon list with Madcap Experiment - if that was the goal, i would ditch Platinum Angel without a second thought, to play Platinum Emperion.
The deck is a combo/prison deck built to abuse Platinum Angel
So lets take pros, and cons compared to the emperion:
- if the creature leaves the battlefield there is a big chance of game loss on the spot.
- it dies to Dismember
- deals less damage when it gets in
+ has flying to prevent getting chumped
+ prevents game loss to infect counters (that is relevant due to Inkmoth Nexus)
+ can win by "milling", after the enemy gained infinite life
+ Pact of Negation becomes a free counter
+ Glorious End - "the jank" - becomes Time Walk / exile the stack if i have angel in play by next end step.
+ Earthquake becomes Bonfire of the Damned when the angel is in play

Otherwise Earthquake is just a boardwipe, that costs me life, and one that can be redirected to planeswalkers, but i would not call it bad due the combination of being able to cripple decks that go all out on the board early, and being a late game win condition.

I agree that Abrade looks as questionable as a card can get - if we are talking about modern.
However its a must have for me to have ways to deal with Grafdigger's Cage & Aether Vial. The problems caused by the former are pretty obvious, the latter creates enormous problem by putting in play stuff like Flickerwisp or Harbinger of the Tides.
I play abrade because its the cheapest creature removal that doubles as artifact destruction in colors of the deck.
There may be an argument to replace some of them with Kolaghan's Command - but i fail to see how Lightning Bolt could fill the same role.



I am also really curious what is behind your judgement regarding Pieces of the Puzzle - in my opinion its one of the best cards that have been printed lately. And its exactly what i want to do on turn 3.
Drawing my counterspells, or madcap experiments, to cast when i get to 4 mana on the next turn. And it can be recast with our good old friend Snapcaster Mage for 5 mana.


So Glorious End...
Time Walk, or countering Emrakul, the Aeons Torn, Supreme Verdict, or all copies of Grapeshot from the stack, or the Liliana of the Veil's -6 when the opponent cashes in, is not something i would call "jank", or unplayable.
Of course that is only my humble opinion.
Load more