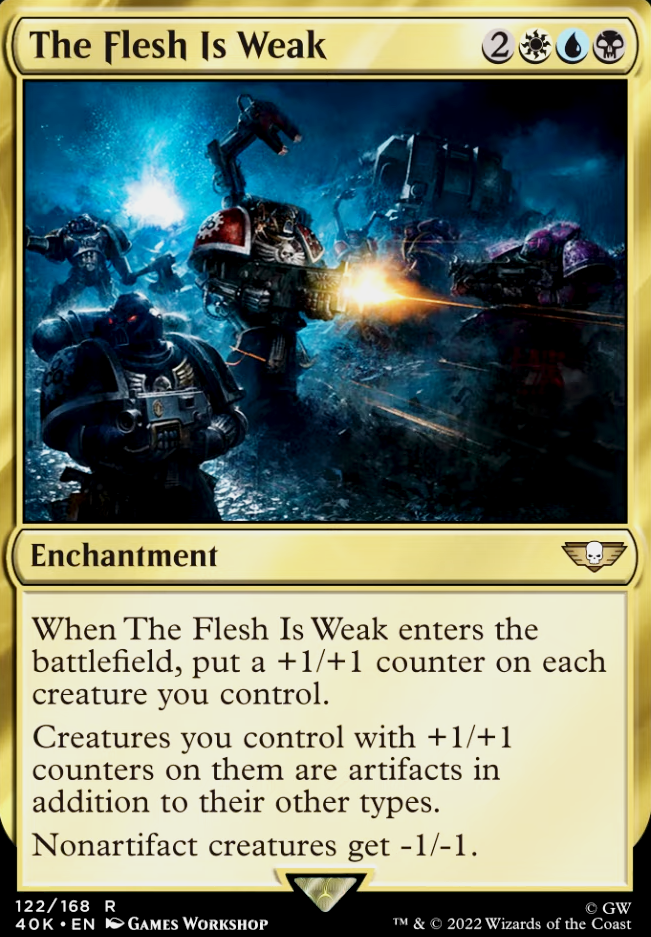 Legality
4 months ago
Hey, for those who are interested, I just made the first Phyrexia ONE upgrades which of course one of them is Encroaching Mycosynth, no explanation needed. Another one is Skrelv, Defector Mite, for more repeatable protection and ways to get more damage in with Urza or a Construct. Skrelv adds a new avenue to winning, poison. It will take a lot of time in game, but poison could now be wincon. The One Commander decks have been revealed and the full ONE set will be revealed this week, then I can get a better idea if any other budget cards are worth adding. I'm keeping my eye on the prices of at least three cards that have potential.
Other big changes have happen, but as a result the deck price has gone up, not much though. Skullclamp has been added because it's very good here with Sword of the Meek + Thopter Foundry, doing everything I want in gameplay: creating flying artifact creatures, repeatable draw, sac outlet for artifacts. The Mages have been added: Tribute Mage and Trinket Mage. They add more budget tutors for artifacts. When I control Encroaching Mycosynth they can be repeatable with Master Transmuter and Anrakyr the Traveller, etc. Tutored for by Sphinx Summoner which then gives me more access to assembling the Sword of the Meek + Thopter Foundry + Time Sieve wincon combo.
Some big cuts have happened, The Flesh is Weak and Vedalken Humiliator are gone. This combo was neat, but Weak not being an artifact is not where I want to be. Encroaching Mycosynth replaces Weak and without Weak I don't like Humiliator. I don't like that Humiliator can't trigger it's ability unless it attacks, consistently he does nothing the turn he ETB, that's not helpful if I'm only playing it for attacking. Encroaching Mycosynth does improves this combo, but I still cut it.
The Flesh is Weak + Vedalken Humiliator combo helped Constructs to attack therefore if cutting it I really should add something else to help combat. Vault of the Archangel is deceptively powerful with Constructs, just having it untapped with enough mana to activate it makes my Constructs essentially unblockable because opponents are not going to risk losing all their blockers to deathtouch + menace. To make it easier to get Vault I added Expedition Map. Another one drop artifact that can be repeatable a number of ways here. If Map isn't getting Vault then it can get an Artifact land Seat of the Synod which is quite good with Master Transmuter or get a sac outlet Phyrexia's Core for Wishclaw Talisman, etc.
4 months ago
Hey, good upgrades to the precon, what you've done so far.
How do you want to win? Determining the main strategy you want to play can help to keep good cards for that strategy and cut unnecessary cards. If you're wanting to keep precon level budget then doing combat damage with Constructs and Commander damage with Urza are directions to consider. Research Thief and Bident of Thassa are excellent budget cards if you want to be attacking with Constructs. Making Urza an artifact makes him a reliable source of Commander damage, but this means including effects to make Urza an artifact.
You have Urza, Lord High Artificer, he's a combo wincon, but to use him as a wincon you'll want to add other cards and more ways to assemble the combo. Drawing cards from Constructs doing combat damage to opponents is a good alternative to playing expensive price tutors to get combo pieces in your hand.
You have Tezzeret, Master of the Bridge, you don't really need Mycosynth Golem especially not for it's price tag. You don't need this Tezzeret either, but if you have it might as well play it. The first cuts to consider are lands since 41 lands is a lot when the strategy here are artifacts. Consider cutting 6 lands? Lands that always ETB tapped and are worse then others that also do this. If you feel you need more mana then add mana sources (rocks, dorks) not lands.
The Bounce lands and Scry lands are worse always ETB tapped lands then Tri lands, Bridges, etc.
---
Some advice for more cuts is choose the top 20 creatures here, top 10 artifacts and top 10 other nonland cards. By choosing the best cards then you can cut a huge chunk away of lesser cards.
Creatures:
Artifacts:
Others:
For upgrading it's easier to get an established list that's not 99 cards then have a list that's way over 99 cards. Really any 0-3 drop artifact creature who can make some value to take advantage of Urza artifact creature affinity or any 0-2 drop mana rock for more ramp can fill unfilled deck spots.
Good luck with your deck.
5 months ago
Hey, well done work in progress for your first Commander deck on a budget. Good card sense upgrading the precon.
For the manabase consider upgrades of the Pain lands?
The Pain lands have been reprinted in the last two Standard sets, making them the least expensive right now. Now is the best time to get them since they will only increase in price as time goes on. Tyrite Sanctum is a nice budget utility land especially with The Flesh is Weak.
---
I'm playing Urza on a low budget and these are some cards, most less than $2, that I've found to be helpful.
Being able to make Urza an artifact can make Urza a threat with menace to do Commander damage especially with Cranial Plating. Urza surviving nonartifact creature board wipes can give you a huge advantage. Making other nonartifact creatures an artifact is good too especially Padeem, Consul of Innovation for much more protection.
---
Some cards to consider cutting:
Filigree Attendant, Darksteel Juggernaut, Etched Champion are just beaters, they don't do anything else. You don't really need them since you'll have plenty of better beaters, Constructs, who don't cost mana. Burnished Hart is slow for ramp. Chief of the Foundry is subpar for an anthem effect, it's a lesser Master of Etherium.
Good luck with your deck.