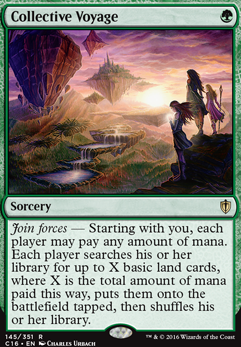 Legality
| | |
| --- | --- |
| Format | Legality |
| 1v1 Commander | Legal |
| Vintage | Legal |
| Pauper | Legal |
| Legacy | Legal |
| Duel Commander | Legal |
| Casual | Legal |
| Commander / EDH | Legal |
Collective Voyage
Sorcery
Join Forces — Starting with you, each player may pay any amount of mana. Each player searches his or her library for up to X basic land cards, where X is the total amount of mana paid this way, puts them onto the battlefield tapped, then shuffles his or her library.
Collective Voyage Discussion
2 weeks ago
Burgeoning
(See exploration below; it might be worth running both)
Exploration
(to ramp up to Damia and then let her refill your hand letting you play tons of lands all the time)
Exsanguinate
(This provides a wincon or a source of lifegain in a pinch... but I'm not sure you need lifegain that badly, and no good deck will let you kill them with a massive exsanguinate... so if you don't need it for lifegain, you just don't need it).
Courser of Kruphix
(same lifegain boat... requires testing to see if he might be needed, although at that point it would be worth looking into boarding
Horizon Chimera
back in, or maybe running a
Wurmcoil Engine
).
Fierce Empath
allows for a lot of stability with fetching, which is where I am trying to cut off some of the lower curve of your creature base when you have more powerful options available at higher costs, and can spend the first turns of the game trying to keep opponents off of pulling too far ahead of any one other player. Early turns can also be spend casting any of your many tutors to set yourself up.
Similarly I am trying to develop the deck with a lot of cards which have high power and also provide a high level of consistency by tutoring in one way or another, examples being
Increasing Ambition
,
Protean Hulk
,
Mystical Teachings
(which can fetch
Torrential Gearhulk
,
Venser, Shaper Savant
,
Snapcaster Mage
, and
Teferi, Mage of Zalfir
).
So these suggestions are supposed to bring about consistency in the deck and therefore achieve power by method of consistency. It makes the deck very slow and you'll have to get really good at shuffling and making snap decisions for finding cards from teh deck when you tutor, but from my experience playing control sharuum, consistency is king for control decks, and having just a few high power creatures should be enough to win you games.
3 weeks ago
Found a couple more.
1 month ago
RingoDingo92 with voyage, everyone gets X lands no matter how much they dump into it... So if I cast it for 5 while they were tapped out, everyone would get 5 lands, not just me. There's no way to cast Collective Voyage where you're not ramping everyone the exact same amount.
1 month ago
Ooo, Scapeshift is pretty cool, I think I'd prefer it to Hour of Promise. I guess you'll just have to keep it in the back of your mind, "Would I rather this were Scapeshift right now?" whenever you draw it, then you'll know for sure. Anyway, yeah I think I'd prefer either of those cards to Realm Seekers in that case.
I get the feelings toward Rites of Flourishing, but Collective Voyage isn't necessarily group huggy if you play it right. It could easily play to your advantage if opponents are/are nearly tapped out. But perhaps that's too situational for your taste, which is perfectly understandable.
1 month ago
Thanks for the comments and suggestionsRingoDingo92!
I think Hour of Promise is deceptively powerful in the deck because it fetches any land. When you have the sorts on non-basics we're rocking it's bound to over perform. I've just slotted it in the deck and haven't drawn it yet though. Hoping it does work, but it may actually go back to being Scapeshift as that card does similar things, but scales better as the game goes on.
I've played with Realm Seekers before. It comes down huge and usually eats a removal spell before you can do much tutoring with it. I found it... underwhelming and it was cut for a more consistent threat in Omnath, Locus of Rage.
Collective Voyage I've never played and Rites of Flourishing was in the VERY first version of the deck. Both are too.... group huggy for my tastes. I really like leveraging the fact that I'm ahead of my opponents when it comes to land drops and these get your opponents caught up. I could see both being good, but my local meta is kind of combo-y, so I hate giving that kind of advantage.
Every card you named is playable in the deck, they just don't do quite enough in my build! Good luck with your own build and the deck is certainly playable in a more... budget friendly form.
1 month ago
Hey Iamme10000!
Sorry for the late response, I was very busy with work and college, again I apologize.
Tempt with Discovery and Collective Voyage are real double edged swords, I don't have powerful lands in the deck but my opponents might, also I don't like cards that can help my opponents hehe. Animist's Awakening is a fine suggestion... I might try it out once I get my hand on a copy.
Thanks for the suggestions!
1 month ago
For my taste, you have too many cards that benefit your opponents just as much as they help you. Archangel of Strife could be Thunderfoot Baloth or Elesh Norn, Grand Cenobite. Borderland Explorer could be Sylvan Ranger or Borderland Ranger or Civic Wayfinder. Ghirapur Orrery and Rites of Flourishing could be virtually any card draw engines that helps only you: Drumhunter, Garruk's Packleader, Magus of the Library, Primordial Sage, Mind's Eye, Seer's Sundial, and Staff of Nin all come to mind. Collective Voyage could be Cultivate or Nissa's Pilgrimage.
The next problem is that you are light on land. I use less land than most people, and you are at least 2 lands short for me, probably more like 3-4. And two of your lands don't produce any mana, meaning you would need even more. You could replace Evolving Wilds with Naya Panorama or Krosan Verge, or just add them at the expense of a creature or enchantment. You have all sorts of conditional taplands and Grand Coliseum, so replacing one of them with (or just adding) Jungle Shrine doesn't seem like a bad idea.
You are also light on spot removal, a trap I have fallen into more than once. Terastodon would probably have a home in your creature mix, and Fade into Antiquity, Krosan Grip, or even just Naturalize would not be a waste of space.
Load more