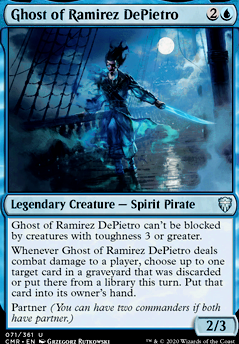 Ghost of Ramirez DePietro
Legendary Creature — Spirit Pirate
Ghost of Ramirez DePietro can't be blocked by creatures with toughness 3 or greater.
Whenever Ghost of Ramirez DePietro deals combat damage to a player, choose up to one card in any graveyard that has been discarded or milled this turn. Put that card into its owner's hand.
Partner (You can have two commanders if both have partner.)
Ghost of Ramirez DePietro Discussion
3 months ago
This has made me realize I've been reading Ghost of Ramirez DePietro wrong this entire time. I thought his trigger was tied to the player that was dealt damage.
Well anyways my top pick for a partner would be
Tormod, the Desecrator
for all the graveyard shenanigans (i.e
Living Death
) and discard value.
Some high synergy cards would be:
Looking at channel tho there seems to be a higher density in temur so you would have access to better ramp and can do wheel/card draw affects. So perhaps
Tana, the Bloodsower
with:
The Locust God + Wheels
3 months ago
The recent spoilage of new cards with the Channel ability has made me wonder about a Channel deck helmed by Ghost of Ramirez DePietro.
This leads to a few questions, though:
Who would be the best partner in terms of abilities and/or colors for this strategy?

What cards already exist to support this theme?
Thanks for helping brew some jank ;)
5 months ago
Something like Ghost of Ramirez DePietro and Tormod, the Desecrator would provide you with a more solid base for a build. You can loot through your deck, get stuff back, build a board state, create fodder and best of all you can have a combo back up.
Load more