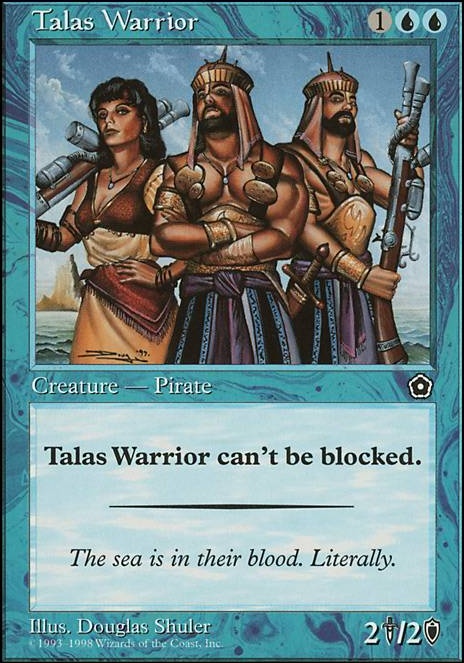 Legality
| | |
| --- | --- |
| Format | Legality |
| Tiny Leaders | Legal |
| Noble | Legal |
| Leviathan | Legal |
| Magic Duels | Legal |
| Canadian Highlander | Legal |
| Vintage | Legal |
| Vanguard | Legal |
| Legacy | Legal |
| Archenemy | Legal |
| Planechase | Legal |
| 1v1 Commander | Legal |
| Duel Commander | Legal |
| Unformat | Legal |
| Casual | Legal |
| Commander / EDH | Legal |
Related Questions
Talas Warrior
Creature — Human Pirate Warrior
Talas Warrior is unblockable.
Have (16)
HyperJujibiter , fireborne1986 , Fineontheoutside , samuriwerewolf , Neos272 ,

N

e

m

e

s

i

s

, TehDelta ,

T

h

e

D

u

g

g

e

r

n

a

u

g

h

t

,

O

l

o

r

o

_

M

a

g

i

c

, ironax ,

W

o

l

f

e

b

l

a

d

e

e

l

i

t

e

, chrishuffman95 , JohnBeaman , snakekill321 , TypicalTimmy ,

A

z

d

r

a

n

a

x

Want (61)
buildingadeck ,

O

l

o

r

o

_

M

a

g

i

c

, ForsakenRequiem , klplank , spentbullets , kingofcramers ,

C

o

o

p

e

n

h

a

g

e

n

, notsaying , yerfdog1935 , Ariumlegion , Captain_MUD ,

p

p

h

h

a

a

z

z

e

e

, auntgertrude , MADMatt7777 ,

T

h

e

D

u

g

g

e

r

n

a

u

g

h

t

,

a

e

o

n

s

t

o

r

e

m

y

l

i

v

e

r

, Blue_Otaku_No.1 , xXmememasterXx , Slaagi , eoraptor144 , bburt17 , CrotchRocket , Dadaman11 , Black_Honn , carlosmarco , Uthersfight , UniTheDino , dplerner , CrazyLittleGuy , jhunter , iTheHoneyBadger , qikink , Emries ,

D

i

J

i

t

O

L

,

m

c

s

t

a

n

g

1

9

8

6

, Sporkity , homesuck , ybladey , brandio , Dk1997 , dragombra , Joshwah , Potatonator , randalfmorn , mango_channel , Demonblade52402 , dino_beast , Killingfool , butthead182 , Nomikon12 , Roxmysox32 ,

T

r

a

n

q

u

i

l

W

y

v

e

r

n

, vvmk ,

J

e

2

t

e

r

, RobotFishTaco , Xafen , kovellen , regnek , Donktor_Jcon , snoopywashere , louisjrt
Talas Warrior Discussion
1 month ago
Since pirates are fairly weak as a tribe, you're going to need to limit what others can do and attack their resources in order to chip in for the win. Your commander helps with creatures, so I would attack the hand and mana to slow them down.
I recommend discard like Capital Punishment , Dark Intimations , Discovery / Dispersal , Herald of Anguish (great with treasures!), Syphon Mind , Liliana's Specter , Nicol Bolas, the Ravager Flip, Scythe Specter , Siren of the Silent Song , Skull Rend , Tasigur's Cruelty , and Torment of Hailfire .
While land destruction is often looked down upon as unfun, if you decide to keep with a lot of small creatures, you can come out at an advantage by keeping the lands on the board low. You'd have to build your deck to accommodate that, though. For that, you have Mana Vortex , Tectonic Break , Desolation , Epicenter , Ember Swallower , Rite of Ruin (again, great with treasures), Boom / Bust , Impending Disaster , and Wake of Destruction . You'll also find that creature stealing effects snowball, since you can remove blockers to get in with your pirates. Insurrection , Expropriate , and Blatant Thievery will all serve you well.
I would also lean more heavily into treasures. Mechanized Production acts as a second copy of Revel in Riches to that end, and Brass's Bounty will help get you there.
Some generic tribal cards will also help. Cards like Vanquisher's Banner , Shared Animosity , Door of Destinies , Konda's Banner , Kindred Dominance , Kindred Discovery , Coat of Arms , Metallic Mimic , Adaptive Automaton , Obelisk of Urd , Path of Ancestry , etc. will help shore up the weakness of the tribe.
As for old pirates, consider Rishadan Brigand , Rishadan Cutpurse , Rishadan Footpad , Talas Explorer , Talas Warrior , and Cloud Pirates .
Finally, I would head to EDHREC just to see the staples that are played in Grixis colors, as well as for your commander and whatever theme you choose to go with. You can also toggle to budget in the top right in order to see what will make it easier to build without sinking a bunch of money into the deck. However, keep in mind that cards like River's Rebuke don't scale up well to multiplayer, so you'll find the choices people make are very different. While cards like Cyclonic Rift , Sol Ring and Vandalblast will hurt the pocketbook a bit, they're good investments for whatever Commander decks you choose to build in the future.
If you don't like what you see, you can also head to Scryfall to search for cards. They'll let you limit the results to cards in your color identity, put price limits, and let your rank the results by how much commander play they see.
1 year ago
Here's the premise: I have Admiral Beckett Brass on the battlefield, along with Talas Warrior, Cloud Pirates and Siren Stormtamer.
I play Insurrection, gaining control of all my opponents' creatures, and I swing out with everything except my general. Furthermore, my opponents have no way of mitigating combat damage.
For the sake of argument, let's assume that I'm not dealing lethal combat damage to anyone, and I'm hitting one opponent with three pirates, causing Admiral Beckett Brass's ability to trigger.
In this scenario, would I be able to retain any creature permanents after my turn is over, considering I already have control of them via Insurrection, or would the aforesaid creatures return to my opponents at the end of my turn?
No data for this card yet.