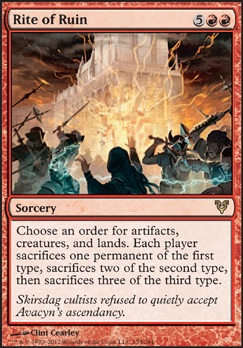 Legality
| | |
| --- | --- |
| Format | Legality |
| Pre-release | Legal |
| Tiny Leaders | Legal |
| Magic Duels | Legal |
| Vintage | Legal |
| Modern | Legal |
| Penny Dreadful | Legal |
| Casual | Legal |
| Leviathan | Legal |
| Legacy | Legal |
| 1v1 Commander | Legal |
| Duel Commander | Legal |
| Unformat | Legal |
| Pauper | Legal |
| Commander / EDH | Legal |
Rite of Ruin
Sorcery
Choose an order for artifacts, creatures, and lands. Each player sacrifices one permanent of the first type, sacrifices two of the second type, then sacrifices three of the third type.
Rite of Ruin Discussion
4 months ago
I think my deck is a ramp deck first than use land destruction second as a sort of wincon.
I'm trying to keep the number of artifacts and enchantments at a minimum so my Bane of Progress and Wave of Vitriol are only back breaking against my opponents. So I'm not sure about the Ankh of Mishra or Dingus Egg
I'll be honest, I'm really not understanding Rite of Ruin. It just seems so expensive for what it's doing. Like best case what happens? I don't have any creatures out, make my opponents sac three, 2 lands and 1 artifact? Have you had good experiences with the card?
I agree that Reclamation Sage is good, and the first time I get wrecked by some stupid crucible I'll think of you and add it but for now I think my noncreature hate is strong enough to fight through without it.
Because so much of my early game is getting lands I try to keep my cards mana costs in mind while searching. So I haven't really been screwed out of colors yet. Also Butcher Orgg is such a beating! Every time I play it, folks have to kill it or it wrecks their world. Picking off utility creatures, getting unlockable damage, leading to blowouts with removal. It's all great with the butcher.
I'm always trying to improve my creature base, within my guidelines of having more than 4 toughness and good in multiplayer. So if you know of a good creature to replace Flameblast Dragon on a budget let me hear it! The only reason I'm running the Dragon now is for more creature control.
I'll give it to you that the fog is ridicules lol. 3 mana is too much for the effect, and Moment's Peace is too $expensive$ to run at this moment. Any idea for a replacement?
4 months ago
I like your take on the land destruction theme: you seek to ramp, bring out biggies and then destroy land so your opponents are at a severe disadvantage. If our two deck should ever meet: nobody will ever have land in play (you've already seen my The Destroyer of Lands (Radha, Heir to Keld) deck) ;) .
In your deck though, I think you should be wary of cards that have triple mana symbols in their manacost, such as Butcher Orgg. With land destruction you never know you will have that available and it will be a dead card.
Likewise, Flameblast Dragon, as much as I like it, costs you mana to activate...and mana will be in short supply.
Lastly : I think Spore Cloud with all your destruction is redundant.
For some suggestions (considering that you are trying to run a budget deck):
Ankh of Mishra: yes you'll get damage, but it'll hurt your opponents more (especially if you play it after you've ramped)
Dingus Egg: If only for the flavour :)
Rite of Ruin: you get to decide, so it'll always hit your opponent harder
And I really suggest: Reclamation Sage small, but it'll take away a nasty enchantment of artifact (like a Crucible of Worlds which would be lethal against your deck)