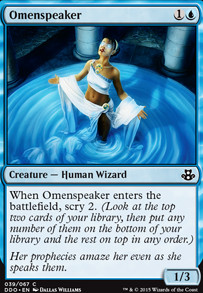 Omenspeaker
Creature — Human Wizard
When Omenspeaker enters the battlefield, scry 2. (Look at the top two cards of your library, then put any number of them on the bottom of your library and the rest on top in any order.)
Have (13)

s

a

j

0

2

1

9

, Xathrid845 , calaw00 , brent29 , lamoynet , tjones82 , Crow_Of_The_Void , dragonbladeice , sevenlayercake , Gromvari , spacequip , superburke , Domovoi
Want (0)
Omenspeaker Discussion
3 weeks ago
Act of Treason really intrigues me for this deck- but I'd need a couple extra creature control cards. Splashing

would definitely work, but it might be a whole sideboard option. Specifically for Weenie/Token decks. Cards like Scouring Sands, and other cards like it could be added. Token decks do a number on this deck, due to the fact that it focuses on single creature control versus large group control. I'll look into it.
Augury Owl is definitely better than Omenspeaker. But it's not a human card, and can't be used to trigger Archdemon of Greed.
Hero's Downfall definite replacement.
Thank you TheLivingCME for the comment! Expect to see some



in this deck soon!
3 weeks ago
Hey Ronduin,
I'm currently running a deck Red White Blue deck I built around Flamespeaker Adept and it runs pretty well. Here are some suggestions I have.
Get scry lands! Temple of Epiphany is a fantastic card in this deck! Temple of Enlightenment is also great even if you won't splash white. I've found that Stormcaller of Keranos isn't to great in this deck because it costs too much and is only helpful when you have a Flamespeaker Adept on the field. I use Monastery Swiftspear in place because it's a freaking amazing aggro card that works well with instants and sorceries. I have also found that Sigiled Skink is not a good card either for the same reason as Stormcaller of Keranos. Get rid of Runed Servitor. Just get rid of it. It is not good. Use Omenspeaker or anything else.
The things I like going on are Titan's Strength, Dissolve, Magma Spray, Aqueous Form, Thassa, God of the Sea, and Sigiled Starfish.
You are not always going to be able to play Flamespeaker Adept every game. Your deck needs other ways to win. I splash white for Mantis Rider, Jeskai Charm, and Gods Willing. Adding white isn't too difficult to add this deck. Prognostic Sphinx is a great scry card that is tough for opponents to remove. Fated Conflagration is a solid removal card that you should replace Scouring Sands with, which is a very situational card used only against token heavy, aggro decks. Adding more Dissolve to this deck would be a good choice as well as Negate. You should also use dual lands if you can like Swiftwater Cliffs, Shivan Reef, and Mystic Monastery if you are playing white.
One final suggestion, Temur Battle Rage. Awesome. Good luck man!
1 month ago
From MaybeBoard; Ardent Plea, Arrest, Celestial Flare, Dissolve, Exquisite Firecraft, Into the Roil, Oblivion Ring, Omenspeaker, Pongify, Render Silent, Turn to Frog, Wear / Tear.
Not on the list Augur of Bolas, Impulse, and Mental Misstep.
1 month ago
23 lands is a little light for a deck wanting to hit 5 mana on turn 5 every game. I would go up at least two more. Also, Battlefield Thaumaturge seems a little weak here. I'd cut the Voyage's End (low impact) and the thaumaturges and put in a 2 more lands and some Omenspeakers
1 month ago
I'm Thinking Omenspeaker but I might not switch it out at all. Since I'm going to FNM tonight sideboard help is needed!
| | |
| --- | --- |
| Power / Toughness | 1/3 |
| Color(s) | Blue |
| Cost | 1U |
| Converted cost | 2 |
Legality
| | |
| --- | --- |
| Format | Legality |
| Standard | Legal |
| Legacy | Legal |
| Vintage | Legal |
| Commander / EDH | Legal |
| Modern | Legal |
| Duel Commander | Legal |