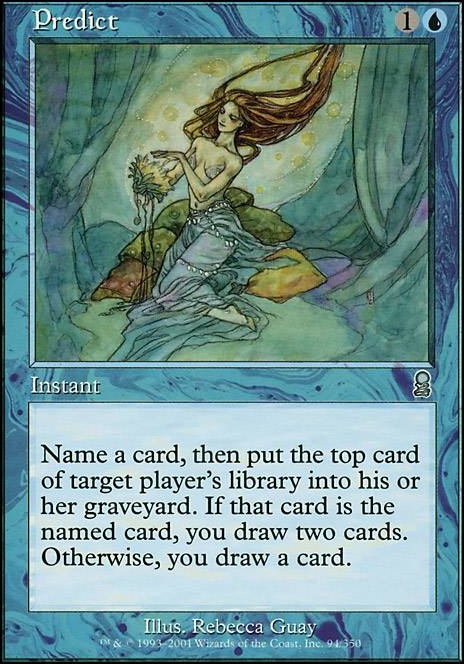 Legality
| | |
| --- | --- |
| Format | Legality |
| Noble | Legal |
| Leviathan | Legal |
| Magic Duels | Legal |
| Canadian Highlander | Legal |
| Vintage | Legal |
| Vanguard | Legal |
| Legacy | Legal |
| Archenemy | Legal |
| Planechase | Legal |
| Duel Commander | Legal |
| Unformat | Legal |
| Casual | Legal |
| Commander / EDH | Legal |
Predict
Instant
Name a card, then put the top card of target player's library into his or her graveyard. If that card is the named card, you draw two cards. Otherwise, you draw a card.
Predict Discussion
1 month ago
I'm going to go into a lot of detail, and ramble about card design and Nordic mythology and history. I apologize in advance.
Valkyries: As it stands, your creations are far too close to Angels, just with different flavour. Angels are a primarily White tribe, with touches of Black and Red. To differentiate from Angels, you should make Valkyries a primarily Black and Red tribe (given their association with death and battle), with a touch of White.
Pegasus's Wing is the wrong mythology. You should make an enchantment related to Sleipnir instead.
Consider adding some enchantments based on the magical staves (Icelandic magical symbols). You can find a list here: https://en.wikipedia.org/wiki/Icelandic_magical_staves
You should add some of the new Saga enchantments. The sagas are, after all, works of Icelandic literature. I would suggest naming and designing them after some of the more famous of the Sagas (Njals Saga, Egils Saga, etc.).
You need more nonlegendary creatures. Here are some ideas:
Lawspeaker - Human Advisor. The Lawspeakers (Sorry cannot use the original word--this website does not display the letter eth) were individuals tasked with memorizing the extremely detailed code of laws which governed Icelandic society, and were to recite the law at the annual Thing (again, can't type the letter thorn on this site).

Lesser Outlaw / Full Outlaw - Human Rogues. Outlawry was the Nordic punishment for crimes - a type of banishment pursuant to very explicit laws. Lesser Outlawry was a usually 3 years; full outlawry for life. If an individual broke outlawry and returned home, they were to be engaged in combat and killed.

Ravens, wolves, goats, cats, falcons are all good mundane creatures that show up in various parts of Nordic mythology.

Zombies (you'd have the Old Norse draugr in the name), trolls, and giants are all good supernatural creatures to add.
Here is a set of critiques of your first few cards. I think this should give you a decent start on learning how to improve other cards you design:
Let me know if there are any further specific cards you would like me to look at.
Anyway, that's just some meandering thoughts as I went through your cards. Overall, there are defiantly some good ideas in there. Keep at it, and let me know if you add more or make any substantial changes!
4 months ago
I would strongly recommend fast mana and a better sort of Doomsday Pile. Predict, Laboratory Maniac, Gitaxian Probe, Unearth, Gush is a classic one and cheap. Dark Ritual, Lotus Petal, and Cabal Ritual are all required because they let you win so much quicker. Also strongly consider Ponder. To cut I would say 3 of your lab maniacs (only need 1) and a lot of your instants because they don't really serve a purpose. You have no infinite mana combo for Blue Sun's or Pull. Also you have far more lands than you need, go down to probably 18.
7 months ago
Not having blue will definitely hurt. You lose out on Laboratory Maniac, which is the best win-condition so far for DD. There are piles you can do using black card draw and Second Sunrise. The pile is going to be a little rough since you don't get blue. Also, this one specifically requires you to open the pile a draw 2. So like, Faithless Looting. Here's the pile:
This pile works like this:
---
Bear in mind, you need a way to draw Night's Whisper. Black has a decent amount of card draw to get this done. Red loot spells might also get you there.
This pile has a number of ways to work. It's best with Predict, but we don't have blue. The pile I listed costs total. You can play around with draw spells to get the pile moving, as a number of different things work. But bear in mind it's an awkward pile, as 4 slots are taken up in Grapeshot, Lion's Eye Diamond, Conjurer's Bauble, and Second Sunrise. If you can only draw one, you might need one of the draw 3/4 spells. Many of red's or black's draw spells hit 2 cards though, so at least the density is there.
There are other things you can do also without blue. Namely, piling a combo and winning with the combo. Worldgorger Dragon piles with Animate Dead and Faithless Looting plus some outlet are fairly common, so feel free to use George with any outlet you prefer. Even silly things Shivan Gorge work with George. Other combos which can be piled are Kiki-Jiki, Mirror Breaker piles and winning with some Twin combo.
I haven't spent too much time exploring blueless though, to be honest. So there is likely a lot more space to tap into. Unfortunately though, losing Maniac really hurts, and it begins to make winning off DD more work than a convenience.
Hopefully this helps a bit.
7 months ago
Paradox Engine is a playable card in certain archetypes but in storm or DD it falls more into the "win-more" camp than something beneficial. The power of the card is undeniable, but in storm or DD the power is already there and you don't have to slam a 5 CMC card to get you there.
One of the things which may be making it hard is piling without LED. LED really does make a lot of a difference in piling and is what turns on so many of the really strong piles. Outside of LED, options become thin as your best piles become Predict, Unearth, and Street Wraith based.
Casting Doomsday then passing is not ideal. That being said, I've done it before. Generally into some heavy stax lockdown which wasn't going anywhere fast. So rather than get into the pile and risk failing, I just passed and played a pile with protection next turn.
This probably should not be on the list of lines you look for first. It's not a safe line since you give opponents a turn to stop you. That being said, and if I'm really honest, it's Doomsday, and mostly, wonky things happen. The majority of my pods these past few weeks have been really weird DD lines, and I did DD pass once or twice. The more I play DD, the more I learn there are no real hard and fast rules, just guidelines and concepts which you use to get you there. I end up breaking my own rules enough to say that really the only thing which remains constant is casting LabMan and somehow counting to 6.
If it works and it's stupid, it's not stupid, haha.
8 months ago
For LED-less piles, using Unearth and Predict will get the job done pretty well. Try exploring those cards in a pile! Here is something:
This pile works with predicting LabMan or predicting incorrectly.
Kess, Dissident Mage is a fine DD commander. She lets you do some things which may not be possible otherwise, but she's not required. Her Yawgmoth's-like ability is pretty great.
8 months ago
Consider Street Wraith? Wraith makes is much harder for an opponent to disrupt the Doomsday combo because you can cycle it at instant speed for no mana thus draw in response to removal of Labman. An opponent has to have a spell that can counter an activated ability, such as Stifle to stop the cycling of Wraith.
Unearth, Predict and Gush would also give you more potential piles to use with Doomsday. Unearth is particularly important because you can discard Labman to Frantic or Predict and then reanimate him for one mana. Unearth also has cycling which like Wraith is harder to disrupt.
8 months ago
Because at that point, I didn't have 5 grand to spend. I still don't, but I wanted to kick around the idea. For how I want to build him, the fixing is super important to do something degenerate like Fetchland, crack, Sol Ring, Mana Crypt, Dimir Signet Mystical Tutor for Doomsday then next turn, Doomsday for Predict, Laboratory Maniac, Gitaxian Probe, Lion's Eye Diamond, and Yawgmoth's Will and win on turn 3, all with counterspell backup, via Force of Will or Pact of Negation . If I had 5k to spend on all the Fetches, Shocks, Duals, FOW, etc. I would be more sold. The problem is that he isn't able to be built in a way that I would be happy without throwing 5k at him. And at that point, is it any fun for the average commander player to play against that?
Load more