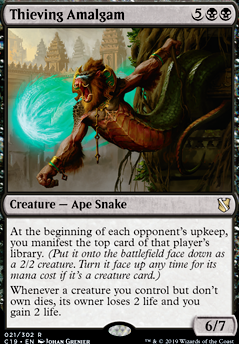 Legality
| | |
| --- | --- |
| Format | Legality |
| Tiny Leaders | Legal |
| 1v1 Commander | Legal |
| Magic Duels | Legal |
| Leviathan | Legal |
| Duel Commander | Legal |
| Oathbreaker | Legal |
| Commander / EDH | Legal |
Tokens
Thieving Amalgam
Creature — Ape Snake
At the beginning of each opponent's upkeep, you manifest the top card of that player's library. (Put it onto the battlefield face down as a 2/2 creature. Turn it face up at any time for its mana cost if it's a creature card.)
Whenever a creature you control but don't own is put into a graveyard from the battlefield, its owner loses 2 life and you gain 2 life.
Thieving Amalgam Discussion
1 week ago
Apologies for the previous dupli-comment. The server was a bit off at the time...
Well, as an update to the deck: at least we can say Volrath, the Shapestealer is out, & Ezuri 2.0 will be staying for a very long while...
Also, being able to BOUNCE Mantfests to your hand w/ Temur Sabertooth , Words of Wind , even Scroll of Fate allows you a choice for Manifestation. While killing the ones you DON'T own via Thieving Amalgam is like a perfect vengeance; even cards like Qarsi Deceiver , Temur War Shaman , Whisperwood Elemental , even Ghastly Conscription , Ethereal Ambush , & even Write into Being .
Also adding Cloudform , We have an amount of 115 cards in so far; or 114 if nobody wants me adding such a card. From there, we have 2 things left; the 3rd Question about what helps Creatures; Morphs/Megamorphs/Manifest all apply to these Bylaws. & since all start as Faceless 2/2 Colorless Face-Down Token Creatures, the question now is: In Colors, what would be good for both , cards, & those w/ eith 2 Power and/or 2 Toughness, or lower even?
From there it's the first, & last question: What to Cut?!
I'll proceed in removing some of these things; they've been established anyway. :)
So, what cards that can support basically any Morphs/Megamorphs/Manifests (Colorless 2/2 Face Down Tokens.) can help big here?
I'm done for now; I'll just remove some things as they're accomplished...
No data for this card yet.