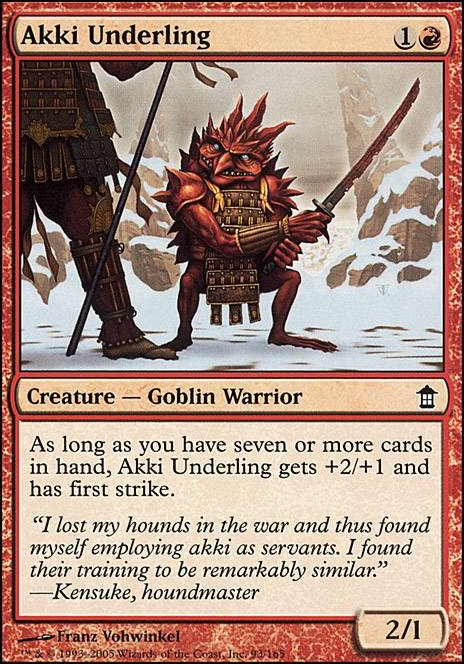 Akki Underling
Creature — Goblin Warrior
As long as you have seven or more cards in hand, Akki Underling gets +2/+1 and has first strike.
Browse Alters
View at Gatherer
Legality
| | |
| --- | --- |
| Format | Legality |
| Limited | Legal |
| Pauper | Legal |
| Block Constructed | Legal |
| Highlander | Legal |
| 1v1 Commander | Legal |
| Modern | Legal |
| Duel Commander | Legal |
| 2019-10-04 | Legal |
| Legacy | Legal |
| Leviathan | Legal |
| Vintage | Legal |
| Unformat | Legal |
| Tiny Leaders | Legal |
| Oathbreaker | Legal |
| Canadian Highlander | Legal |
| Casual | Legal |
| Pauper EDH | Legal |
| Commander / EDH | Legal |
Latest Decks as Commander
Akki Underling Discussion
2 years ago
Ga, as seguintes cartas eu aconselho a tirar: Akki Drillmaster - Voce nao tem bichao pra dar impeto; Akki Raider - Voce nao destroi lands;Akki Underling - Seu deck e rapido, nunca vai ter sete ou mais cartas na mao; Orochi Sustainer e Sakura-Tribe Scout - Voce nao precisa gerar muita mana num deck rapido; Soratami Cloud Chariot - Muito caro, foge da estrategia e o efeito e meio bosta; Kumano's Blessing, Lifegift e Seed the Land - horrvel; Blinding Powder - Nao faz sentido com o deck (voce quer matar rapido, nao controlar);NO SIDE: Dense Canopy e Sunder from Within - perfeito, os outros 3 - horrivel;
Cartas que voce pode colocar: Akki Avalanchers - aggro, warrior e fortinho, apesar de suicida; Blood Rites - poderia ser bem util com tantas criaturas;First Volley - complemento de dano e arcana para unir;Soulblast - Pode ser... Glacial Ray - dano mais apelao do PB Kamigawa (une e e barato);Goblin Cohort - muito apelaozinho, funciona com bastante criaturas;Honden of Infinite Rage e Honden of Life's Web - olhas os combinhos com um monte de criaturinhas e dano;Kashi-Tribe Elite - Protege suas cobras lendarias e ainda e um guerreiro cobra fortinho, cheio de fuleragem;Kodama's Might - Pump verde indispensavel, une em arcana ainda;Lure - Kill condition facil com tantas criaturas;Oni of Wild Places - Poderia ser um bichao pro deck;Path of Anger's Flame - Olha esse pump geral, arcano...como que tu nao coloca isso num aggro vermelho?Patron of the Akki - Patronos sao muito apeloes: este aqui e perfeito pro seu deck;Sakura-Tribe Elder - Esse cara pode atacar, bloquear e ainda pegar um land em resposta: apelaozissimo;Serpent Skin - Regenerar pode ser muito util num deck aggro; Stampeding Serow - Barato, forte, alem de voltar cobras pra mao pra combar com as Sosuke's Summons;No-Dachi - Gosto muito desta kataninha...Manriki-Gusari - Pode ser MAIN, pode ser SIDE, para aggro e muito bom;Shuko - Pumpinho rapidao;TERRENO DUPLO Pinecrest Ridge: se tem, por que nao usar? Eu usaria.
Agora voce pensa e acerta ai... faca suas escolhas, ajeite a curva pelos graficos e try again. Olhe de novo no Gatherer se achar necessario. Veja o custo total das cartas. Da pra deixar ele bem legal.
Kamigawa Planebattle Champion: Kyoki's Army

---

---
4 years ago
You definitely need a playset of Goblin Grenade in here, as well as 2 more Goblin Guides. I would take out the Akki Underling because if you're playing goblins right, you should never have 7 cards in hand except at turn 1.