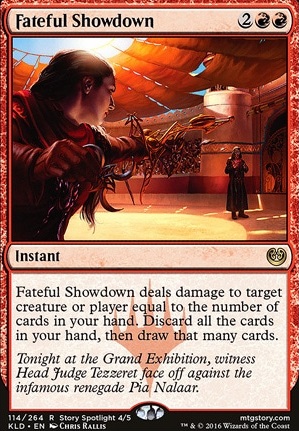 Legality
| | |
| --- | --- |
| Format | Legality |
| Pre-release | Legal |
| Tiny Leaders | Legal |
| Magic Duels | Legal |
| Canadian Highlander | Legal |
| Vintage | Legal |
| Modern | Legal |
| Penny Dreadful | Legal |
| Standard | Legal |
| Leviathan | Legal |
| Legacy | Legal |
| Brawl | Legal |
| Frontier | Legal |
| 1v1 Commander | Legal |
| Duel Commander | Legal |
| Unformat | Legal |
| Casual | Legal |
| Commander / EDH | Legal |
Fateful Showdown
Instant
Fateful Showdown deals damage to target creature or player equal to the number of cards in your hand. Discard all the cards in your hand, then draw that many cards.
Fateful Showdown Discussion
1 week ago
This list could use some shocks, but thanks for building the Fateful Showdown deck.
1 month ago
This deck could use some more ramp, card draw, and lands. Also you have two cards too many in the list so that's a slight problem too.
Some cards to cut would be Sun Titan, Burning of Xinye, Elspeth, Sun's Champion, Great Furnace (It's strictly worse than a basic Mountain in this build as it dies to artifact removal and you have no synergy with it) and kinda Chance for Glory and Hostility. Sun Titan only returns permanents and most of your deck is instants and sorceries. I really don't think you want to destroy and of your own lands so the Burning is pretty bad. You have enough board wipe effects that also synergize with your commander and you don't have much of a token strategy going on so Elspeth seems pretty out of place. I suppose she's a potential alternate win-con, but most your deck has the ability to win off of any number of top-decks late in the game. I see how Chance for Glory is tempting, but it seems like a really niche card and I think I would rather have card draw in its place. Hostility is the card I'd like to see in action before really making a decision on. I feel like it could often just be a dead card because you'll want to be dishing out lots of damage and gaining lots of life with Firesong and Sunspeaker on the field, but I suppose it's another alternate win-con that synergizes with the deck.
I would think about adding Fateful Showdown and Khorvath's Fury since they draw cards and deal damage. Also, Magus of the Wheel if you can get your hands on one. Really and effect that either deals damage or draws more cards than you discard when you discard. Plus wheel effects are good for disrupting opponent's strategy. Rocks that draw cards like Hedron Archive, Dreamstone Hedron and Commander's Sphere are also good ideas.
I would cut the Vivids in favor of Wind-Scarred Crag and Boros Garrison or any other W/R dual land (Clifftop Retreat, Inspiring Vantage, Sacred Foundry, etc.). Then add at least two more lands.
In sum, get down to 100 cards, add more lands, ramp, and draw spells.
3 months ago
Fateful Showdown is probably better than Master the Way in this deck.
5 months ago
Majestic_Clown thanks for checking in on it. In all honesty my Marath Says No deck has been the center of my focus lately. Unfortunately there have not been many cards from the new sets that can keep up with the already blistering speed of my Neheb deck.
I have however been testing -Fateful Showdown +Apex of Power.
I am also looking at a few cards:
Dark-Dweller Oracle has really caught my eye as a "draw card" engine but I haven't found the slot for it.
Howling Golem looks good in a slightly slower version but you do risk giving your opponents interaction.
Loyal Apprentice will find a slot for sure but I have to decide where.
Treasure Nabber is obviously very powerful but I'm not convinced on where it falls in the tempo of things.
Expedite could find a slot for it's simple cycling and would serve as another haste giver that can be later flashed back.
Coveted Jewel is almost good enough.
Load more
Fateful Showdown occurrence in decks from the last year
Commander / EDH:
All decks: 0.01%
Red: 0.02%
U/R (Izzet): 0.13%