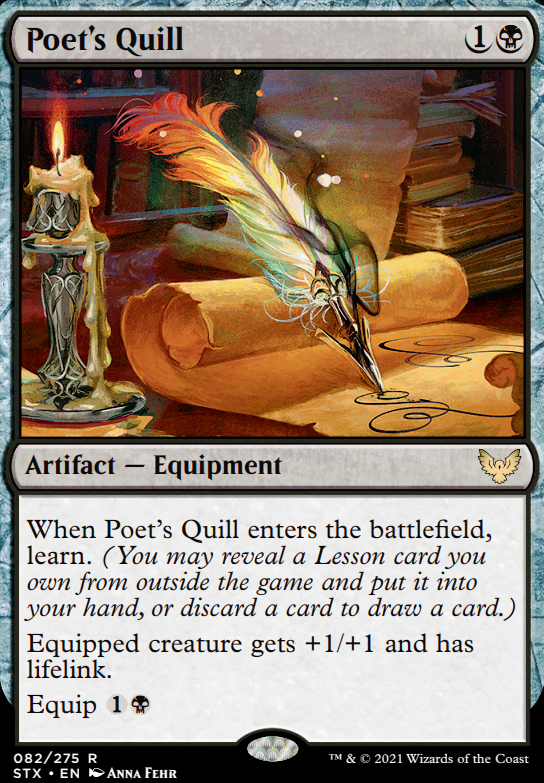 Poet's Quill
Artifact — Equipment
When this enters the battlefield, learn. (You may reveal a Lesson card you own from outside the game and put it into your hand, or discard a card to draw a card.)
Equipped creature gets +1/+1 and has lifelink.
Equip
Latest Decks as Commander
Poet's Quill Discussion
3 months ago
The Book of Vile Darkness is terrible for this deck. One creature each turn I lost at least 2 life is too slow, and considering it's legendary I would need to have more than one to make finding it more consistent, even though it doesn't synergizes with the strategy at all. Which brings me to the other point, it's not enough to be an alternate wincondition. The deck already has so much discord and I'm considering adding even more. Decks with a ton of removal won't be a problem (also Sword of Light and Shadow is recursion).
Hand of Vecna is a worse Lashwrithe. The only situation where the Hand is good, in this deck, is the early game. However,one thing this deck wants is to empty its hand so as to not have to discard to Liliana of the Veil's effect or Smallpox, which I'm thinking about adding. If the hand is too full, then Collective Brutality has more fuel, which in turn also weakens the Hand. By the late game, it's probably just gonna give +1/+1. Also, important to mention it's not a pump spell since it only pumps at the start of combat, giving opportunities for the creature to be removed. The card I'm considering putting in place of Runechanter's Pike is Bonesplitter as it allows to me empty my hand fastet.
Now, Eye of Vecna I actually thought about. Sadly, it runs into the worst problem of this deck, life loss. Thoughtseize, Castle Locthwain and the new additions Polluted Delta, Godless Shrine and Silent Clearing make me lose so much life. In the end, it's not very different from Sign in Blood or Night's Whisper, the difference being it provides long term card advantage instead of the two draws or the free scry of Mazemind Tome. Had Strixhaven given more useful lessons for black, I could see myself using Poet's Quill for its lifelink and maybe, in this case, I'd run the eye (which also suffers from being legendary).