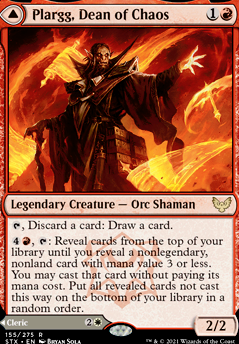 Back:
Augusta, Dean of Order
Flip
Legality
Plargg, Dean of Chaos
Legendary Creature — Orc Shaman
, Discard a card: Draw a card.
, : Reveal cards from the top of your library until you reveal a nonlegendary, nonland card with converted mana cost/mana value 3 or less. You may cast that card without paying its mana cost. Put all revealed cards not cast this way on the bottom of your library in a random order.