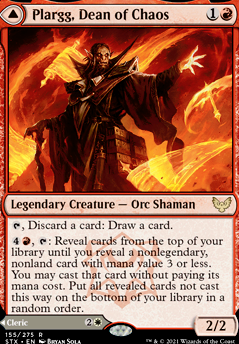 Back:
Augusta, Dean of Order
Plargg, Dean of Chaos
Legendary Creature — Orc Shaman
, Discard a card: Draw a card.
, : Reveal cards from the top of your library until you reveal a nonlegendary, nonland card with converted mana cost/mana value 3 or less. You may cast that card without paying its mana cost. Put all revealed cards not cast this way on the bottom of your library in a random order.
Plargg, Dean of Chaos Discussion
2 months ago
I am trying to make a list of Commander's who have a color identity that extends beyond their casting cost. These are the ones I know of, and I would like to know if there are any others out there.
This list EXCLUDES MDFCs from Kaldheim and Strixhaven, such as Esika, God of the Tree  Flip, Jorn, God of Winter  Flip, Blex, Vexing Pest  Flip and Plargg, Dean of Chaos  Flip. The reason I am asking to not include these types of Commanders is because their color identity and casting costs match.
I am specifically seeking Commander's who have a casting cost that lacks their full color identity - that is to say, they have colored mana symbols in activated or triggered ability costs that are not part of their cost to cast the spell.
2 months ago
Ramble Syr Carah is definitely a candidate for the Commander spot. Your explanation does make me feel like it's possible to go as low as 30 but it's going to take playtesting. I have also considered giving Plargg, Dean of Chaos  Flip a chance at the helm. Magda, Brazen Outlaw is also at 2 cmc and great for cheating out Thrumming Stone, but the best Treasure support cards aren't worth their market price to me. Harnfel, Horn of Bounty avoids creature removal and that flexibility of Birgi feels relevant.
8 months ago
Ah, I had long-tinkered with an Alesha list for quite the meiny of months, whereupon I have a fair number of suggestions for consideration in your ranks.
Meseems Callous Bloodmage is one of the best cards in the new set for inclusion, as it does three relevant things for any given circumstance. Choose wisely.
Any aristocrats list is incomplete when bereft of Skullclamp . Overplayed? Overrated? Too powerful? Is it too efficient? Perhaps you are tired of acknowledging its existence? Is this jest overlong all for the sake of an ensuing sentence? No, no, yes, maybe, and yes. (Just play it.)
Yawgmoth, Thran Physician is a particular powerhouse. He does everything. Maugre the cost of one life, he enables a draw engine and sacrifice outlet. So much for so little.
False Prophet is a most splendid wrath, for, ere his calamitous demise trigger, you may sacrifice your board and ravage all others.
Feldon of the Third Path , however sorrowful his tale, is quite the potent artificer. Bringing back many and wreaking havoc upon all is a brutal combination that can act as a backup version of the commander.
Rummaging effects are perhaps something of which I am too fond, yet here we are. Rummaging Goblin , Anje Falkenrath

, Plargg, Dean of Chaos  Flip, Deal Broker , Smuggler's Copter , and Mad Prophet are all ones I would seek to add.
I much enjoy Painful Truths in any multi-coloured Black deck. Sign in Blood and Night's Whisper are equally enjoyable.
Retribution of the Meek is a splendid wrath, typically decimating the opponents' populous.
There are also the intrinsic staples that I may as well proffer by name: Blood Artist , Swords to Plowshares , Despark , Anguished Unmaking , Vindicate , Path to Exile , and Fellwar Stone .
Thus is all, dear folk. But, might all of your foes be met with a despairing shriek as Karmic Guide has her fun casting demise.
Lastly, the deck name could use a little work. Yes, it may be forthright, but, opt for something with flare. Let it be histrionic! Brutal! WONDERFUL!
Thence I leave.
Here is my own list, if you deign to care: Quondam Foes