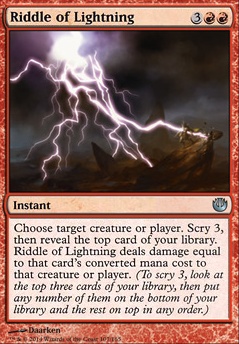 Legality
| | |
| --- | --- |
| Format | Legality |
| Tiny Leaders | Legal |
| Vintage | Legal |
| Penny Dreadful | Legal |
| Commander / EDH | Legal |
| Noble | Legal |
| Hero | Legal |
| Magic Duels | Legal |
| 1v1 Commander | Legal |
| Canadian Highlander | Legal |
| MTGO | Legal |
| Vanguard | Legal |
| Leviathan | Legal |
| Planechase | Legal |
| Duel Commander | Legal |
| Unformat | Legal |
| Heirloom | Legal |
| Modern | Legal |
| Pauper | Legal |
| Pauper EDH | Legal |
| Legacy | Legal |
| Archenemy | Legal |
| Casual | Legal |
| Oathbreaker | Legal |
Riddle of Lightning
Instant
Choose target creature or player. Scry 3, then reveal the top card of your library. Riddle of Lightning deals damage equal to that card's converted mana cost to that creature or player. (To scry 3, look at the top three cards of your library, then put any number of them on the bottom of your library and the rest on top in any order.)
Riddle of Lightning Discussion
6 months ago
Thought Vessel over vensers journal.
Guttersnipe possibly.
Sphinx-Bone Wand is a great win-con.
Condescend, Discombobulate because have blue, will counter
Bloodwater Entity because putting stuff on top is clutch
Riverwise Augur, Conch Horn getting stuff from hand to top is a must
Sol Ring auto include
Goblinslide, Prodigal Pyromancer
Rapid Hybridization, Pongify blue removal
Riddle of Lightning, Fated Conflagration scry removal
Bosium Strip weird tech, basically gives flashback to all spells in a turn
Telling Time instant speed, gets something in hand, and on top
Preordain because
potential further topdeck manipuation if you wanted, in the form of Portent, Index, Trickery Charm.
Load more
No data for this card yet.