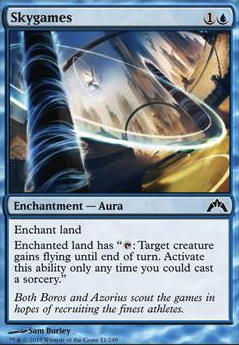 Skygames
Enchantment — Aura
Enchant land Enchanted land has "T: Target creature gains flying until end of turn. Activate this ability only any time you could cast a sorcery."
Browse Alters
Trade
Legality
| | |
| --- | --- |
| Format | Legality |
| 1v1 Commander | Legal |
| Block Constructed | Legal |
| Canadian Highlander | Legal |
| Commander / EDH | Legal |
| Duel Commander | Legal |
| Highlander | Legal |
| Legacy | Legal |
| Leviathan | Legal |
| Limited | Legal |
| Modern | Legal |
| Oathbreaker | Legal |
| Pauper | Legal |
| Pauper EDH | Legal |
| Pioneer | Legal |
| Tiny Leaders | Legal |
| Unformat | Legal |
| Vintage | Legal |
| Casual | Legal |
| Custom | Legal |
| Quest Magic | Legal |
Skygames Discussion
1 year ago
This deck performs very well with some decently large deficiencies. I think you need to cut some weaker cards (sorceries and creatures mostly) and add in more Ninjas and ninja synergies.
Cards to Cut: Creatures: Definite cuts are Jeskai Infiltrator, but I'd also heavily consider trimming Dark Impostor, Deathcult Rogue, Etrata, the Silencer, and Nezumi Cutthroat.
Sorceries: Definitely cut Hour of Eternity, Kefnet's Last Word, Paranoid Delusions and consider trimming Ghostform, Slip Through Space, or Stealth Mission.
Artifacts, Enchantments, Instants, Planeswalkers, and Lands: I would definitely cut Briber's Purse, Fatal Push, and Vraska, Scheming Gorgon

while also giving thought to the merits of including Skygames, Bontu's Monument, Forge of Heroes, Unclaimed Territory, and of, or at least the Amonkhet, cycling lands.
The cards I have recommended are either slow, have low to zero synergy with the rest of the deck, or are typically weak in commander.
Cards to Add Creatures: Ninjas, ninjas, and more ninjas (plus some cheaper unblockables for good measure). There are 19 Ninjas in mtg history (excluding changelings). You have 11 in this deck. I think you ought to have more. The cheapest are Mistblade Shinobi, Okiba-Gang Shinobi, Skullsnatcher, Throat Slitter, and Walker of Secret Ways. Higure, the Still Wind and Ink-Eyes, Servant of Oni are both reasonable splurges in terms of powerful Ninjas to acquire. Now for other creatures to enable Ninjitsu. First off, I could have included Changeling Outcast in the last section since it is also a Ninja and you should absolutely be running it in here. Other small unblockables for you to Ninjitsu into are Gudul Lurker, Slither Blade, Tormented Soul, Faerie Seer, Mothdust Changeling, Gingerbrute, Dimir Infiltrator, Baleful Strix, Invisible Stalker, Augury Owl, Sage Owl, Spire Owl, and Cloud of Faeries. All of these cards are less than 3 cmc, and are either entirely unblockable or have good etb/ltb or dealing combat damage synergy (and are mostly pretty cheap too). I'd recommend adding at least 3 or 4 of them in addition to the above ninjas.
Other cards: This section is mostly for general things that you could do to make this deck more consistent and enjoyable to pilot, but there are a couple specific synergies I think you're missing out on. They're both pretty intertwined so I'll just address them together. I think you could be putting in a few more cards that are good to reveal off of Yuriko's trigger and ways to manipulate the top of your library so you get those card when they are most impactful. I am referring to cards like Treasure Cruise, Sibsig Muckdraggers, Temporal Trespass, Dig Through Time, Draco, Consign / Oblivion, Murderous Cut, Far / Away, Curtains' Call, Into the Story, Submerge, Commandeer, Commit / Memory, Discovery / Dispersal, Rags / Riches, In Garruk's Wake, and any other high cost card that has an alternate mana cost, mana reducing ability, split card, or is a high impact card. Then you could also throw in a few ways to manipulate the top of your library like Brainstorm, Ponder, Serum Visions, Tamiyo's Epiphany, and Crystal Ball. The only other synegystic thing you could put in here is making your other creatures Ninjas as well with Conspiracy, Xenograft, Arcane Adaptation, and Amorphous Axe.
Otherwise, you could probably add in some more ramp (Sol Ring, Mind Stone, Star Compass, etc.), card draw (see cantrips above and Last Thoughts), board wipes (could probably replace Bontu's Last Reckoning with some of the ones from the last section or just add those ones or some other good boardwipes) and spot removal or counterspells (I don't see a lot of good ways to deal w/ non-creature permanents in here).
1 year ago
My thinking is that you can remove the Ouphes combo with the Ivy Lanes and add 3 Hooting Mandrills or Timberwatch Elf, 1 Skygames and 4 Commune with the Gods
I also still think that Rancor would be awesome on the Mandrils and other creatures since trample can be a powerful tool to have against stuff like elf decks.
If your focused on keeping the Ouphe combo you might want to consider shifting the deck into some sort of Tron shell since you need so much mana. Adding Expedition Map to grab the bounce lands may also be a good way to ramp.
2 years ago
Okay so I've got some time, let's get into this...
1) I think Shu-Yun is an interesting choice for a budget commander because he relies on killing opponents quickly, but with budget decks, you're going to be winning much later in the game. He's also interesting because he focuses on quick combat instead of really building up a boardstate. I think the first thing to do would be to abolish the idea of a turn 4-6 win, decks like ours are going to try and grind out the game with cheap removal and synergy, waiting for the right time to strike. Maybe the problem is that the deck wants to win too fast and the budget can't compensate for that, just my idea.
2)You should probably cut the uncommons, things like Invert/Invent, Jace's Ingenuity , Rush of Blood (even though this card is super cool and I'm going to put in one of my other decks), Concentrate , Rise from the Tides , Butcher's Cleaver , Hero's Blade , Inquisitor's Flail , Vessel of Endless Rest , Illusory Ambusher , Smelt-Ward Minotaur , and Whirler Rogue . While these cards are awesome in the deck, they're a huge deficit to your budget and cutting them is 12 less cards. I've found that with a budget like this, it's best to cut to $0.15 commons. Will it be as fast? No. Will it be $10 or under? Yes.
3)Have you considered building from the bottom up? Instead of adjusting my previous commanders, I usually just pull out a fresh sheet of paper and start from there. I feel that it opens up more gateways for deckbuilding and instead of having to cut expensive cards, you can decide which cards to add one at a time. Cutting is also just kind of negative and personally I feel a lot happier seeing: "this card is so sweet for $0.15!" Instead of: "Ugh I can't run this card because it's over budget." This could just be me of course.
4) As for specific cuts, here's what I'd take out(excluding the uncommons I pointed out earlier): Artificer's Epiphany : There are better draw spells out there; Contradict : Again, there are better spells; Depths of Desire : Generally, I dislike bounce, even in Red/Blue but this spell just isn't good, especially when you want to cast Shu Yun on turn 3; Enhanced Awareness : Way too expensive for the effect; Leave in the Dust : From your comments, it seems like you want to win faster, so I would cut these mana-intensive bounce spells so you can run cantrips, also Unsummon is $0.15 on SCG; Prying Eyes : yeah this card is just objectively bad in my opinion, even for a $10 deck; Repulse : Same thing I said before about bounce spells, the card draw isn't worth paying more mana; Scatter Arc : I feel like a lot of the bounce/counterspells are in this deck because they say "Draw a card" paying 2 more mana for a negate that draws you a card is not with it, you could do more with that two extra mana. Sweep Away : Yeah this is way too conditional to actually work out; Aether Tunnel : Yes I know you said you wanted to keep this, but playing it makes Shu Yun a huge target and it's budget intensive. Skygames : This enchantment is okay, but It's definitely not great, especially when compared to your other auras; Highland Lake and Izzet Boilerworks : Yes I know it's important to have mana, but running basics gives you more choices. That's pretty much all I've got for now on cuts.
I wish you the best of luck, but I'm about to pass out so goodnight, I hope this made sense!