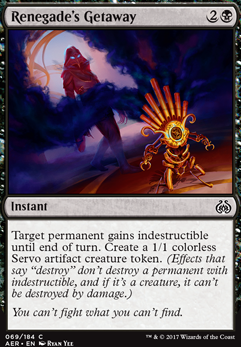 Legality
| | |
| --- | --- |
| Format | Legality |
| Modern | Legal |
| Legacy | Legal |
| Vintage | Legal |
| Commander / EDH | Legal |
| Duel Commander | Legal |
| Tiny Leaders | Legal |
| Standard | Legal |
| Pauper | Legal |
Tokens
Renegade's Getaway
Instant
Target permanent gains indestructible until end of turn. Create a 1/1 colorless Servo artifact creature token. (Effects that say "destroy" don't destroy a permanent with indestructible, and if it's a creature, it can't be destroyed by damage.)
Renegade's Getaway Discussion
2 days ago
First of all, this needs two more lands. Most control decks cannot afford to miss land drops, and yours in no exception. 25 lands at least, in standard control.
Perpetual Timepiece does nothing for you, and makes room for your extra lands.
Fatal Push should be a 4-of, as it's your only early game interaction.
Glimmer of Genius should be 4-of, as it's your best form of draw.
Insidious Will isn't good - replace with Summary Dismissal to have some utility against a planeswalker's abilities. Replace Disappearing Act with the strictly-better Disallow.
Delirium is still a thing in standard - Startled Awake Flip is very dangerous for you to play. I'd cut it.
Fumigate is a must have. Probably as a 2-of. You have very little creature removal in the deck, you need a panic button. Demon of Dark Schemes is good, but not if you don't have ways to kill creatures.
Cut Renegade's Getaway, cut Leave in the Dust, cut Pressure Point. They don't do enough. That leaves you with one more slot- I'd say maybe one more Torrential Gearhulk?